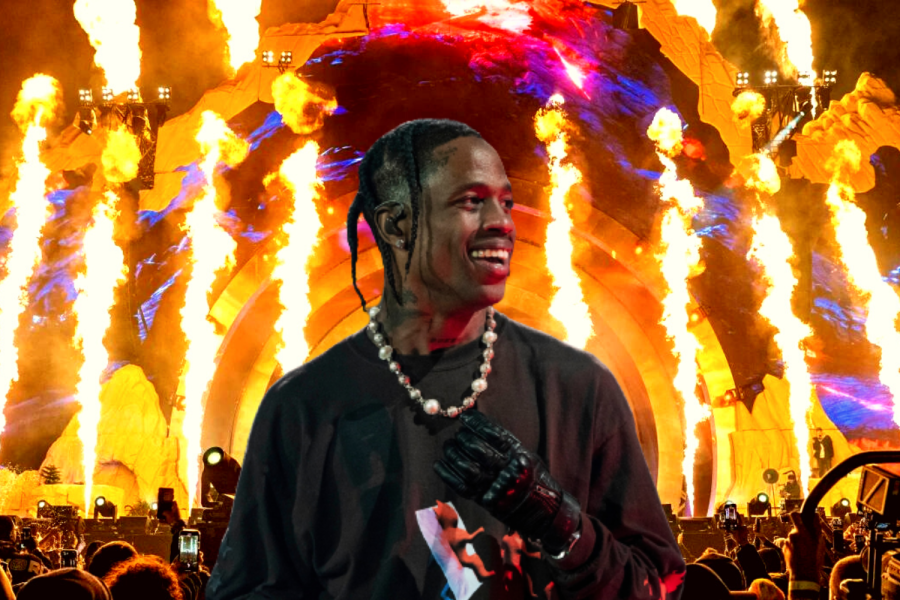 Photo Credit: Aurelia Rich/Canva/Achona Online
On the night of Friday, November 5, in Houston, Texas, what began as a fun concert event, quickly turned deadly. Shortly after American rapper Travis Scott took the stage, chaos began amongst the crowd of 50,000. The disaster at Travis Scott's Astroworld festival resulted in nine confirmed deaths and hundreds injured, leaving fans and investigators shocked. 
"It's crazy how an enjoyable concert turned out to be so hazardous… and one of the youngest victims was the same age as me… only 14," said freshman Lana Thomas. 
Prior to Scott's performance, hundreds of non-ticket holders had stormed the VIP security entrance, adding to the already massive audience. Awaiting Scott's appearance, the crowd soon became even more packed. Madeline Eskins, an ICU nurse who attended the festival, told CNN that the situation worsened as a countdown clock began to record the time until Scott performed. Some fans even began jumping over barriers to escape the overbearing crowd.
These were the people trying to escape being trapped at #AstroWorld pic.twitter.com/bxjeVNHTAB

— Eric Daniels (@azdaniels) November 6, 2021
A half hour later, Scott arrived on stage and the audience went wild. The crowd began to rush towards the front of the stage, leaving the people towards the front dangerously compressed.
Shortly following the surge, audience members were trampled and as stated by various concertgoers, had trouble breathing. By 9:30, an ambulance had arrived and was moving through the crowd. Minutes later, fans moved even closer towards the stage, and Houston police declared the event a "mass casualty incident". Others then began collapsing due to lack of oxygen, going into cardiac arrest, or experiencing other serious medical episodes.
Many attempts to stop the show were made, but none were entirely successful.  At some point following the initial chaos, Houston Police executive assistant chief Larry Satterwhite spoke to concert promoters, asking to stop the show and they agreed to. But the concert continued, as officials feared that ending Scott's performance could potentially incite a riot. 
Video evidence has also surfaced, showing efforts made to improve concert conditions by Scott himself. In one particular video, Scott can be seen calling out to security guards, instructing them to help a fan who had passed out. Many witnesses claim that Scott paused the show multiple times in order to help fans in need. Others, however, have come forth saying that Scott didn't do nearly enough to help his injured fans. As much of the crowd felt like concerns over their safety were being completely ignored, some even made their way to the stage, imploring stage workers and nearby authorities to officially stop the show. 
It's heartbreaking to see how this unfolded … Rip to the 8 🕊️#AstroWorld pic.twitter.com/avqhPVgGME

— SportzStew Ⓥ (@sportzstewcom) November 6, 2021
Known for his tendency to excite his crowd almost to the point of havoc, Scott commonly encourages his fans in unsafe behaviors and has gained a reputation of what he simply refers to as "raging". Following the Houston concert, footage from one of Scott's past shows resurfaced and has since been circulating the media. In the video, Scott asks a fan to jump from a balcony during his performance at Manhattan's Terminal 5 in 2017. The fan, Kyle Green, claims he was pushed, which resulted in him suffering severe injuries.
Kyle Green is suing Travis Scott after a 2017 concert became so chaotic he later fell from a third-story balcony and was left partially paralyzed.

Green's attorney talks to @donlemon about the Astroworld concert in Houston that left 8 dead and dozens injured. pic.twitter.com/dP1ZpoMeKl

— Don Lemon Tonight (@DonLemonTonight) November 9, 2021
"I don't know if we can just put all the blame on Travis Scott, but I do think he should've entirely stopped the show. It's disappointing to know that what happened at Astroworld could have been prevented," said sophomore Madison Maxwell. 
Evidently, the issue of too few or unreachable exits along with an overpopulating crowd largely contributes to concert disasters. And, with live-performance-attending making a comeback, both concertgoers and show organizers will need to take the correct safety precautions and prepare for the possibility of extreme chaos. 
Following the Travis Scott Concert Tragedy, experts have offered some important tips on how to stay safe in large crowds. Before attending the concert, it is crucial to determine where the most convenient exits are. It's also important to go with the flow… literally. If the crowd suddenly begins to push in a certain direction, it's best not to push the opposite day or resist the movement.  If you fight the crowd, you could potentially trip or fall and you will quickly become exhausted. Most importantly, if you get even the slightest sense that the situation could perilously escalate, trust your gut and make a plan to leave the event.