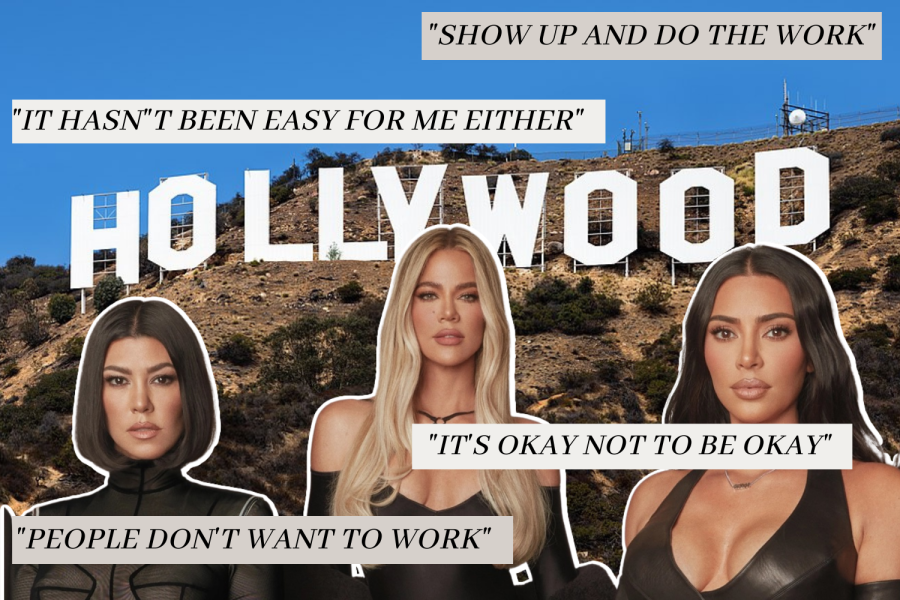 Photo Credit: Olivia Payne/Canva
The Kardashian clan, a group of sisters and their "momager" Kris Jenner, have grown to incredible heights of popularity and riches with their reality television show and individual franchises. They are role models for many people and hold immense amounts of influence over the members of the public who idolize them. However, with this immense amount of fame and fortune, the Kardashians are very separate from the reality of the average person.
Kylie Jenner is the most followed female Instagram user. She runs a beauty line, Kylie Cosmetics, and has 700 million dollar net worth according to Forbes. These are just some of the reasons why people were pleasantly surprised when Jenner showed her postpartum body in a recent Instagram post. Jenner discussed how difficult the pregnancy was to deal with and how she struggled. 
People praised Jenner for speaking up about pregnancy struggles, as many people look at the Kardashians as idols. A celebrity speaking on a topic that is not often discussed can help a topic become normalized. Fans of Jenner went to social media to share positive comments about her candid moment. Some female fans related to Jenner's struggles and felt more confident, as a celebrity showed she struggled with the same things they did. 
It's so gross seeing other women say Kylie Jenner doesn't suffer from post partum depression or pain because she's "rich".
— SKETE (@Perlitaaxoxo) March 23, 2022
However, many viewers did not respond so positively to Jenner's post. They argued that while Jenner was showing a more normal side to her carefully curated appearance, she was still very far from being a regular mom. She has access to resources and money that other people don't have. Her posts could be seen as an attempt to humanize herself after being presented as beautiful and perfect. 
Many people don't believe that the Kardashians should have influence at all. Their brand is built on being wealthy and gorgeous, rather than having a "talent." Many social media users complain about influencers or celebrities who are seemingly famous for nothing. However, the fame the Kardashians have is irreversible. They have cemented themselves as a part of high society, and this further increases the distance they have from the general public. 
"I feel like they do deserve their fame because we, the viewers, gave it to them. I can see how it may seem ridiculous to others that the Kardashians are famous, but we encouraged it by watching their show and buying their products," said Caroline Kross ('24). 
This separation was further proved by the Kardashian's recent interview with Variety. Kim stated that people need to get up and work. She claimed that people were unwilling to do this and that is why they're not successful. This comment is extremely tone-deaf as Kim is a millionaire who was born into a rich and famous family and gained personal fame from a reality television show.  This statement led to an uproar on social media as people commented on the ridiculous statement for Kim. Her comments show that she does not understand how the average person works and how different this is from her reality.
The Kardashians do share experiences with the general public, but their brand is built upon being desirable due to their wealth. Without their fashion, money, or beauty, the Kardashians would have no appeal. This is why their attempts to be relatable fall flat. Their fame is built on glamour and being different from an average person. They have millions of dollars and the best resources and opportunities available. Kylie Jenner and her sister, Kendall Jenner, grew up in a wealthy, luxurious environment while starring on "Keeping Up with the Kardashians." They barely had a life before they were surrounded by the best things that money could buy.
Sofia Bailey ('24) said, "I think [the Kardashians] can't really relate to normal people. Whenever I see them on Instagram or TV, they're always doing something luxurious that I would never do. I get that they want to be relatable and it's good that they want normalize things, but it just doesn't come off right."