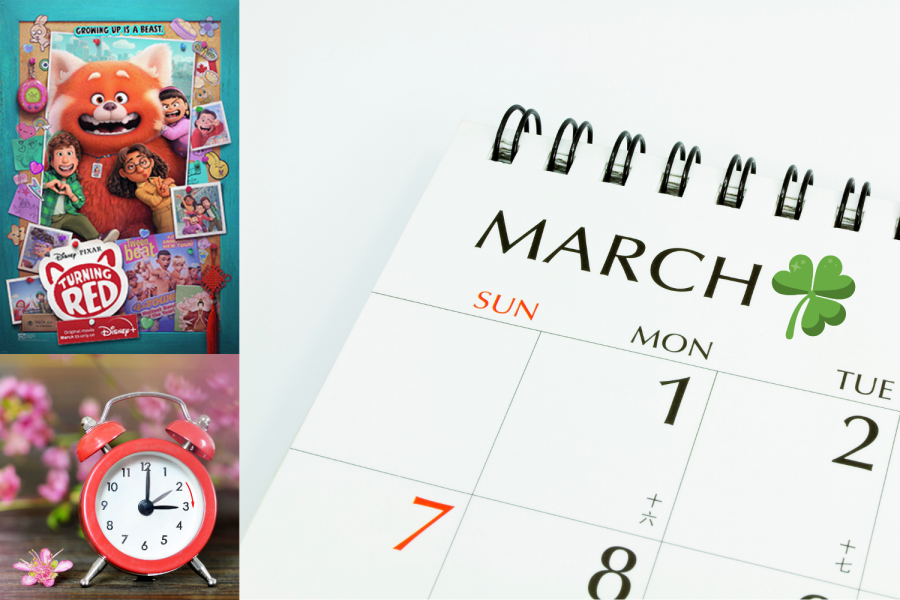 (Photo Credit: Ellie Martinez/Canva/Achona Online)
As the world transitions from February to March, there is a heightened sense of excitement and anticipation for what the new start may bring. Fortunately, the lucky month of March will not disappointment with the return of Daylight Savings Time, new book releases, a brand new Disney-Pixar film, and the celebration of St. Patrick's Day.
Daylight Savings Time Returns
Daylight Savings Time, also known as DST, is the annual practice of setting our clocks forward one hour in the summer. When DST begins, many grieve the loss of a precious hour of sleep. However, DST makes the sunrise and set later in the day, which means more cherished daylight each day. Daylight Savings Time will return on March 13, 2022; at 2:00 a.m. the clock will automatically jump forward one hour. 
Stay strong. Daylight savings in 13 days 🥰 Everything is better when the sun is out longer.

— 🖤 (@_klllmmx) March 1, 2022
Book Releases
A Magic Steeped in Poison
On March 29, 2022, author Judy I. Lin's debut novel, A Magic Steeped in Poison, will reach shelves. The fantasy young adult novel is the first in a future duology, inspired by Chinese folklore and mythology. The upcoming book is likely to become a favorite of readers who currently enjoy books by beloved authors Leigh Bardugo and Adrienne Young. The book is sure to be a magical read for this month. 
All My Rage
On March 1, 2022, All My Rage made its way to excited readers. The novel, written by New York Times bestselling author Sabaa Tahir, is a profound story that stretches across multiple generations and continents. Tahir is well known for her novel An Ember in the Ashes, and current reviews tell this new contemporary novel is just as brilliant. 
A Forgery of Roses
Also arriving on March 29, 2022, is Jessica S. Olsen's new novel, A Forgery of Roses. The new book is an exciting combination of gothic, fantasy, and murder mystery genres that will make for a fun March read. 
Movie Release
On March 11, 2022, Turning Red will be released for viewers exclusively on Disney+. The new Pixar and Disney film is about Mei Lee, a young girl who transforms into a giant red panda when she becomes too excited. The charming coming-of-age story is a testament to director Domee Shi's childhood growing up as an Asian American in Canada. 
It's gonna be Mei! 🐼 Watch the brand-new trailer for Disney and Pixar's #TurningRed, coming March 2022. pic.twitter.com/tDkKXaWm5Y

— Disney and Pixar's Turning Red (@PixarTurningRed) November 17, 2021
Holidays
The month of March is often most attributed to its lucky holiday, St. Patrick's Day. The holiday is March 17, 2022, the feast day of St. Patrick – the patron saint of Ireland. The day is a celebration of Irish culture with parades, food, music, drinks, and most importantly, lots of green. It is best to wear green this holiday, to avoid being pinched by a leprechaun!