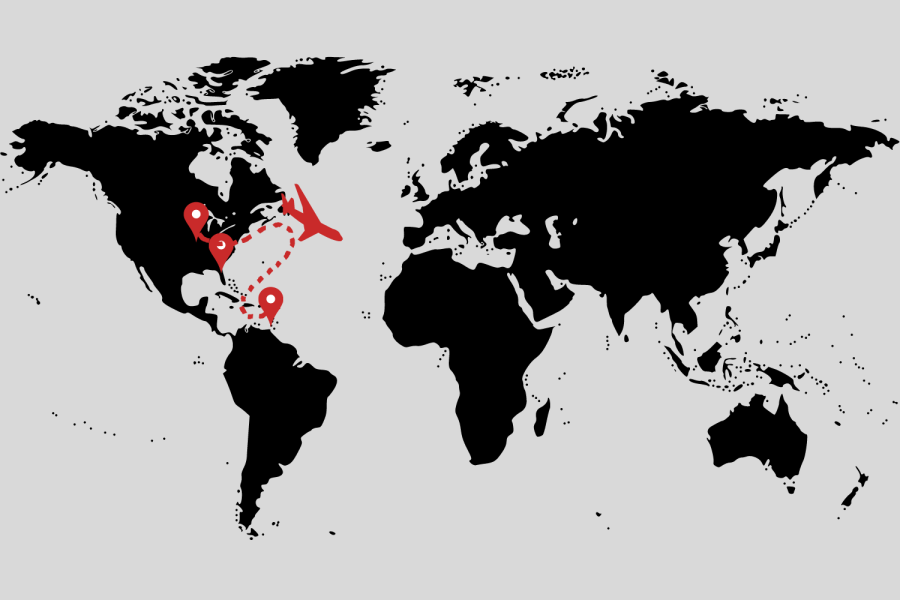 Photo credit: Millie Garstka/Canva/Achona Online
Spring break has been long awaited for Academy students, as it is particularly late this year. Girls are looking forward to the time off, during which some might travel to a different country, a different state, or choose to stay local. Here are the most popular spring break destinations amongst students at the Academy. 
#1 Clearwater Beach
Clearwater beach is known for its crystal clear waters, which makes it the most popular spring break destination this year. Attracting tourists year-round, Clearwater Beach is perfect for paddle-boarding and jet-skiing. Its close proximity to most students allows for minimal travel, while still feeling like a getaway. 
Welcome to spring break at world-famous Clearwater Beach @MyClearwater @ClearwaterArea @PaulFox13 @TheDistrictCLW @VSPC @floridatravelc pic.twitter.com/q3b8jHuquN
— McDonald Media (@McDonaldMediaFL) March 19, 2022
#2 Boca Grande
Located in southwest Florida, Boca Grande is one of the top spring break locations this year. It's known for its historic downtown and gorgeous beaches where people are often found fishing. While a popular vacation destination year-round, Boca Grande will be buzzing with spring breakers in less than a week. 
A drone caught this lone dolphin swimming through the abandoned railroad trestle in Boca Grande, Florida! 🐬🏝
Sent in by: All Star Drone Services#weather #nature #florida #flwx #wx pic.twitter.com/2vLdTaYntl
— Nash Rhodes (@NashWX) February 24, 2022
#3 Chicago, Illinois
Those headed to Chicago, Illinois are looking forward to the music, entertainment, and deep-dish pizza. Chicago is the perfect city for sightseeing since it has an abundance of museums and historical buildings. If sightseeing does not sound enticing, Chicago also offers musicals and music festivals.
Freshman Presley Keener said, "I am most excited about walking around the city and having deep-dish pizza. I cant wait to see the Big Bean and go on the Ferris Wheel on the pier."
Big bean Chicago ! pic.twitter.com/vIBCsh6idm
— Charlie Hall (@hhacre) February 17, 2020
#4 New York City
New York is the most visited city in the United States. With something for everyone to do, New York appeals to all. The city offers entertainment, sightseeing, musicals, food, and shopping. Most tourists venture to Central Park, the Statue of Liberty, and the Empire state building at least once during their stay.
New York – Empire State Building#SBLab22 #scritturebrevi #unaparolapercittà #NewYorkCity pic.twitter.com/5wQldzPNck
— Martina Forconi (@martina_forconi) March 31, 2022
#5 Atlanta, Georgia
Atlanta offers a variety of activities and attractions for everyone to enjoy. The bustling city has numerous museums, theaters, historic sites, and urban parks. Several Academy girls are traveling to Georgia to visit their relatives, but they're also looking forward to exploring the city and experiencing a change in pace.
"I'm excited to see my cousins and be around my family because I haven't been able to spend time with them in a while," said Maddie Kant ('25).
Happy Sunday, everyone! We hope you get to enjoy at least some of it on an Atlanta BeltLine trail or in one of our parks. We took these shots yesterday at Historic Fourth Ward Park. Enjoy the rest of your weekend and have a great week! pic.twitter.com/hBdephLRhC
— Atlanta BeltLine (@AtlantaBeltLine) August 25, 2019