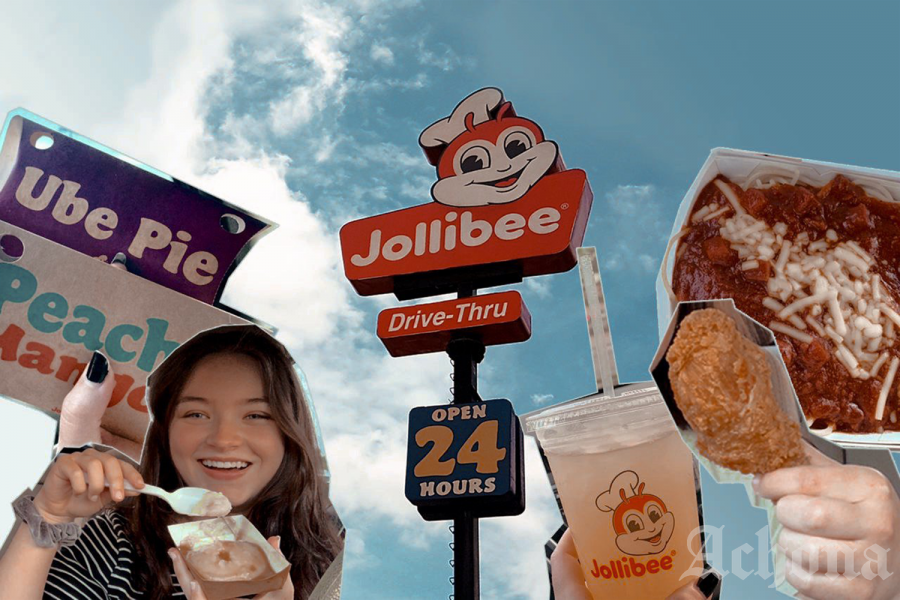 (Photo Credit: Maddie Glaum/Adobe Photoshop/Achona Online)
Jollibee — "Home of the Famous ChickenJoy." Hmm. Is joy really the word I would use? 
For me, Jollibee is by no means an unfamiliar name. As the subject of countless Mukbang videos from notorious fast-food-connoisseur Nikocado Avocado, a guilty pleasure of mine, Jollibee had been branded as the most delicious, high quality fast food in America. Other mukbangers have said similar, regarding Jollibee as the "best fast food I have ever had." So of course when I discovered a Jollibee had opened in Pinellas Park, my interest was piqued. 
Jollibee is a Filipino fast food restaurant, and is "the largest and fastest growing Asian restaurant company in the world." There are currently 37 stores in the United States, with the first reaching California in 1998. Their mission: to spread the joy of eating through quality, great-tasting food that offers value for money, friendly and efficient service, and a clean in-store environment.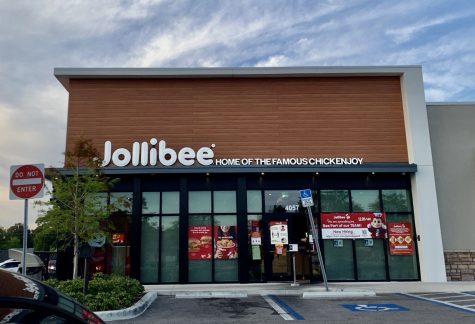 Florida got its first Jollibee in late 2016, opening in Jacksonville. Shortly after, the director of new markets for Jollibee North America, Agnes Briones, confirmed that more Jollibee restaurants would launch throughout Florida in coming years. As a result, the Jollibee in the Tampa Bay area opened its doors to Central Florida on Apr. 3, 2019, and closed shortly thereafter following pandemic protocols in Mar. 2020. 
"Since last year, I've seen a lot of my favorite mukbangers make videos about Jollibee. They seem to really enjoy it, and it's made me want to try it too," says Meredith Nitchals ('21).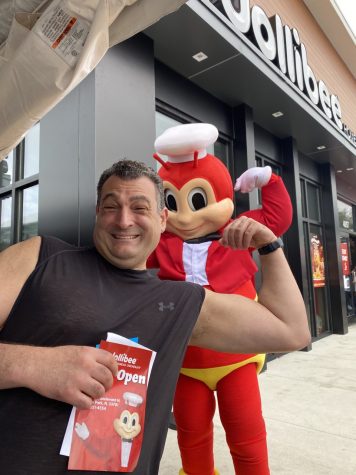 Our Jollibee stands re-opened in Pinellas Park today, about 25 minutes from Academy across the Gandy Bridge. So on Saturday, my friend and I made the journey to witness the Jollibee experience, and to put their mission of "spreading the joy of eating" to the test. 
When arriving at the Jollibee, situated next to a Spectrum store in a building so clearly not designed to be a drive-thru, I was disappointed to read that Jollibee was not open for dine-in (as a result of the pandemic), and that we would have to go through the drive-thru. 
The drive-thru is found by driving around to the not-so-scenic back of the building, where you have a great view of power boxes, the generator, and the back door as you slowly but surely make your way to the drive-thru window.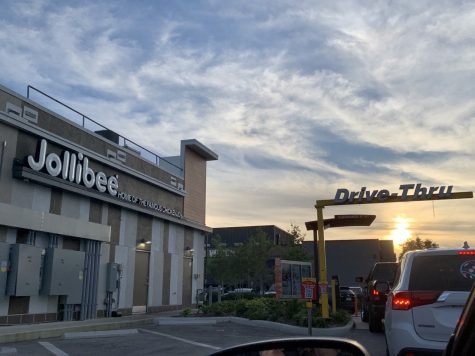 Here begins one of the defining characteristics of the Jollibee experience: the waiting. Since arriving to a line of three cars, it took eight minutes to climb to the drive-thru window. When at the window, I was asked to "review the menu" for another two minutes before someone was available to take my order. 
"My family and I went to Jollibee during its opening weekend in 2019. I remember waiting a really long time then to get my food, but I thought the food was so good that it was totally worth the wait," said Alexa Groteke ('21). 
Jollibee's menu is relatively unique — besides their signature Chickenjoy, which is a bucket of chicken-on-the-bone and a side of mashed potatoes and their chicken tenders, Jollibee has another selling point: Jolly Spaghetti. This spaghetti is a medley of spaghetti noodles, ground meat, sliced hot dogs, and a sweet sauce made from banana ketchup. They have other unique items on their menu like palabok, a Filipino noodle dish with shrimp, ground meat, and hard-boiled eggs tossed in a shrimp sauce, and desserts like peach-mango pie, Ube pie, and Halo-Halo, a traditional Filipino dessert with ice cream, beans, flan, and jellies.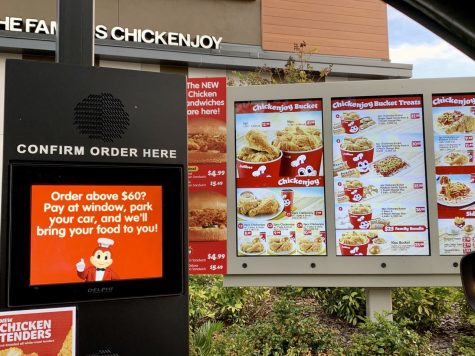 When our order was finally taken, we decided on a variety that would encompass the entire menu. We decided to try the Jolly Spaghetti, the 6pc chicken tenders and fries, and a 2pc ChickenJoy with a side of mashed potatoes. We also tried one of their signature drinks called Pineapple Juice, a peach-mango pie, and their Halo-Halo dessert. 
I pulled up to the window to pay, and was handed my drinks in a container to prevent direct contact with the cashier. Then, I was asked to park, and told my order would be brought out to me shortly.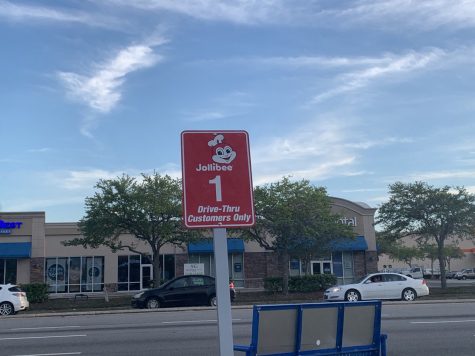 What would the Jollibee experience be without waiting? It was at this point that I realized the hypocrisy of Jollibee branding themselves as fast-food. After a twenty-five minute wait in my parking spot, my food was finally brought out. Here are my thoughts about each of the items in my order: 
Jolly Spaghetti – $5.99
When I took my first bite of the spaghetti, I was in heaven. Although the banana sauce was not as sweet as I'd hoped, having spaghetti in itself is definitely a unique and welcome approach to fast food — it was filling, and lacked the cheap, inauthentic taste provided by most other fast food restaurants. 
"The spaghetti at Jollibee definitely surprised me, especially for being fast food. I thought it was really good," said Groteke. 
However, after the first bite I realized one critical problem that spanned across each of the Jollibee menu items — the portion sizes. 
On the menu, and especially at first glance in person, the portion of the spaghetti looks extremely small. However, I suppose to adjust to the American market, the portion was huge and way too much. Additionally, the spaghetti comes in just one size (besides the "family size" meant to serve 4 people). By the time I got to the end, I was just sick of eating it.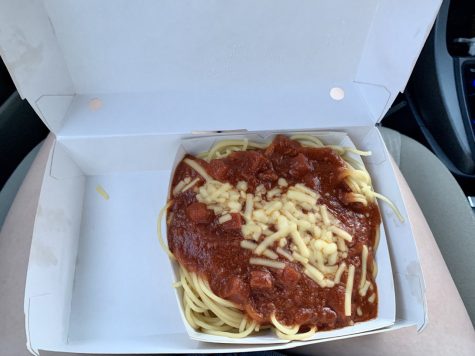 Chickenjoy and Mashed Potatoes – $7.49
The Chickenjoy was my favorite thing on the menu by far. The chicken came out extremely hot, but also very fresh and juicy (and greasy). The breading and seasoning was delicious, and it was overall a welcome meal. 
The meal came with mashed potatoes, and a cup of gravy to dip the chicken in. The gravy could be better and overall wasn't worth the calories to dip the chicken in, but the gravy with the mashed potatoes was delicious. 
"When I went to Jollibee I got the Chickenjoy, and was really surprised about how good it was," said Groteke.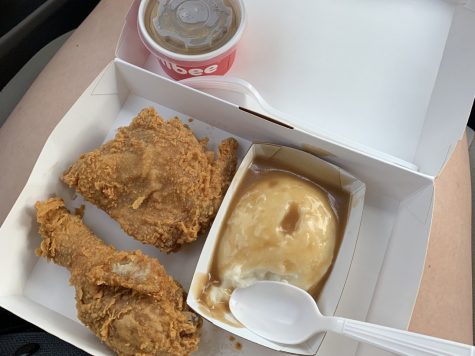 Chicken Tenders and Fries – $12.18
Differing from the Chickenjoy which is on the bone, the chicken tenders and fries unfortunately suffered from the same problems as the spaghetti. First of all, these tenders are HUGE. I'd made a mistake ordering the 6pc since I was only able to eat three. But what baffles me more is that there were options for three, six, nine, or even twelve tenders. 
Besides the portions, these tenders were delicious at first bite. Like their Chickenjoy counterpart, the tenders are juicy, fresh, and breaded nicely. But as I kept eating, I noticed more and more that there was a strange, almost fishy taste about the tenders that left me disgusted as I finished what I could eat. 
On the other hand, the french fries were absolutely delicious. They were restaurant quality — cooked and salted perfectly, and lacked the apathy that McDonalds, Burger King, or even Chick-Fil-A sometimes settles for with their fries. If nothing else, Jollibee's sides have a great track record.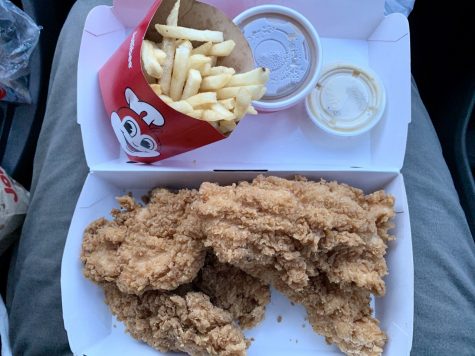 Pineapple Juice Drink – $2.49
I will give Jollibee points for maintaining a unique menu — I was suggested this by the cashier while intending to order a lemonade, which they didn't have. But just like its name, this drink was just pineapple juice — sweet, tangy, and complemented the saltiness of the food nicely.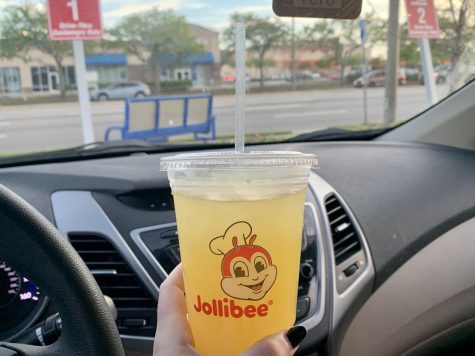 Peach-Mango Pie – $2.49
This pie is the end-all-be-all of all fast food desserts, and that means a lot coming from someone who doesn't like pie. Jollibee's peach-mango pie is absolutely delicious with no strings attached — shaped like a classic McDonald's apple pie, this pie has a delicious, buttery exterior crust. The inside is a gooey concoction of peach and mango slices in a sweet filling. When eaten warm, this pie is the ultimate fast-food pie, and made the trip to Jollibee entirely worth it.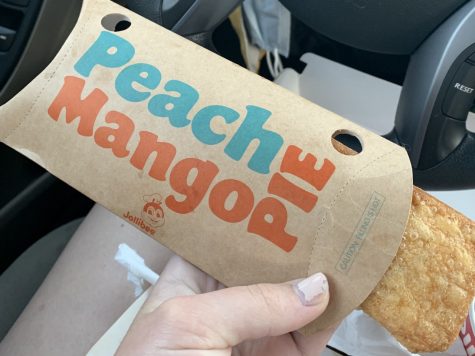 Halo-Halo Dessert – $4.99
To be honest, I was not a fan of the Halo-Halo in the way that my friend was. "Halo-halo," which translates to "mix-mix," is just that — a mix of ube ice cream, crushed ice, jelly candies, beans (mung, garbanzo, and white),  and flan. 
I thought the ice cream and the jellies were amazing, and had the dessert been made of those two things alone, it would have been right up with the peach-mango pie. But admittedly, I did not like the inclusion of the beans at all, nor the chunks of crushed ice, which were not the traditional "shaved" ice size — considering these each composed more than half of the cup, I resigned myself to the fact that I could not enjoy the dessert. 
After finishing my entire meal, I felt underwhelmed. 
While Jollibee foods are made with more care and quality than other fast foods, I would argue that the long waits don't make Jollibee fast food at all. If I'd known I'd be waiting over half an hour total for mediocre and expensive entrees, I wouldn't have shown up. 
The entrees are the most damning part of the Jollibee experience. Large portions of expensive food leave you feeling guilty for not finishing it all, and sick after eating the whole thing. Sure, nothing beats that first bite — probably because waiting has worked up your appetite — but as you bite and bite and bite, you start to realize that the food is not worth the hype, the money, or the wait. 
However, the saving grace of Jollibee is everything else — the sides, the drinks, and the dessert. Jollibee's fries are unparalleled compared to traditional fast food, and the mashed potatoes give KFC a run for their money. But no fast food desserts compare to the deliciousness of a Jollibee's signature peach-mango pie. This alone made my 25 minute trip to Pinellas Park worth it. 
If nothing else, my Jollibee experience proves one thing: that mukbangers play it up for the camera.