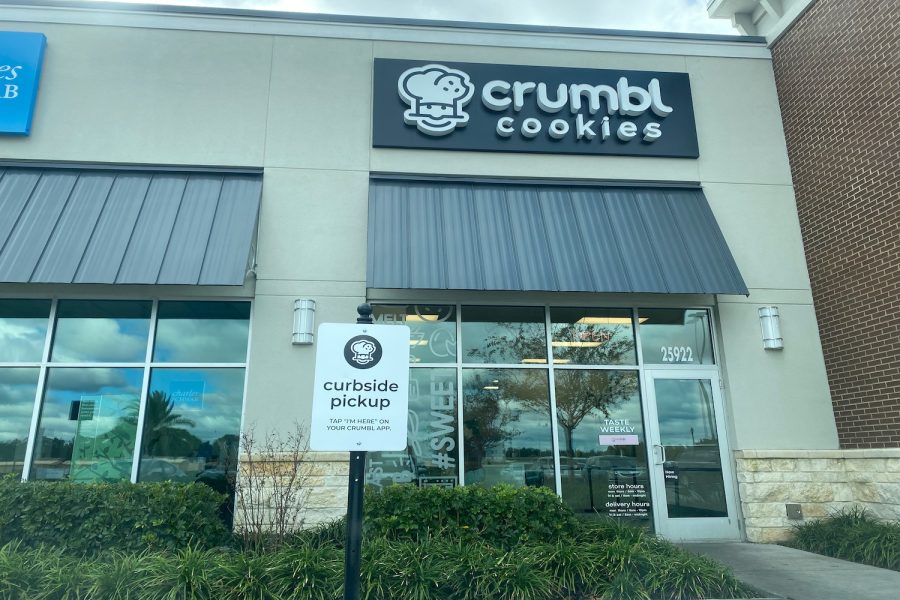 Photo Credit: Olivia Payne/ Achona
Crumbl Cookies is a gourmet cookie shop that has quickly grown in popularity around the United States. Each week, Crumbl puts out four to five different speciality cookies that can only be found at the Crumbl stores. These flavors are only sold for a week, and each Monday morning, new flavors are released. Crumbl has grown due to their popular specialty flavors, such as Churro and Cornbread, and the appeal of their cookies only being available for a short period of time. The week of October 25, Crumbl Cookies released their Halloween cookie lineup. 
"I love going to Crumbl each week and trying the different flavors because I love being able to debate with my friends on the different favorites. It's always so interesting because some of the flavors are really out there and sometimes they really surprise me. Everyone finds it odd that Cornbread is my favorite, and I was skeptical, too, at first because it was somewhat weird for a cookie, but I ended up loving it," said Kathryn Burke ('24).
I consider myself a Crumbl Cookie connoisseur as I have tried at least 20 different cookie flavors. Personally, I like to get curbside pickup (using the esteemed Crumbl Cookies app) and enjoy these cookies in the car with a friend. I think this heightens the experience of trying the new cookie flavors. This week, I was a little nervous about the flavors as I prefer cookies without frosting, and four out of five of the cookies have frosting. Of course, Crumbl rarely disappoints, and I enjoyed this Halloween lineup.
Pumpkin Roll – 6/10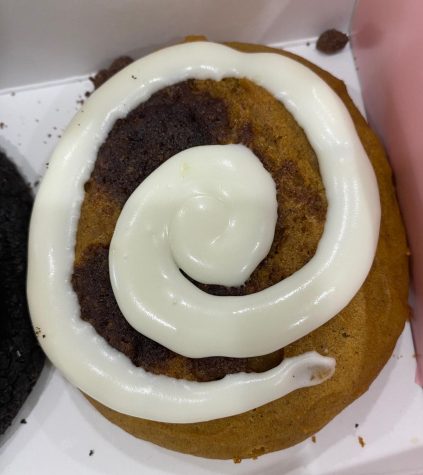 This cookie tastes exactly how I expected it to. It's a pumpkin cinnamon roll. The cookie is light and cake-like. My only complaint is that I don't like cake and therefore I didn't enjoy the texture of this cookie. The pumpkin spice flavor was outstanding and perfect for the fall season. The combination of pumpkin spice with the cinnamon streusel makes this cookie taste like a bite of fall itself. The cream cheese frosting isn't overpowering and perfectly complements the flavors of pumpkin and cinnamon. However, it did make the cookie quite sweet. The cookie didn't blow me away, but the flavor is perfect for pumpkin spice lovers.
Sugar ft. Mother's® Halloween Circus Animal – 9.5/10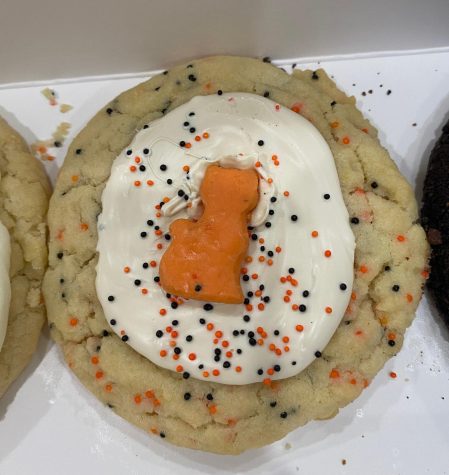 My favorite part of Crumbl Cookies is their ability to perfectly replicate a texture to match that of its inspiration. This cookie was basically a large animal cracker. The confetti cookie had a shortbread-like consistency as it was almost crunchy and very crumbly. While I'm not a fan of drier, harder cookies, I loved the slightly crisp consistency of the cookie. It was a little annoying when first biting the cookie because, without the icing, I didn't get the full experience of the cookie. When I first took a bite with the with chocolate icing, I was blown away. It tasted exactly like an animal cracker but a little bit better. After that, this cookie quickly became one of my favorites. The flavor was simple but so accurate to its inspiration.
Dirt Cake – 9/10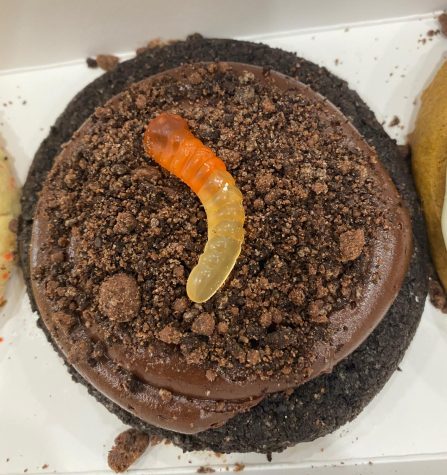 This cookie exceeded my expectations. I'm not a big fan of chocolate desserts, but this cookie was a pleasure to eat. Once again, Crumbl perfectly replicated its inspiration. The soft chocolate cookie combined with the crumbs and pudding-like frosting was delightful. The sweetness wasn't as overpowering as I was expecting. The cookie gave the experience of eating dirt cake but with more organization.   
Sugar (Pumpkin Candy) – 2/10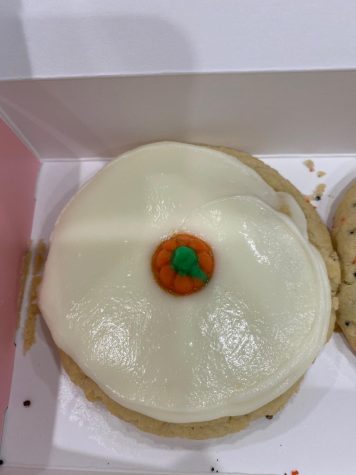 I did not have high expectations for this cookie. This cookie is just the regular sugar Crumbl Cookie that they sell every week, except there's a candy corn pumpkin on top. I bought this sugar cookie the first time I went to Crumbl, I didn't like it, and then I never bought it again. The only reason I bought this cookie was because I wanted a candy corn pumpkin. The sugar cookie is very crumbly and super bland. Chelse Le ('25) said that the cookie is "very sweet. It's too sweet." It's almost too soft to pick up and creates a very unpleasant experience while trying to eat it. The candy corn was the best part.
Monster – 6.5/10 

I'm allergic to peanuts, so I had my father try this cookie instead. 
"It looks very appealing with the chocolate and M&M's. First bite — very nice. You can taste the peanut butter chocolate chips. It's good, every bite is a different sense. Is there oatmeal in this? You can taste all the different ingredients. I would buy this cookie again. I'm not personally an M&M guy, but it doesn't distract from the cookie," he said. 
I have to say that my favorites were the Sugar ft. Mother's® Halloween Circus Animal and Dirt Cake cookies. These were perfectly balanced and had an exciting flavor. If you ever see these flavors back on the Crumbl menu, I would recommend buying them.