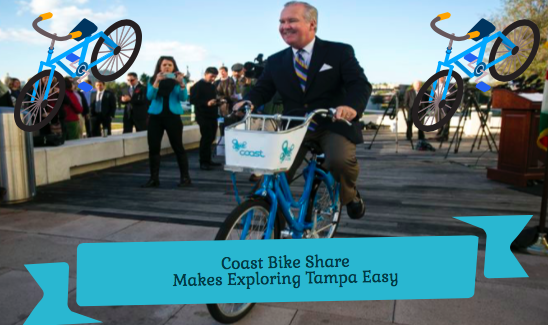 A new, eco-friendly, fun way to explore Tampa has arrived: Coast Bike Share! Coast Bike Share is a service that allows users to reserve and ride a bike in Downtown, Ybor City, or Hyde Park using their app. 
After creating an account, a user is able to select a payment plan, such as the popular "Pay As You Go" for $8/hour. If a user becomes hooked on Coast Bike Share, they can sign up for the "Monthly Plus" program, which allots 90 minutes of bike time per day for $20/month.
Junior, Madison Warnock, thinks the bikes will be a hit and will create "a fun way to be more active!"
The smart-bikes are high-tech and easy to use. Each bike is equipped with a solar-powered panel that works with the app to offer GPS services, mile tracking, and calories burned. Also, the bikes have a chainless shaft drive, to avoid pant-snagging, front and rear lights, and a full-sized basket to store all of your belongings.
To reserve a Coast bike, choose a hub where bikes are available, such as the hub at S Franklin St. and E Whiting St., near the Riverwalk. Pick up a bike by typing the reservation PIN onto the bike keypad and removing the U-lock. Riders must be 18 years or older to reserve a bike. While riding, a biker can choose to HOLD the bike and make a stop for coffee or lunch by pressing HOLD on the keypad and locking the bike onto a rack.
Returning the bike is simple and quick. Lock the bike at any Coast Hub station, or pay $3 to lock the bike at a non-Coast Hub station. Returning the bike outside of the Coast Bike Share system area will cost an additional $25.
Junior, Amanda Lazzara, reveals that she and her family have used shareable bikes before, stating, "We went to Channelside and had lunch. The bike was super easy and we paid with a credit card!"
The University of South Florida has modeled their Share-A-Bull  bike program after the Coast Bike Share model.
Calculus teacher, Anne Mikos, reveals that her fiancé, Matt, "is responsible for a portion of the logistics of the program."
Students at USF simply enter a code into a shareable bike and are free to ride for two hours per day!
Have you heard of our Share-A-Bull #bikes? Find them around USF to take them for a spin! #Exercise #WellnessUSF pic.twitter.com/GtS7VGjwyT

— Wellness USF (@WellnessUSF) August 16, 2016
As beautiful Fall weather returns to Tampa, residents are eager to get outside on weekends and bask in the cool air. Instead of visiting your usual weekend hangout, try a Coast bike and explore Downtown, Ybor City, or Hyde Park; you might find a new favorite spot while enjoying the outdoors!