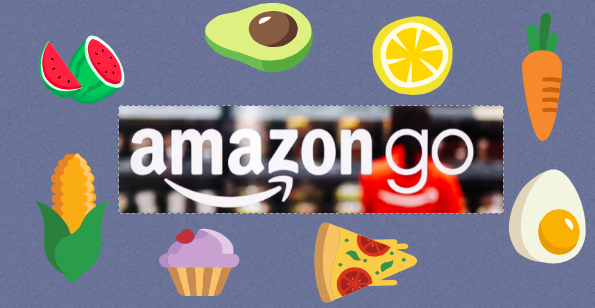 (Credit: Achona Online/ Olivia Porcaro)
In early 2017, Amazon opened a new kind of grocery store in Seattle with no checkout required. Described as a "walk in, walk out shopping experience", all a person needs to shop at the new Amazon Go store is a smart phone, the Amazon Go app, and an Amazon account. The advanced technology used at the store is the same as what is used in self-driving cars: computer vision, sensor fusion, and deep learning algorithms.
When a person enters the store, they are to open the Amazon Go app and scan it on the scanner at the door. Then, while shopping, the app will automatically detect when products are taken from or returned to the shelves and keep track of them in a virtual shopping cart. When they are done shopping, the customer just leaves the store, while the app charges the cost to the amazon account. After exiting the store, the customer will receive a receipt.
https://www.instagram.com/p/BPdYutCAhvB/?tagged=amazongo
Sophomore, Regan O'Leary says, "I think this idea of a store is so smart and so convenient. I love the no line, no checkout idea. I really hope that Tampa can have something like this one day!"
When asked why Amazon Go was created, owner Jeff Bezos says, "Four years ago, we asked ourselves: what if we could create a shopping experience with no lines and no checkout? Could we push the boundaries of computer vision and machine learning to create a store where customers could simply take what they want and go? Our answer to those questions is Amazon Go and Just Walk Out Shopping."
At Amazon Go, on site chefs prepare ready-to-eat breakfast, lunch, dinner and snack options fresh everyday. The store has the basics, like milk and bread, but also special foods, like locally made chocolate and artisan cheese. Also, Amazon Go sells chef designed Amazon Meal Kits, which has all the ingredients in it to make a meal for two in about thirty minutes.
Senior, Allie Weachter says, "Considering the high standards and quality that the Amazon company holds themselves to, I would assume that all the food they sell and prepare would be delicious."
On the contrary, junior, Claire Obeck claims, "Although I love Amazon products, I have never ordered food from there, so I am not sure about the company's expertise in that field. I thought they were more known for selling other types of products at good prices, but I would still love to see how their grocery store works out!"
With all the hype of the new Amazon Go store, this new no checkout technology could be the future of grocery shopping!