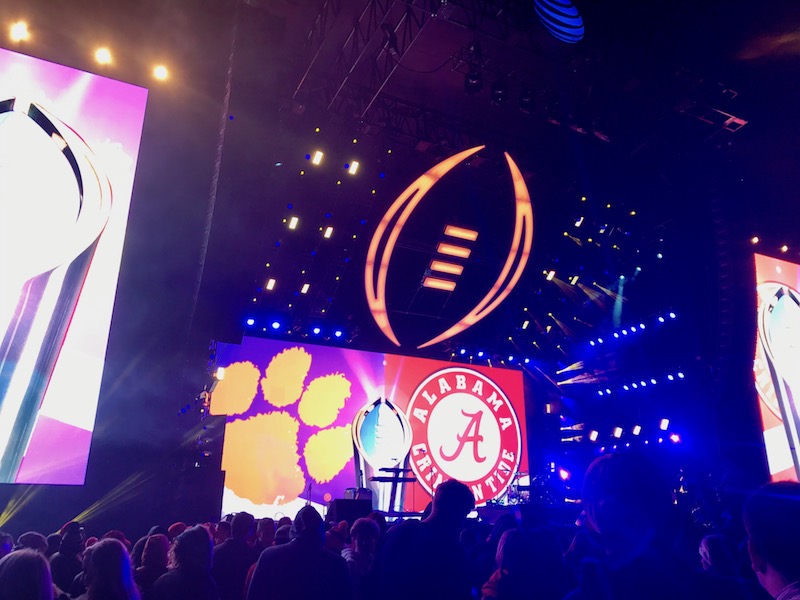 On January 9, Tampa Bay hosts the 2017 College Football Playoff National Championship game with number one ranked University of Alabama facing number two ranked Clemson at Raymond James Stadium. To welcome visitors and encourage football fans to get excited, AT&T Playoff Playlist Live took place at Curtis Hixon Waterfront Park on Friday, January 6 to Sunday, January 8. Playoff Playlist Live! is a free three-day music festival featuring popular artists such as Flo Rida, Eric Paslay, and Usher.
Below is the schedule of the performances:
Friday
5:00 pm: Gates open
6:00 pm: National recording artists performances begin
The Shadowboxers
Clare Dunn
Headliner: Eric Paslay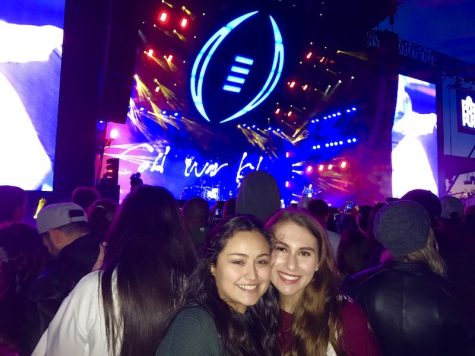 Saturday
12:00 pm: Gates open
Local recording artists perform throughout the day
Southern Train
Save the Radio
6:00 pm: National recording artists performance begin
The Cold War Kids
Rachel Platten
Headliner: Flo Rida
Sunday
12:00pm: Gates open
Local recording artists perform throughout the day
Trigger City Trio
Soul Circus Cowboys
6:00 pm: National recording artists performances begin
Special Guest Host: Comedian and Former Saturday Night Live Member Jay Pharoah
Jamie N Commons
Gavin DeGraw
Headliner: Usher
USHER IS IN THE HOUSE. #ATTPlayoffPlaylist pic.twitter.com/CH14qL49PX

— CFBPlayoff (@CFBPlayoff) January 9, 2017
The event also included different interactive activities giving guests the opportunity to win cash prizes and Chick-Fil-A promotions.
Sophomore Lauren Dingle was one of the thousands of people who attended one of the concerts on Saturday night. She says, "My favorite performer was Flo Rida because he got the crowd really fired up and I knew the majority of his songs. I also liked the free Chick Fil A and opportunity to meet up with my friends."
https://www.instagram.com/p/BO_UsYvDYym/?taken-by=official_flo&hl=en
Seniors Claire Leto, Camille Opp, Emily Orama, Kate Scanlan, Mary Kate Urbanski, and Tessa Vaughn had the opportunity to meet Flo Rida and Jay Pharoah after the concert on Saturday.
Emily Orama says, "In the crowd, I made friends with Flo Rida's barber and he said that my friends and I could go backstage with him to meet Flo Rida. While we were back there, I saw Jay Pharoah and immediately showed him the fan video Brittany Bramwell and I made for Leslie Jones and he said he would tweet it at her. To see someone who was on SNL laughing at a video I created made me cry on the inside. It felt like a dream. I had to look at my pictures in the morning to make sure it was real."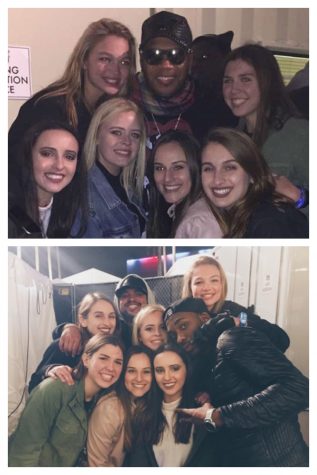 This music festival was a time for both Alabama and Clemson fans to put aside their differences to enjoy a fun weekend of great music.