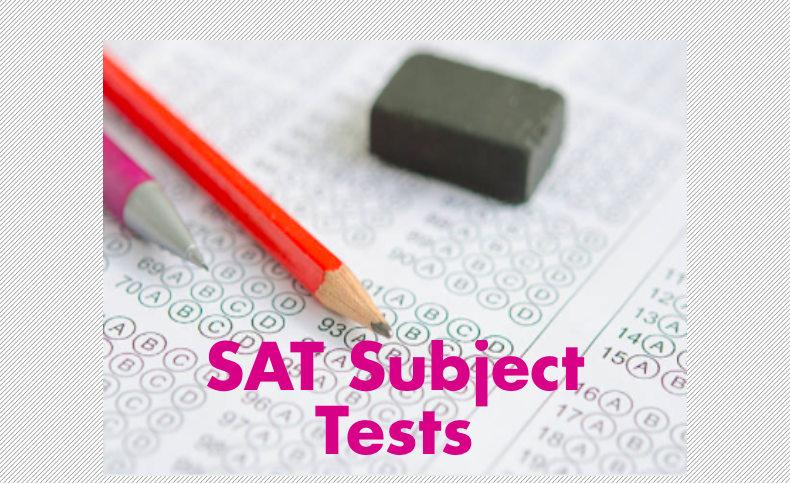 Most students are familiar with the SAT, a standardized test offered by the CollegeBoard and widely used in college applications; however, lesser-known, but still important, are the SAT Subject Tests, also known as SAT 2s.
There are 20 SAT Subject Tests, ranging from U.S. History to Modern Hebrew. See all of the subjects here.
Why take an SAT Subject Test? Many students submit their SAT Subject Test scores to highlight specific talents as part of their college applications. SAT Subject Tests can also be used for placement in college classes. A small number of colleges require two or more SAT Subject Tests, such as Brown University and CalTech. Many colleges list SAT Subject Tests as "recommended" but not detrimental if un-submitted, such as Dartmouth College: "We recommend that you submit 2 SAT Subject Test scores to help us better understand your academic strengths. Alternately, if you do not submit subject test scores, it will not prevent your candidacy from receiving a full review by the Admissions Committee."
Junior, Evelyn Martinez, said, "I decided to take them because some of the colleges I want to apply to recommend or require them. It was nice that they were the Saturday after my AP exams, which made studying a lot easier."
Each test is one hour long and is solely multiple choice. Number of questions varies: Math Level 1 and Level 2 are 50 questions, while World History is 95 questions.
Many AHN students take Math Level 1 or  Math Level 2.
If you're wondering which one to take, the main difference is the element of trigonometry and precalculus in Math Level 2. According to the CollegeBoard, "If you have taken trigonometry or elementary functions (precalculus) or both, received grades of B or better in these courses, and are comfortable knowing when and how to use a scientific or graphing calculator, you should select the Level 2 test."
Another popular Subject Test is U.S. History.
Junior, Julia Lee, said, "I felt like it [the U.S. History Subject Test] was more straightforward than the exam. I felt very prepared for it. It was just really long."
The most obvious preparation for an SAT Subject Test is to take the highest-level class available in the specific subject. The CollegeBoard website also has a plethora of resources; just choose your subject and click on Practice Resources, which include Khan Academy videos and sample questions.
Senior, Tess Jakubiec, said, "I recommend studying for the Chemistry Subject Test because it's a little different than the AP Exam. The questions are just worded differently."
Students can register for a maximum of three SAT Subject Tests at a time. On testing day, the tests can be taken in any order and scores can be cancelled if desired.
when you have 2 sat subject tests, 2 AP exams, 2 socratic seminars in spanish, an apush test, a math test & an essay within the next 5 days pic.twitter.com/kMZtxmlMfG

— emily (@hestayIor) May 1, 2017