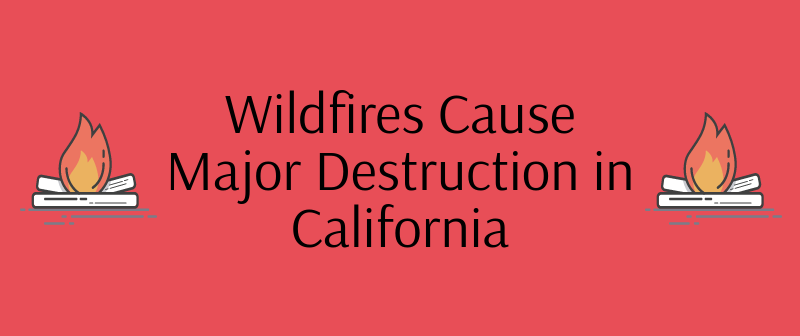 Photo Credit: Juliana Ferrie/Achona Online
Over the course of the last month, severe wildfires have been destroying the landscape of Northern California, as well as endangering the lives of its residents. Wildfires can occur due to extreme heat from the sun or from a lightning strike. Once they have started, wildfires are hard to stop, making them even more dangerous.
Emily Nash ('20) said, "I cannot imagine what the families affected by the wildfires are going through. If this were happening to me and my family, I don't know what we would do."
#RedCross continues to assist thousands impacted by the devastating #wildfires in #California: https://t.co/UkHOeiOFEL pic.twitter.com/EhnDjgKgtg

— American Red Cross (@RedCross) October 17, 2017
The California wildfires have killed 42 people, and 21 people are currently missing. In addition to the casualties, over 8000 structures have been destroyed in California's wine country, which gets its name from the abundance of wineries found in the region. Along with California's wine country, some major areas of destruction include Santa Rosa, Sonoma County, and Napa County. The wildfires are some of the most destructive in California's history.
Caitlyn Asher ('19) said, "I think that it is crazy to think about how much the wildfires have destroyed in Northern California. On the news, I saw that thousands of buildings had been destroyed, so I am praying for their recovery."
For the most part, the fires have been contained. However, some small fires are still affecting parts of Southern California and Santa Cruz County.
The physical damage to various parts of Northern California just scratches the surface of the effects of the wildfires. The loss of homes is affecting the lives of several families. In addition, there will also be an economic toll on California. For example, before the wildfires, California's wine country was a major tourist attraction that generated billions of dollars a year. Excluding the impact on tourism, the wildfires have caused over a billion dollars in damages.
In addition to the repairs that will need to be made to buildings and homes, California's Department of Toxic Substances Control will conduct a clean-up in order to remove substances that have become dangerous after being exposed to the fires.
Latest on wildfires in #California #wine country https://t.co/YyawYDiGJe via @Decanter #Napa #Sonoma #fire pic.twitter.com/7CKzO46FF9

— Jason (@cono_sur) October 19, 2017
Organizations, such as the American Red Cross, have been aiding victims of the fires. Foundations are also offering relief to the firefighters who have been working to contain the wildfires. For example, the California State Firefighters' Association is raising funds or firefighters who have lost their homes.
Nayeli Carrea ('21) said, "I think that it is great that the American Red Cross is doing so much to help the wildfire victims. It's a great organization, and I think it is really cool that they are helping out communities that need it."