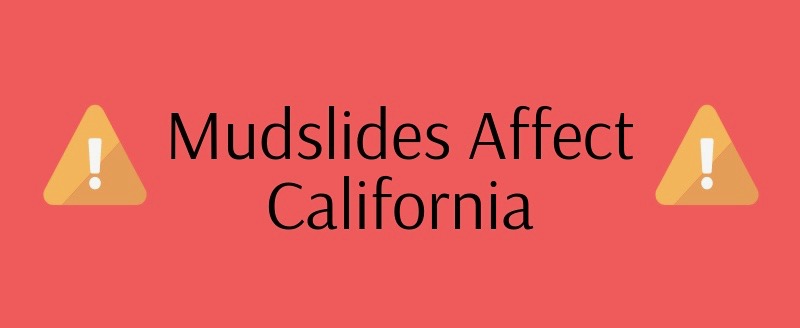 Photo Credit: Juliana Ferrie/Achona Online
On Jan. 9, 2018, deadly mudslides, which were caused by heavy downpour throughout the region, began to affect Southern California, specifically Montecito and Carpinteria. The abundance of rain brought mud, rocks, and other types of debris down the nearby mountains. As a result, the area was severely damaged.
Madison Rooth ('19) said, "I am praying for the victims of the California mudslides. After the suffering California went through with the wildfires, I cannot believe that they are going through another natural disaster."
Santa Barbara County was one of the major areas affected by the mudslides. Montecito, which is within the county, sustained significant damage. Many of the city's buildings and homes were destroyed. In addition, within Carpinteria, parts of Highway 101 are closed down due to the mudslide. Highway 101 is a major roadway for commuters, and its closing has affected thousands of people.
The mudslides resulted in a large number of casualties. In total, 21 people have died as a result of the mudslides, and a few people have still not been found.
At least 20 people have died as a result of mudslides in California. Four are still missing https://t.co/cmfav4Hjxz pic.twitter.com/6ZXrZ33aBb

— CNN Breaking News (@cnnbrk) January 14, 2018
The steep terrain of Montecito, as well as the rest of Santa Barbara County, contributed to the damage inflicted by the mudslides. Residents whose homes were located beneath elevated territory lost many of their properties to the mudslides. Overall, 100 homes were destroyed within Montecito, and 300 more were damaged. Residents have since been evacuated from the affected areas.
Olivia Scarpo ('21) said,  "My cousins live in the same area as the mudslides, so it has been especially scary. We have been checking up on them. Although they weren't affected, people in their area have been."
What the California mudslides did to Montecito, before and after https://t.co/y4jHzSRk66 pic.twitter.com/s2B8vpRxQz

— CNN (@CNN) January 12, 2018
During and after the mudslides, hundreds of residents were stuck in their homes. As a result, first responders and firefighters conducted rescues in order to remove citizens from danger. Due to damaged roads, many victims of the mudslides were taken to safety in helicopters.
Julia Barreto ('18) said, "Mudslides scare me because there is nothing you can do to stop them from happening. I think that it is important to donate money to the victims because they have lost everything in this disaster."
https://www.instagram.com/p/Bd51aKIB8jk/?tagged=californiamudslides
Efforts are currently being made to clean up the destruction. First responders, as well as volunteers, have been working to remove large rocks, trees, and other large pieces of debris from the area. In addition, work has been done in order to clear the roads.