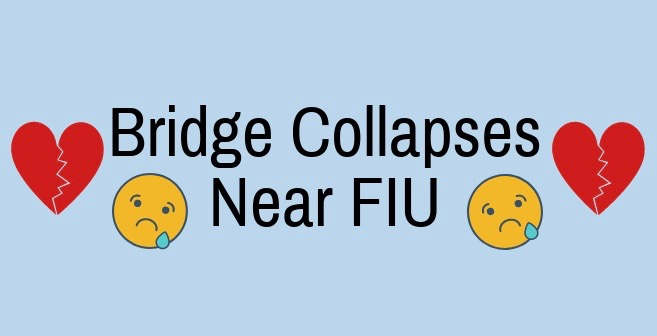 Photo Credit: Juliana Ferrie/Achona Online
On March 15, 2018, a bridge near Florida International University collapsed, which had been commissioned to serve as an overpass for pedestrians. The bridge, which was being installed above a busy road in Miami, would have allowed for students and pedestrians to avoid traffic hazards. In addition, the bridge connected FIU to Sweetwater, a community in which several university students live. The collapse crushed several cars and resulted in the deaths of six people, which included an FIU student.
Anabela Ebsworth-Llavona ('19) said, "I believe that the collapsing of the FIU bridge is really tragic. It is a huge reminder that you never know what is going to happen and when your life could suddenly end. I am keeping the victims in my prayers."
The bridge was installed on March 10, 2018. It was designed using new technological advancements that allowed for the bridge to be built away from the installation site. Instead, after the overpass was built elsewhere, it was lifted and put in place, which is known as self-propelled modular transportation. This method allowed for the main section of the pedestrian bridge to be installed in six hours.
Timelapse of pedestrian bridge construction @FIU pic.twitter.com/AdxH8GNIXe

— Scott Tetreault (@BostonNewsMan) March 15, 2018
Although there are theories about the collapse, the definite cause is unknown. Prior to the collapse, its suspension cables were being tightened by workers on the bridge. Although their presence and the tightening of the cables have been examined as possible causes, a voicemail left by a member of  FIGG Bridge Engineers to the Florida Department of Transportation is also being investigated. The voicemail addressed concerns about cracking on the north part of the bridge; however, it was received after the bridge collapsed.
Adriana James-Rodil ('21) said, "If the cracks in the bridge caused the collapse, it is really terrible that no one checked their voicemail. It could have saved lives."
Cracks were reported on FIU bridge 2 days before deadly collapse. No one got the voicemail, officials sayhttps://t.co/XKRWyN2BQ7

— TIME (@TIME) March 17, 2018
An ongoing investigation is being conducted by the National Transportation Board, but a full explanation as to why the bridge collapsed could take up to 18 months.  
Tress Jacobs ('20) said, "I wish I could do more to help the community in Miami recover. As an individual, there's not much I can do, but I am sending my thoughts and prayers to the families of the victims."