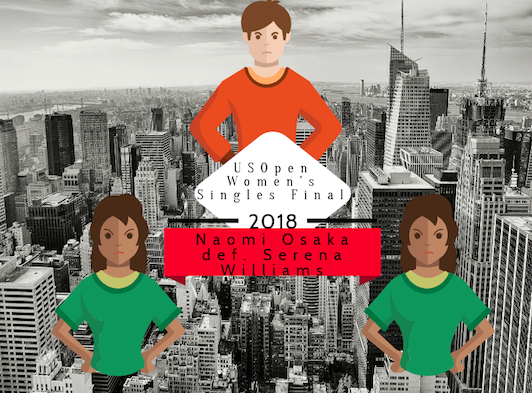 Photo Credit: Adriana James-Rodil/Achona Online/Piktochart
On September 8, 2018, the U.S. Open Women's singles final between Serena Williams (USA) and Naomi Osaka (JPN), with Carlos Ramos acting as chair umpire, took place. Although Osaka, who won against Williams 6-2, 6-4, became the first Japanese woman to win a Grand Slam title, it was quickly overshadowed by the waves of controversy that occurred after William's three code-of-conduct violations.
Rhyan Tappan ('21), who is a part of the AHN varsity tennis team, said, "Mostly, I remember Serena losing because she made such a big deal about it, while it should have been the other person [Osaka] winning because she won, and it was her first Grand Slam title. Serena should not have thrown the hissy fit."
Osaka steadily won the first set and was winning in the second, while Williams was in the midst of making a comeback, when Williams received a code violation. Ramos saw William's coach, Patrick Mouratoglou, making hand signals. According to the 2018 Official Grand Slam Rulebook, rule number 30 addresses coaching by stating, "Communications of any kind, audible or visible, between a player and a coach may be construed as coaching."
Yes or no?
pic.twitter.com/wZQSEok0iG

— Anna Chakvetadze (@achakv87) September 8, 2018
Although after the match Mouratoglou admitted to coaching, Williams did not see him making hand signals. Angered by the call, Williams said to Ramos during the match, "You owe me an apology. I have never cheated in my life! I don't cheat to win. I'd rather lose."
Later in the match, Williams broke her racket, angered by the score and previous accusation by Ramos. This resulted in an automatic racket abuse violation, ending with Williams receiving a point penalty. Now, more upset, Williams called Ramos a thief because he took a point from her. She received a game penalty for verbal abuse. Unable to recover and re-set, Williams quickly lost the second set, making Osaka the champion, but it was not how she wanted to win.
During the award ceremony, the audience erupted in "boos" targeted towards Ramos, but Williams quickly told the crowd to stop booing while also comforting Osaka.
Osaka's moment of glory was forgotten, as the unequal treatment of umpires towards female tennis players was brought into the spotlight.
Caitlyn Asher ('19), a member of the AHN varsity tennis team, said, "I would definitely say that Naomi deserved more praise. I mean what Serena did is noticeable too, but having just won her [Osaka] first Grand Slam, that obviously deserves a lot of praise too."
During William's press conference after the match, she quickly said the word "thief" does not compare to a male player's berating of umpires. 
Williams said, "I've seen other men call other umpires several things, and I'm here fighting for women's rights and for women's equality and for all kinds of stuff. And for me to say 'thief' and for him to take a game. It made me feel like it was a sexist remark. He's never took a game from a man because they said 'thief.'"   
According to the 2018 Official Grand Slam Rulebook, "verbal abuse is defined as a statement about an official, opponent, sponsor, spectator or other person that implies dishonesty or is derogatory, insulting or otherwise abusive."
Ramos has presided over multiple Grand Slam Finals, although more men matches, and has a reputation for strict ruling, as other top ATP players such as Andy Murray and Novak Djokovic have voiced their dissatisfaction with his calls.
Murray, during the 2016 Olympics, received a code-of-conduct violation for saying "stupid umpiring" to Ramos.  
Former world No.1 and 18 time singles Grand Slam champion Chris Evert defended Ramos claiming sexism did not play any role against Williams, as he has been harsh with male players as well.
Although Ramos's rulings have shown to be consistent among both men and women, the same is not said for other umpires. Former ATP singles world No. 4, James Blake admitted he has used worse language than Williams, yet umpires did not penalize him, but gave him a "soft warning."
I will admit I have said worse and not gotten penalized. And I've also been given a "soft warning" by the ump where they tell you knock it off or I will have to give you a violation. He should have at least given her that courtesy. Sad to mar a well played final that way. https://t.co/xhBzFZX8Wq

— James Blake (@JRBlake) September 9, 2018
Robert Quinn, a math teacher and the AHN high school varsity tennis coach, said, "I've seen on the tour this year guys who do way worse than I think Serena did, and they didn't get nearly the penalty and in matches that had not the kind of bearing that obviously a US Open championship would have. So, I think while I would not try and defend Serena's behavior, the penalty was a little harsh."
Williams was fined $17,000 in total: $4,000 for coaching, $3,000 for racket abuse, and $10,000 for verbal abuse. This raises questions about the inability of tennis players to express themselves and the serious penalties for doing so.  
Williams said, "I just feel like the fact that I have to go through this is just an example for the next person that has emotions and want to express themselves, and they want to be a strong woman, and they are going to be allowed to do that because of today. Maybe it didn't work out for me, but it's gonna work out for the next person."