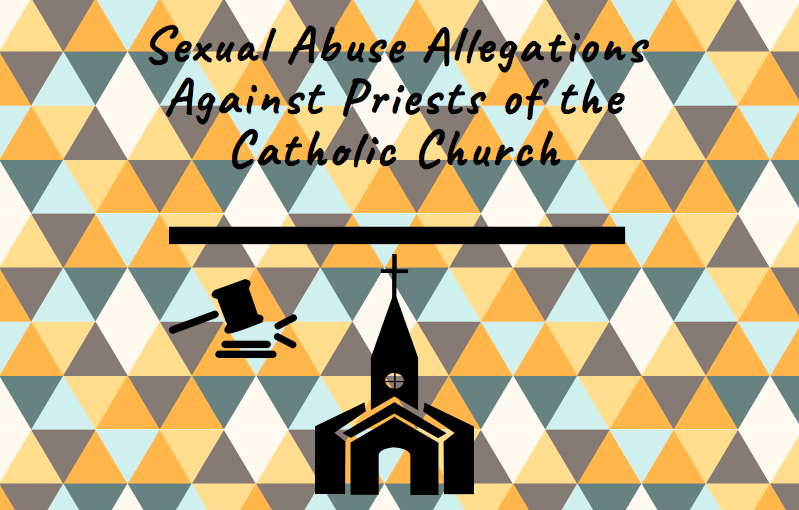 (Photo Credit: Adriana James-Rodil/Achona Online/Piktochart
On October 4, in the wake of the unveiling of the Pennsylvania Catholic Church child sex abuse cover up, Pam Bondi—Florida attorney general—has responded by launching a tip site, concerning all 7 Catholic dioceses in Florida, where victims or people with information can report past priest sexual abuse.
Andie Rogas ('22) said, "Sexual abuse is very relevant today because a lot of people are coming out and stepping forward and saying something has happened to me. It's kind of sad to see when girls come out and they're like something happened and either everyone says, 'I don't believe you' or they say 'Oh, that was forever ago, and it doesn't matter.' But, it does because obviously it affected them. I think [Bondi's statewide investigation] is a good thing because it gives the women [and men] their voice back, and it gives them a chance to say something. It's weird to think of priests abusing people."
Bondi, during her press hearing, said, the site "is a place where anyone with allegations of past abuse can confidentially report that information, and confidentiality is important because if you're a victim, we have to know who you are, but you will be protected."
If you have reported crimes of sexual abuse to the Church in the past or to anyone, report them now as this is a statewide investigation.
Bondi stresses this website is specified towards allegations of past abuse as current or ongoing sexual abuse by priests should be reported to 911 immediately.
Over a span of 70 years, 301 clergy members abused children in Pennsylvania, and it was covered up in numerous ways. For instance, bishops moved priests from the church they were abusing children to another. There are more than 1000 known child victims. However, the loss of documents or the inability of a victim to speak out, prohibits the revealing of thousands of more victims.
Brian Butterly, a religion teacher, said, "Priests should be held to a higher standard when they decide that this is what they're going to do. When we commit fraud, when we commit illegal actions, then the legal system should take over. Prior to accepting people into the ministry, you have to investigate them. They have to go through psychological testing [to] make sure that they are people of good standing, morally, psychologically, [and] ethically. The issue needs to be discussed. We think that everyone is doing the right thing, and we don't discuss it, and we find out that people aren't doing the right thing."
According to the 40th Statewide Investigating Grand Jury Report 1 (a 2 year long investigation), the crimes were ignored by Pennsylvania church leaders who were more concerned with protecting the image of the church. Although all the sexual abuse crimes were horrific, several stand out. While visiting a 7 year-old girl after having taken out her tonsils, a priest raped her at the hospital. Another priest resigned after years of abusing children, but then became an employee at Walt Disney World.
Josh Shapiro—the attorney general of Pennsylvania—addressed the Vatican's role while bishops of Pennsylvania moved priests from church to church: "There were documents in the Church's own secret archives where bishops notified the Vatican of the predator priests, notified them of their plans to pass them from place to place, and we have no proof that the Vatican did anything about it other than keep it quiet as well."
This is a global crisis. In Chile, Pope Francis called for an emergency summit meeting in May at the Vatican. During which, all 34 bishops of Chile offered their resignations after the disclosing of sexual abuse perpetrated by Chilean priests and how it was covered up. Francis has accepted the resignation of five of 34 bishops. In Germany, during the past 70 years, no less than 3,677 children were sexually abused by members of the clergy, yet the number is likely greater.
Five nuns have been protesting against a bishop in Kerala's Catholic Church since last month, accusing him of raping one of them 13 timeshttps://t.co/YatI9OS2i2

— InUth (@InUthdotcom) October 10, 2018
Francis responded to the sexual abuse scandals by begging for the forgiveness of victims and their families while also reprimanding the behavior of members of the clergy. Francis, in a letter issued on August 20, to Catholics around the globe, wrote, "We showed no care for the little ones; we abandoned them."
Bryn Hall ('21) said, "I mean, obviously, it's completely devastating because to think that our church, the priests, is doing this is just—I can't believe that it's actually happening. I think like we were actually learning in religion that they should hold a [Vatican] Council for that and try to fix these problems because just the fact that this is actually happening to people is horrible, and people should not have that image of a priest for the rest of their life. Overall, we need to do something about it and soon because it's happened to too many people, and one is too many."
Francis will be convening with all the bishops of the Catholic Church in Rome from February 21-24 in 2019 to discuss the prevention of the abuse of minors and adults.
Bishop Gregory L. Parkes of the St. Petersburg Diocese issued a letter after the announcement of Bondi's statewide investigation. Parkes wrote, "I welcome this investigation and want to assure the public that the Diocese of St. Petersburg has been and continues to be proactive in its efforts to keep children safe, which should be a priority for everyone."
https://soundcloud.com/chonanline/sr-mary-glavin-1