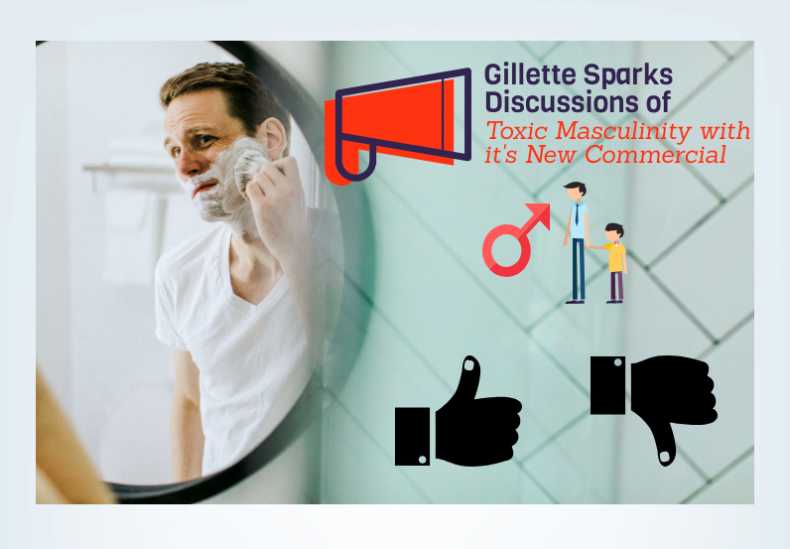 (Photo Credit: Adriana James-Rodil/Achona Online/Piktochart)
On January 13, 2019, the male razor company—Gillette—released an almost two minute commercial, titled "We Believe: The Best Men Can Be," which addresses the issue of toxic masculinity, bullying, and the #MeToo movement.
Emma Eaton ('20) said her and her classmates watched the newly released Gillette commercial during religion class while comparing it to a different ad, "We were supposed to compare the two sides of like the women's view and the men's view, and we were talking about how we should make change in our society now, so that way when we are older our kids won't have to deal with all these things like how people say it's bad for men to be less masculine and the compliments that are not actually compliments. I think [the commercial] was good because a lot of time people always talk about women's problems, but a lot of men out there are shamed for not being masculine enough, or they don't share their true colors because of a stereotype that they have to be [very] masculine. So, I think it was good."
It has sparked both positive and negative feedback. Those against the message have threatened to boycott Gillette and it's parenting company Procter & Gamble.
Emara Saez ('21) said, "I didn't think that it was that controversial. I really thought it was a good way to put across the message that they were trying to put across, and I didn't think that the reaction would be as negative as it was. I think it shows a lot of maturity as a brand that they are willing to do that [include aspects of the #MeToo movement and toxic masculinity], and I guess they knew going into it that their opinion might not be received well, but they still did it, and I really respect them for that."
I will no longer support your company. I will NEVER apologize for being a male because you want to appease the "political correctness movement". Sad day when the best a man could get is a company calling out males for being men. #gilletteboycott

— Sam Radd (@TeamSamRadd) January 15, 2019
The ad questions it's brand tagline of almost 30 years ("The best a man can get") by the narrator asking "Is it the best a man get get?" as it applies today, in 2019. While the narrator speaks, it displays scenes of bullying, violence, sexual harassment, and references the #MeToo movement and toxic masculinity. The narrator continues by saying, "The boys watching today will be the men of tomorrow."
Cassie Hiatt ('22) said, "I thought it was really good because it taught men to not treat us like sexual objects and more as respected women in the newer age." Disagreeing with Gillette's original tagline, Hiatt added, "I don't think it's the best a man can get. When I think of the best man you think of someone who will do anything for anyone, will put himself last and others first. I think it ['Is it the best a man get get?'] was a really good way to put it."
Although there was criticism, Gillette's message in the ad was proven days before by the American Psychological Association (APA) who stated that toxic masculinity is harmful to the physical and mental health of both boys and men in their new "Guidelines for the Psychological Practice with Boys and Men." Within it states the higher rate of male committed suicide, violence, substance abuse, cardiovascular problems, and early death which (from years of research) shows the above issues can be traced back to traditional male stereotypes.
I've been using a men's Gillette razor since I was 14. Gillette was the first major company to hire me when I was kind of known as a risky little b for brands. I still use a gillette fusion razor and I still get so much joy from a fresh blade. in closing, I love you, Gillette.

— christine teigen (@chrissyteigen) January 16, 2019
After learning of the APA's new "Guidelines for the Psychological Practice with Boys and Men," Hiatt commented, "Toxic masculinity is just something that our world is just kinda dealing with. I have mixed emotions on it. Well, I like the commercial because one: it proves that girls shouldn't be sexualized, and the guy that stopped the other guy [in the commercial] was like, 'You really should not do that.' Then, I also feel that maybe it's not the best commercial because the little boys are not seeing full toxic masculinity at its peak. But, I think it's just a good commercial to show. I have a younger brother and two older brothers. My younger brother saw the commercial, and he said it was a great commercial."
The timing of the release of the APA's guidelines and commercial were very close, yet the Chief of Professional Practice for APA—Jared L. Skillings—told CNBC Make It, "We didn't coordinate with [Gillette]. The timing of this is coincidental, although, nicely so."
In the same week, the televisions series "Adam Ruins Everything" aired on January 15, 2019, an episode entitled "Adam Ruins a Sitcom" which addresses traditional stereotypes and the toxic masculinity found in movies and television and their negatives effects on young men. This week appears to be the week of confronting a long silenced issue.
Click here to watch the full episode.
Critics of the ad argued it negatively portrayed men, while others praised that it mentioned critical issues. Skillings said the commercial showed positive aspects of men (competitively playing sports and socializing while barbequing); however, he also said the ad sheds light on the role toxic masculinity plays on harming men as well as others.
Spanish teacher Jose Ruano said, "It [toxic masculinity] had to be addressed one way or another. It was a different way of how they addressed it, maybe not good, not bad, but different because you shouldn't put that in a commercial…It is a stereotype. Not all men are like that and just like not all women are good or bad, so we have all types of people."
The ad does not simply state and show the issues prevalent today, caused in part by toxic masculinity, but it displays positive actions taken by men to stop them from continuing. A man in the commercial halts his friend from harassing a woman on the street.
Along with the ad, Gillette is partnering with the Building A Better Man project, aimed at reducing violence in men, The Boys and Girls Club of America (which assists young boys in improving their social and communication skills), and it is donating $1 million for the next three years to different organizations in the U.S. whose focus is to help young men.
Saez said, "I think it can only do good if more people see those messages that is obviously going to influence their actions in a positive way, so the effects are going to be positive as well. It is not much of a secret to me that, that type of toxic masculinity that a lot of boys and men grow up in affects them negatively. It's not positive to feel pressured by those stereotypes and those standards your whole life. We [my younger brother and I] actually watched the commercial together because I told him about it and asked him if he had seen it, and he hadn't, so we watched it together, and I think he also agreed with the message in the video, and I also made sure to explain [to] him that this is a valid message, and you shouldn't just ignore it. You should pay attention to it, and apply it to your everyday life."