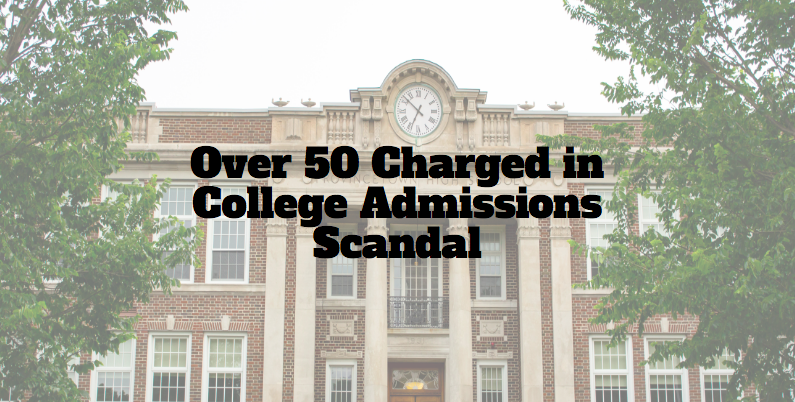 (Photo Credit: Jaclyn McCauley/Achona Online/Piktochart)
On Tuesday, March 12, the Justice Department released information on the largest college admissions scandal in history. The investigation involves around 200 agents across the nation and has charged 50 people in six states. While 50 people have been charged, only 33 parents were involved in this scandal. The other people charged include some students, administrators, and William Singer.
William Singer is the founder of a college preparatory business called the Edge College & Career Network. It is also referred to as "The Key." Singer used his business as a way to help students cheat on their standardized tests and to pay bribes to college athletic coaches.
Singer bribed coaches and college officials so they would register the student as a recruited athlete, despite never playing the sport before.
Actress Lori Loughlin allegedly paid $500K in bribes to get her daughters into USC as members of the crew team, even though they didn't row; when William Singer e-mailed Loughlin that her daughter got in, she responded, "This is wonderful news!" https://t.co/qCAjoTiJCM pic.twitter.com/ckZKnHZ0mM

— CBS Evening News (@CBSEveningNews) March 12, 2019
Caitlin Neal ('19) says, "I think that this situation is so wrong. As a high school athlete, in order to get recruited for college, I put in so much time into practicing my sport. It is terrible to think that someone who actually deserves this spot is being turned down because someone is being bribed by a wealthy family."
One student's parents used Singer to have their daughter recruited as a member of the crew team at the University of Southern California. The student had never played the sport and the parents paid $200,000 to have her admitted as an athlete. This student is the daughter of "Full House" actress Lori Loughlin, Olivia Jade Giannulli.
Giannulli, a popular YouTube influencer known as Olivia Jade, has amassed 1.9 million subscribers on the platform. Since the scandal, Giannulli has lost partnerships with HP and Lulu's, and Sephora announced that they will no longer be producing the palette that she designed with them.
Ahead in #HotTopics: Amid the $25 million nationwide college cheating scandal, Hallmark Channel dropped Lori Loughlin and Sephora ended their partnership with Loughlin's daughter Olivia Jade. What's your reaction? Tweet us. https://t.co/Kp3P1GRvF2 pic.twitter.com/GNntmxZVbP

— The View (@TheView) March 15, 2019
Lori and her husband, designer Mossimo Giannulli, paid Singer a total of $500,000 in order to convince coaches that both Olivia and her sister, Isabella, should be recruited for the rowing team. They went as far as to send in pictures of professional rowers, claiming that they were pictures of their daughters.
Felicity Huffman, "The Desperate Housewives" actress, paid $15,000 for her daughter to have a proctor that would change the answers on her SATs after she completed the exam. This made many Americans mad because she is being accepted into universities without trying as hard as a student who truly wants to go there.
'Operation #VarsityBlues' is a rallying cry to fight systemic privilege https://t.co/fKCeVKMV44 pic.twitter.com/Ic23hjtQVt

— UPROXX (@UPROXX) March 15, 2019
Gabby Boyd ('19) says, "This is a disadvantage for those who work hard to get into an elite college. All of their hard work in high school is not considered as valuable to college admissions than families who have a lot of money to give. Unfortunately, this has been going on for years, but I hope they will do something to prevent this from happening in the future."
Currently, both Loughlin and her husband have been released from custody with $1,000,000 bail. At this time, it is unclear as to whether the daughters will be charged or not. The trial for this particular family has not been set, yet the family still remains under the surveillance of both local authorities and the FBI. Both of Loughlin's daughters have dropped out of USC and, according to a source close to the family, have no plans of returning.
Maggie McGuane ('21) says, "I think that the students who knew what was going on, specifically Olivia and Isabella, should be punished. They were old enough to know that what they were doing was wrong. It just shows that money can get you really far in life, which is not always a good thing."