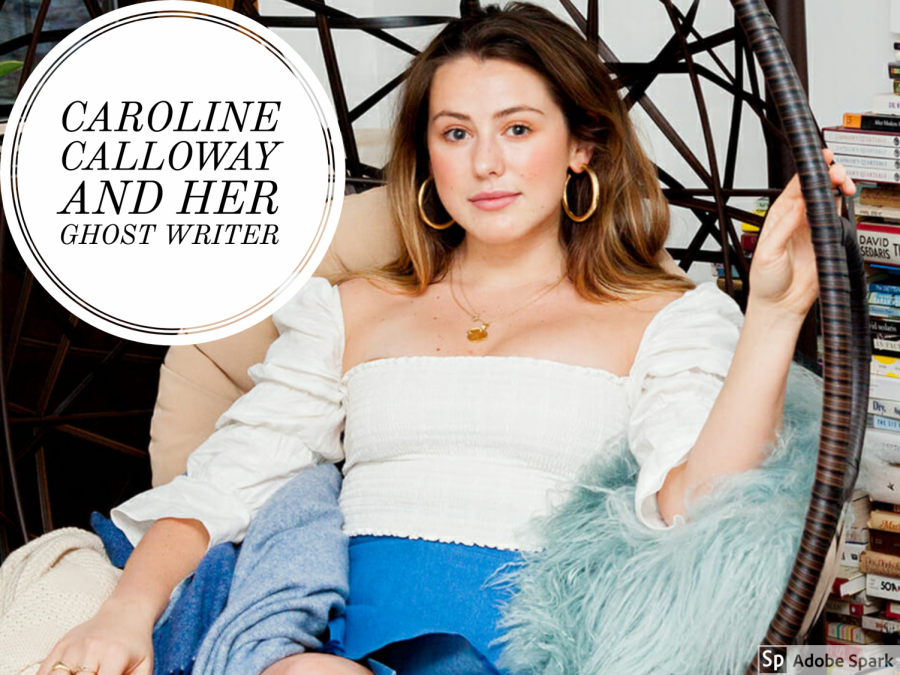 Photo Credit: Chloe Mintz/ Achona Online/ Adobe Spark
Fyre Festival. Theranos. Anna Delvey Foundation.
As our society grows more reliant upon modern technology, the more the lines between fiction and reality become blurred. In the past three years alone, our digital world has fueled the promises of an opulent music festival; confidence in the progressive era of medical science; and belief in the crafted tales of a "German heiress". Lacking proper face-to-face interaction and tangible evidence, the truth is not as easily discernible— nor are the lies.
"It's just what they [social media influencers] want you to see, and so that can cause people to believe that it is their everyday. When really it's not. It's just a small portion of it, If something looks real enough, people will believe it," says Brynn Wilary ('23).
If you have yet to be acquainted with social media's latest scammer, here is an abridged retelling of the affair regarding Caroline Calloway.
Having been deferred from Yale, Calloway attends NYU and befriends Natalie Beach, a fellow writer, and aspiring novelist.
With the assistance of modern media platforms and Beach's witty one-liners, Calloway chronicles her personal life for the public via Instagram posts.
Beach and Calloway are soon inseparable as they develop Calloway's internet persona: raw, unedited, and honest.
In an effort to escape the "shame" of attending NYU, Calloway transfers to Cambridge University undergrad. Despite the distance, Beach continues to edit Calloway's posts, watching as the likes roll in and Calloway is thrust into the limelight.
To please her ever-increasing following count, Calloway endeavors to write her own memoir entitled, "And We Were Like." She seeks Beach's literary eloquence, and together, they produce a draft to be sent to the publishers. Calloway guarantees Beach 35% of the profit. Unfortunately, as they race for each deadline, Beach takes on the grunt work of writing a memoir: she becomes the sole writer for a novel claiming to be composed by Calloway. 
Eventually, the memoir becomes a mere memory as neither of the writers can bear to continue the story nor meet their due dates.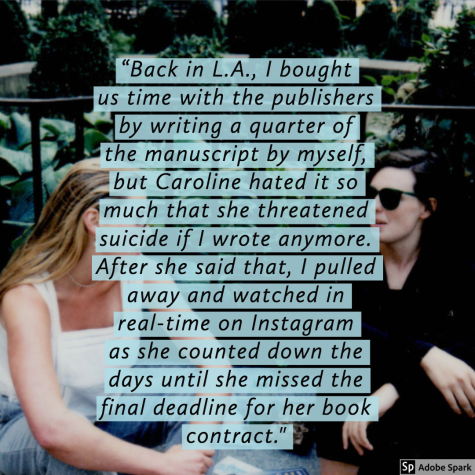 Calloway attracts the attention of the public eye once more after a failed attempt to launch her "Creativity Workshop" earns her the title of a "female Billy Mcfarland."
On September 10, 2019, Beach reveals in an essay published by "The Cut" that she was the ghostwriter of Caroline Calloway.
Calloway, it seems, has turned the entire affair into yet another one of her elaborate tales to be greedily devoured by her "gossip deprived" audience. A rebuttal of Beach's essay is already in the works. Potential title, "I Am Caroline Calloway": almost identical to Beach's, "I Was Caroline Calloway."
Of course, having fallen as far as Calloway has down her own rabbit hole of deception, it would be difficult to venture back to reality.