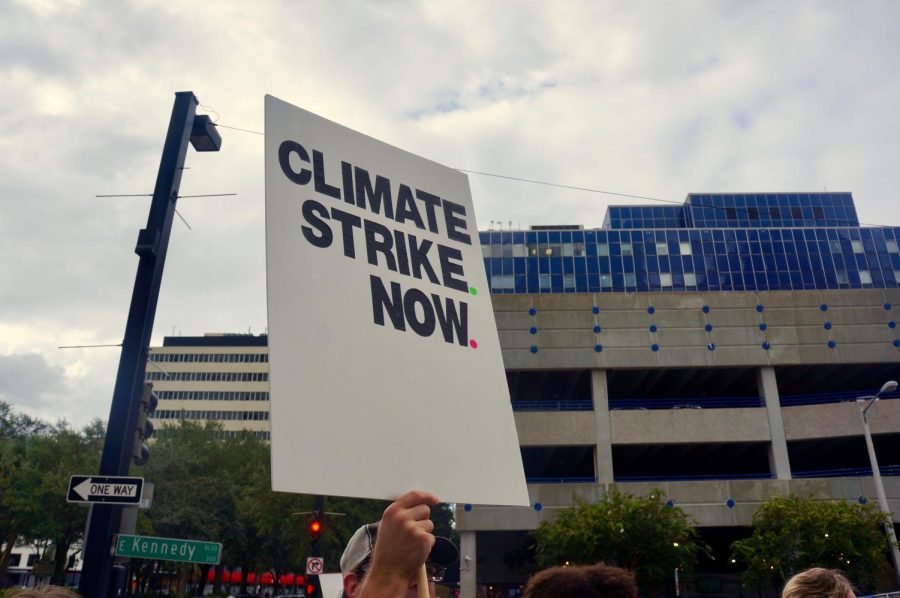 (Photo Credit: Mei Lamison/Achona Online)
On Friday, September 20, millions of youth across the world held climate strikes in their cities—three days before the United Nations 2019 Climate Action Summit meeting—for the purpose to urge lawmakers to "shift from fossil fuels toward clean energy, halting deforestation, protecting the world's oceans, and adopting sustainable agriculture," as said by The Washington Post.
Just 16, @GretaThunberg is already one of our planet's greatest advocates. Recognizing that her generation will bear the brunt of climate change, she's unafraid to push for real action. She embodies our vision at the @ObamaFoundation: A future shaped by young leaders like her. pic.twitter.com/VgCPAaDp3C

— Barack Obama (@BarackObama) September 17, 2019
Over 150 countries held climate strikes on Friday which were mainly organized by teenagers. Greta Thunberg, for example, a 16 year-old Swedish climate activist, led everyone in this protest. She is the original school climate striker. Since August of 2018, she has skipped school every Friday to demand action from the Swedish Parliament.
"It's people like her who really inspire moments like these. While it is a very cool thing, it is also upsetting. Teenagers shouldn't be the ones protesting, the ones asking for action. It should be the politicians enacting the environmental regulation we desperately need," says Samatha Cuttle ('20). 
Likewise, a Tampa Climate Action Rally was organized by a Plant High Schooler which took place in front of Tampa City Hall from at 5 p.m. to 7 p.m. 
Protesters created signs which said things such as, "There is no planet B," which is ironic, yet yields greater importance.
Riley Rubio ('23), who attended the strike, said,"I thought it was really proactive of us to all go out there. I really liked how many went and showed their support, [and] I like getting involved in the community. Even if two people showed up, we were still making a difference."
The strike began by dedicating 11 minutes of silence to represent the 11 years left until climate change is irreversible. As protestors sat silently, however, a woman on the sidewalk put on a headset, to amplify her voice, and raised a sign that read, "This is a baby who was murdered by abortion." She is a part of the Abolitionist Society of Tampa "working to effect the abolition of human abortion and sharing the Gospel of Jesus Christ to the lost in the world."
Outraged this woman was speaking about abortion at a climate rally, protestors immediately got to their feet to confront her. They used their posters to cover her sign, yet she persisted and stayed until almost the end of the strike, but at that point, protestors, including Academy students, chose to ignore her.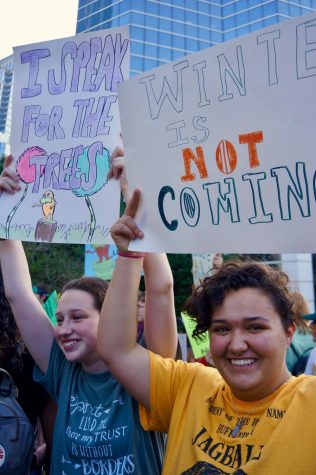 Rubio ('23) said,"It was so disrespectful, and I wanted to say something, but we were in eleven minutes of silence, so I didn't, but it was rude. That was not her place, and she had no reason to be there. Eventually, she just packed up and left. She hit a couple people with her sign, so when everyone started covering her, she realized she wasn't welcome there."
After the, interrupted, 11 minutes of silence, people began giving speeches to the crowd, including Mayor Jane Castor, scientists, student leaders working with Florida Youth Climate Strike, Green Gasparilla, and Our Climate, and children.
A line in the speech of a high school student resonated with the crowd: "Hope becomes flimsy, but it will never be blown away." This speaker hoped to leave the audience feeling hopeful that change will come if they continue to pressure lawmakers, which was made even more effective by protesting in front of Tampa City Hall.
Academy students were also able to participate in the climate strike. In total, 11 students marched in front of Tampa's city hall, while even more participated in events preparing for the strike before hand. 
"I'm very happy I went. It was so nice to see young people out there, really making a difference. After all, we are the ones who are wanting, and willing to do something about it," says Cuttle. 
Academy's Social Justice club took initiative when preparing for the march. They hung posters, made morning announcements, and led environmental protection prayers. 
The day of the strike, students gathered in the ilab to make posters immediately after school. 
The Social Justice club then held a 30 minute prayer service in the chapel. President Amelia Cuttle ('21) spoke on the importance of conservation efforts and the need to protect the earth.
"I was really proud that we had a group come together to pray before and then go to the strike. At my time here at the Academy, I haven't seen us pray about a specific social justice issue that way before," says art and religion teacher Sister Lisa Perkowski.