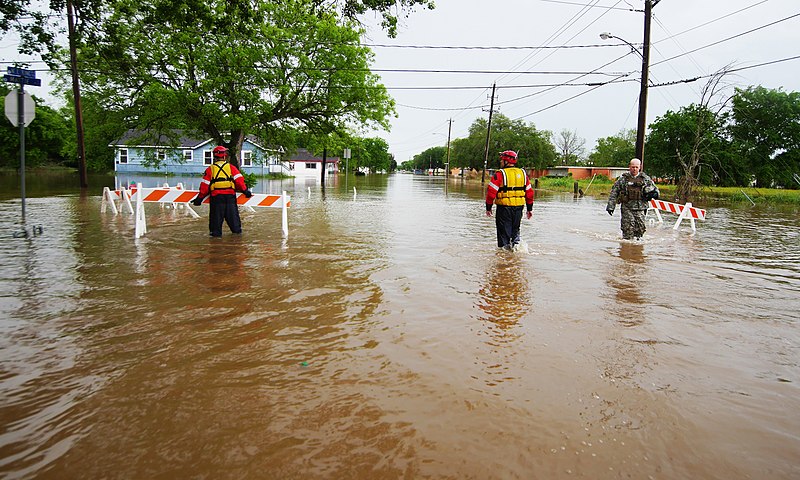 (Photo Credit: U.S. Army National Guard photo by 1st Lt Zachary West/Wikimedia Commons)
Tropical Storm Imelda barreled through the Texas Gulf Coast on Sept. 19 claiming five lives. Many Texans have compared this storm to Hurricane Harvey, which hit Houston in 2017, while others are saying this storm is way worse. 
"What I'm sitting in right now makes Harvey look like a little thunderstorm," said Sheriff Brian Hawthorne.
Thousands of residents evacuated into local shelters, the airports were closed and schools were also closed as a safety precaution. Many areas of Texas had extreme flooding in turn submerging cars and ruining houses. 
"Imelda soaked the region with as much as three feet of rain. The National Weather Service declared a flash flood emergency for parts of five counties in the southeastern area of the state, calling it a "PARTICULARLY DANGEROUS SITUATION" and urging residents to "SEEK HIGHER GROUND NOW!"
Fire rescue and emergency crews have been rescuing people from their flooded homes and bringing them to safety. They have been using dump trucks and boats to reach the residents, their first priority being those with medical needs and the elderly. 
739 Texans evacuated and 130 rescued by #Texas #NationalGuard and @txtf1 in the flood response after #Imelda. @GovAbbott had us preparing on Monday hoping they wouldn't be needed, but stood ready for the worst. Then the call came… pic.twitter.com/wHCRBMMN1m

— Texas Military Dept (@TXMilitary) September 20, 2019
Casey Rodriguez ('21) said, "I am truly devastated by the disaster that has occurred but I am truly grateful Texas stood prepared and had such a wonderful team of pipe to help keep Texans out of harms way."
Gabby Butler ('20) has family who lives in Texas. While they were not personally affected by the floods, they have friends who live in Houston who were affected. "They said that their cars got flooded and water started to slowly leak into their house. They could not leave their house for a while and were stranded," said Butler.
The American Red Cross has set up several temporary shelters across Texas. Academy girls can help the people of Texas by donating to the Greater Houston Community Foundation, Southeast Texas Food Bank. People can also send donations like clothes, shoes and nonperishable items, through the American Red Cross. 
#HarrisCounty and @HoustonTX are asking for donations to the #Imelda Assistance Fund to help those impacted by last week's tropical storm. Mayor @SylvesterTurner says funds can help repair as many as 1,500 local homes. https://t.co/23A9hfA4dW #hounews @elizTrovall pic.twitter.com/BU2BviRsTR

— Houston Public Media (@HoustonPubMedia) September 23, 2019