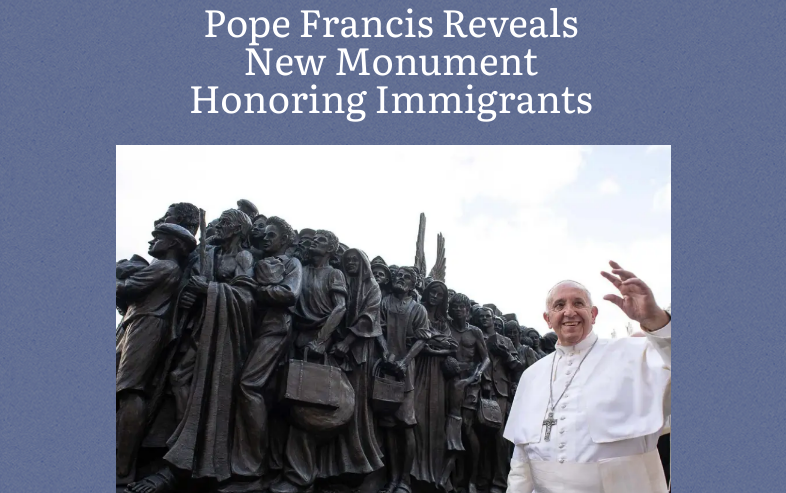 Pope Francis revealed a new monument to the public commemorating migrants and their excursions towards asylum this past Sunday, Sep. 29, which was the 105th World Day of Migrants and Refugees. As someone who has advocated the importance of compassion and acceptance towards refugees both before and after his time in the church, the Pope personally requested to take part in the unveiling. A special mass was given in honor of all displaced people past, present, and future.
"Welcome, protect, promote and integrate." During a special Mass on the 105th World Day of Migrants and Refugees, Pope Francis unveiled a monument to migration, urging compassion for refugees. https://t.co/NQ8XYBLXWi

— The New York Times (@nytimes) September 29, 2019
The work itself, named "Angels Unaware", created by Canadian artist Timothy Schmalz, portrays 140 refugees and migrants, all from different time periods and parts of the world, traveling together in a single boat. Jews escaping Nazi Germany, Indigenous people, and families from war-torn countries in parts of Africa and the Middle East can all be found aboard, crammed together like sardines. Amongst the travelers lie the Virgin Mary holding baby Jesus and her husband Joseph, who were refugees themselves. The work was commissioned by the Vatican department of migrants and refugees.
Julianne Hahn ('20) said, "Having justice for immigrants and refugees as one of the Academy's core values really sets a tone for how we are to act being raised in the Catholic faith. Even now with the immigration issues regarding the US and other parts of the world, it is still our job as Catholics to ensure their safety and comfort. Many people are quick to forget that Jesus Christ and his family were immigrants from Jerusalem, so who is anyone to deny those leaving their homeland for something better." 
Pope Francis stated that inspiration for the statue came from a passage in "Letter to the Hebrews": "Do not forget to show hospitality to strangers, for by doing so some people have shown hospitality to angels without knowing it". During mass, the Pope said, "As Christians, we cannot be indifferent to the tragedy of old and new forms of poverty, to the bleak isolation, contempt and discrimination experienced by those who do not belong to 'our' group." The Pope requested that the monument be placed in St. Peter's Square for all to be "reminded of the evangelical challenge of hospitality". Pope Francis called upon the Roman Catholic Church and all who are strong in their faith during the unveiling  to "welcome, protect, promote, and integrate" those who are forced out of their homeland, as said by the New York Times.
Jess Reynolds ('21) said,  "One of the reasons why I admire Pope Francis so much is that he's not afraid to say his opinion on controversial matters. He knows that there is injustice and discrimination against immigrants and uses his platform to be their voice."
With immigration becoming a large topic for debate, it has faced major backlash from various parts of the world. Millions in the Middle East, Africa, South and Central America, and parts of Asia have fled due to issues such as ongoing war, economic crisis, and genocide and have since looked towards Europe and the US for safety. However, many people have voiced their opinions to keep immigrants away out of "fear, intolerance, closed-mindedness, and blatant racism," as the Pope said. Pope Francis combated these reasons by explaining how the presence of immigrants in their county can give people the opportunity to "recover some of those essential dimensions of our Christian existence and our humanity that risk being overlooked in a prosperous society". 
Kaitlin McHugh ('23) said, "I have seen how events related to politics can cause people to go against their Catholic beliefs. Through this new monument, I hope to see Catholics think differently towards immigrants and follow the core message of "being your brother's keeper."