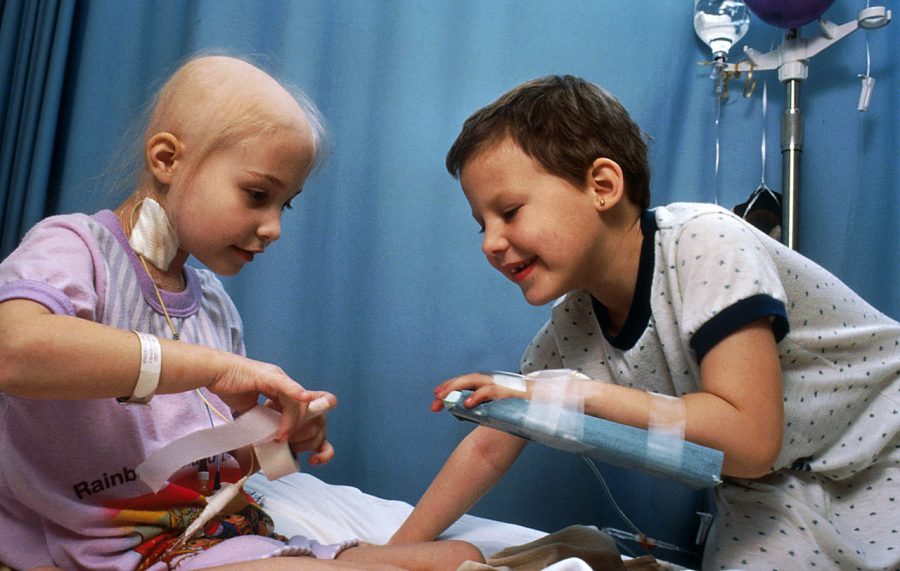 (Photo Credit: Bill Branson/Wikimedia Commons)
"Your child has cancer" is the most terrifying phrase that a parent could ever hear. However, parents of cancer fighters are facing a new kind of fear, and are left wondering what is going to happen to their child if the life-saving drug, Vincristine, runs out. 
According to Dr. Sherise Rogers, "Vincristine is a low-cost form of chemotherapy that effectively treats leukemia, lymphoma and brain tumors. There is no other known drug available that is as effective as Vincristine."
Acute lymphoblastic leukemia is the most common form of childhood cancer. It impacts over 3,000 children every year. Vincristine is critical when it comes to treating this form of cancer, which is why this shortage is so scary for many doctors, patients and families. 
 "Around 98% of children go into remission within weeks after starting treatment and about 90% of those children can be cured," according to St. Jude Children's Research Hospital.
Joely Barkett ('20) said, "As a relative of a young child who suffered from lymphoma the idea of a shortage in chemo and treatment is horrifying. If it weren't for the treatments that were available while my cousin was in treatment, he would not have had a recovery as tremendous as he did. I think that all children who are suffering should have the right to these treatments and the right to be cured."
Let's talk #VincristineShortage. Let's talk about the boy who was diagnosed at one and has been through brutal chemo for an entire year, tearing apart his body but killing his cancer. The two year old who can't get treatment he needs TO LIVE because he wasn't chosen this month

— Michele (@michele_mary) October 18, 2019
In July 2019, Teva Pharmaceuticals made a business decision to stop manufacturing Vincristine, leaving Pfizer as the only supplier of the drug. Pfizer is experiencing manufacturing delays resulting in the shortage of Vincristine. 
Pfizer said, "We are expediting additional shipments of this critical product over the next few weeks to support three to four times our typical production output and supplies should reach recovery levels by Jan. 2020." 
However, many parents are already feeling the effects of this shortage with doctors now rationing Vincristine's usage. Doctor's have began giving children smaller doses, and some have not even received the drug at all. 
https://www.instagram.com/p/B3-D9ySHUwI/
Here in Tampa, Dr. Damon Reed, an oncologist at the Moffitt Cancer Center, said that if Vincristine stocks are not replenished soon, his center may run out by late November or early December. 
Dr. Reed said, "Vincristine is used in greater than 50% of cancers in pediatrics and fewer than 3% of adult cancers."
Dr. Reed has seen many drug shortages throughout his years as an oncologist. He notes the main reason for the shortage is that these life-saving drugs are not very profitable.
"Personally, my cousin, Owen Day, went through chemo and unfortunately, he was allergic. If you find a good chemo that works for you it's hard to keep sustainable. I feel bad for the kids and parents because big businesses are taking over, causing these life-saving drugs to not be available because they are not profitable enough for companies," said Olivia Perez ('20). 
Calyn Quinn, founder of Fight For Gold, a non-profit organization that helps children suffering from childhood cancer, was left outraged by the shortage of Vincristine. She has seen first hand what cancer has done to children and their families and is left wondering when enough is enough. 
Quinn said, "This is ridiculous. There's a shortage in chemo used for kids because it's not profitable. Kids deserve so much more."
Ella Hileman ('20) is also outraged by the shortage of Vincristine. She works with an organization called Baystar and helps children battling pediatric cancer. She has become extremely close with many of the kids and their families and understands the magnitude of this shortage has on them. 
Through my experiences volunteering at Baystar and building relationships with the children undergoing treatment and their families, I've learned about the key treatments necessary to help these children fight for their lives. I know how necessary Vincristine is to many of the children I have gotten to know. As I have experienced the loss of a friend from this vicious disease, I know how necessary the proper treatments are for them-their lives depend on them. Children now are going to need to put up an even stronger fight with even less medical aid, unless a change is made," said Hileman. 
Pediatric cancer only receives 4% of federal funding used for research each year, however it is the number one killer of children by disease, according to the National Pediatric Cancer Foundation. 
According to the National Pediatric Cancer Foundation, "Since 1980 fewer than 10 drugs have been developed for use in children with cancer, as compared with the hundreds of drugs that have been created exclusively for adults."
As shocking as these statistics seem, not much change has been made. Children deserve more than 4% of federal funding and deserve the drugs saving their lives to be readily available to them. More than 15,780 beautiful lives are lost each year due to pediatric cancer, When will enough be enough?