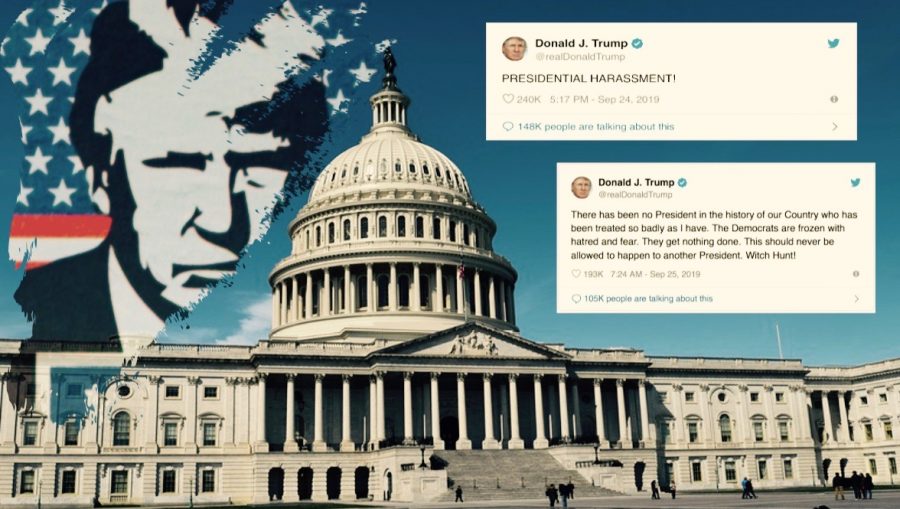 Photo Credit: Mei Lamison/Achona Online/Piktochart
On September 24, 2019 Speaker of the House Nancy Pelosi formally announced an impeachment inquiry against President Donald Trump. Her statement sent both Congress and the White House into fast moving series of events surrounding the scandal. Whistleblower complaints and transcripts were released, statements by various politicians were made, and many words were tweeted out by the President denying the allegations.  
"It is discouraging that we are in this situation again," says History teacher Beth Chase.
All of the circumstances surrounding this seemingly never ending story can be hard to comprehend, so below is a timeline breaking down the Trump Impeachment Inquiry. 
Keeping track: Here are next week's important dates and deadlines related to the impeachment inquiry. pic.twitter.com/Naxr2SFwEQ

— MSNBC (@MSNBC) October 14, 2019
July 2019
President Trump orders $400 million U.S. aid to Ukraine to be frozen.
July 25 
President of Ukraine, Volodymyr Zelensky, speaks over the phone with President Trump. While no word for word transcripts of the call were officially made, the White House later released staff notes of the conversation. Trump asked Zelensky to investigate Hunter Biden, son of Joe Biden (Trump's likely opponent for the 2020 Presidential Race). 
"It was bit odd that no verbatim transcript was written. I believe that everything in the oval office should be recorded so the American government can avoid controversies such as these. Since there is no actual documentation of the conversation, the situation turns into an unreliable he said she said argument," says Megan Smolarick ('20).
In the partial transcript released by the White House, Trump said, "There's a lot of talk about Biden's son, that Biden stopped the prosecution and a lot of people want to find out about that so whatever you can do with the Attorney General would be great. Biden went around bragging that he stopped the prosecution so if you can look into it … It sounds horrible to me."
August 12
The infamous whistleblower complaint is filed. 
The compliant states, "In the course of my official duties, I have received information from multiple U.S. Government officials that the President of the United States is using the power of his office to solicit interference from a foreign country in the 2020 U.S. election. 1This interference includes, among other things, pressuring a foreign country to investigate one of the President's main domestic political rivals. The President's personal lawyer, Mr. Rudolph Giuliani, is a central figure in this effort. Attorney General Barr appears to be involved as well." 
August 20
Trump's personal attorney, Rudy Giuliani, admits he previously met with Ukrainian official Andriy Yermak. Giuliani told the New York Times he "strongly urged him to just investigate the darn things." 
September 11
The $400 million U.S. of frozen U.S. aid is released to Ukraine.
Again, the President of Ukraine said there was NO (ZERO) PRESSURE PUT ON HIM BY ME. Case closed!

— Donald J. Trump (@realDonaldTrump) September 30, 2019
September 13
Joseph Maguire, the acting director of national intelligence, refuses to give Congress access to the whistleblower complaint. As a result, Congressman Adam Schiff, chairman of the House intelligence committee, issued a subpoena for the whistleblower complaint. 
September 23
House Democrats Gil Cisneros, Jason Crow, Chrissy Houlahan, Elaine Luria, Mikie Sherrill, Elissa Slotkin and Abigail Spanberger publish an op-ed in the Washington Post calling to impeach President Trump.
They write, "The president of the United States may have used his position to pressure a foreign country into investigating a political opponent, and he sought to use U.S. taxpayer dollars as leverage to do it. He allegedly sought to use the very security assistance dollars appropriated by Congress to create stability in the world, to help root out corruption and to protect our national security interests, for his own personal gain…If these allegations are true, we believe these actions represent an impeachable offense,"  
September 24 
Nancy Pelosi announces a formal impeachment inquiry. House Democrates accuse Trump of violating the Constitution by "using his position as president to solicit help from a foreign government to damage his political opponent." 
"I feel like the House and Senate Democrats have been trying to impeach Trump for so long, and now they finally have evidence to do so. He has had a history with foreign governments, like Russia, and now he is getting caught in the act with Ukraine," says Sabrina Pedregal ('22).
There's a simple question at the heart of our inquiry: is it Ok for a President to pressure foreign governments to undermine our elections for his political gain? Republican Members of Congress should consult their oath on this question.https://t.co/oidmxcT2NL

— Nancy Pelosi (@SpeakerPelosi) October 11, 2019
September 25
The partial transcript of the July 25 call between Trump and Zelenskiy is released by the White House. 
"I did read the transcripts and saw how both sides could have jumped to conclusions. Trump's intent was to know if Joe  Biden could be a good candidate for the American public. While it may be unethical, I do not think it is impeachment worthy," says Cassie Hiatt ('22).
September 26 
The official whistleblower complaint is released to the public. 
"A lot of liberals, both politicians and citizens, tend to twist the statements that Donald Trump makes. You cannot simply take something someone said and build the meaning behind it without proper context," says Alex Fanaro ('22).
September 27 
Kurt Volker, former Trump appointed United States Special Representative for Ukraine, resigns. 
"His resignation leads to suspicion. It pretty heavily alludes to the fact that he's guilty," says Danielis Baez ('21).
September 30
Congress subpoenas Rudy Giuliani. House Democrats ask him to turn over any documents related to Trump-Ukrainan investigations of Bidens.
WHO CHANGED THE LONG STANDING WHISTLEBLOWER RULES JUST BEFORE SUBMITTAL OF THE FAKE WHISTLEBLOWER REPORT? DRAIN THE SWAMP!

— Donald J. Trump (@realDonaldTrump) September 30, 2019
October 3 
Trump publicly asks China, during a campaign rally, to investigate the Biden family.
"I do not think the President should ever involve a foreign power in an attempt to investigate his political opponent. Him asking both China and Ukraine to investigate the Bidens is unsettling. Unfortunately, I do not believe he will be removed from office since the impeachment process is so long and complicated. I do think, however, the accusations may hurt his reelection chances. The surrounding controversies might have his supporters question his ethics bit more," says Catie Berg ('22).
October 4
The House congressional committee holds impeachment hearings of text messages released by Volker. The messages allude to a "prestigious White House visit to meet Donald Trump" if  Zelensky made "a public statement vowing to investigate the son of Joe Biden."
October 6
Attorneys for the whistleblower state they are now representing "multiple officials."
October 8
The White House sends letter to the House stating they will not cooperate with the impeachment inquiry.
"I personally find the impeachments proceedings unnecessary. The President is an open book, he has already released transcript of the phone call and talks publicly about his intentions," says Sofia Guixens ('20).
On this date the state department also prohibits US ambassador to the European Union Gordon Sondland from testifying in the congressional impeachment hearings.
All the Do Nothing Democrats are focused on is Impeaching the President for having a very good conversation with the Ukrainian President. I knew that many people were listening, even have a transcript. They have been at this "stuff" from the day I got elected. Bad for Country!

— Donald J. Trump (@realDonaldTrump) October 2, 2019
"I feel that impeachment is both necessary and inevitable. Congress has had multiple instances where they could have tried for impeachment, yet they have chosen to do so now. This only shows how important and detrimental the Ukrainian scandal really is. The President is never and should never be above the law, and it is about time Trump understands that," says Samantha Cuttle ('20).