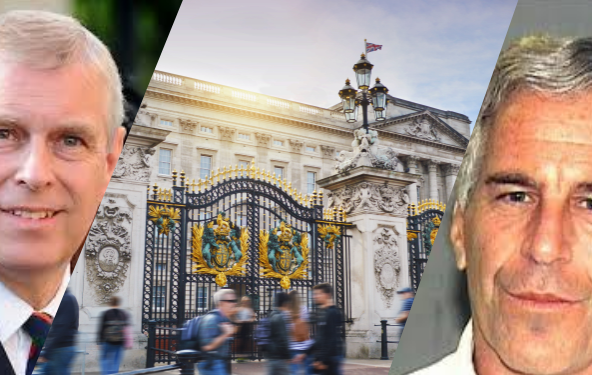 Photo Credit: Kristin Commesso/Achona Online/Piktochart
Prince Andrew, the third child of Queen Elizabeth, has become the laughing stock of England due to his involvement in the Jeffrey Epstein Scandal. He has receieved extreme backlash for being friends with Jeffrey Epstein, an accused sex traffiker and offender of minors. Virginia Roberts Giuffre also came forward accusing Prince Andrew of sexual abuse and multiple witnesses have verified her accusations. 
Prince Andrew has denied being friends with Epstein, but the facts say otherwise. Epstein and Prince Andrew have attended several dinner parties together, and been on holiday together where they partied with topless women, and Epstein was even invited to his daughter, Beatrice's, eighteenth birthday party. 
According to The Guardian, "Epstein attended Princess Beatrice's eighteenth birthday party at Windsor Castle in 2006, two months after after he had been issued an arrest warrant for sexual assault of a minor."
New photos show Harvey Weinstein, Jeffrey Epstein and Ghislaine Maxwell at the 18th birthday celebration for Prince Andrew's older daughter, Princess Beatrice, in 2006. At the time, Epstein already had a warrant out for him on child-prostitution charges. https://t.co/ORFQRMOYh7

— Vicky Ward (@VickyPJWard) December 10, 2019
When asked in an interview if he regretted being friends with Epstein, Prince Andrew said, "the people that I met and the opportunities that I was given to learn either by him or because of him were actually very useful." 
Giuffre and Prince Andrew reportedly had sex three times, even though Prince Andrew said he has no recollection of even knowing Giuffre. 
According to The Guardian, "Giuffre claims she was first trafficked by Epstein to have sex with the prince in Maxwell's London home after dancing with him at Tramp nightclub. The second time she had sex with Prince Andrew at Epstein's New York mansion, while she was Epstein's sex slave. The third time she had sex with Andrew was in an orgy on Epstein's private island in the US Virgin Islands."
Prince Andrew sex accuser Virginia Roberts says 'evil people want me quiet if something happens to me, don't let it go'. https://t.co/KlH3Yqvm0I

— The Sun (@TheSun) December 11, 2019
While Prince Andrew denies all allegations, witnesses have come forward saying they saw him at Tramp nightclub with Guiffre. 
What makes all of this so troubling is that Giuffre was a minor at the time. She was only seventeen when she was first trafficked by Epstein. 
Samantha Donofrio ('21) said, "I am very shocked and I do not think he should be representing England." 
Prince Andrew has been relieved of all duties. We do not know if he will be charged with anything, but if he comes to the U.S., he has five Pre-trial witness subpoenas that have been prepared. 
Miranda Gonzales ('20) said, "Prince Andrew should promptly be arrested and relieved of all his royal duties. He is a grown adult and knows better. He was well aware of what he was doing was wrong."