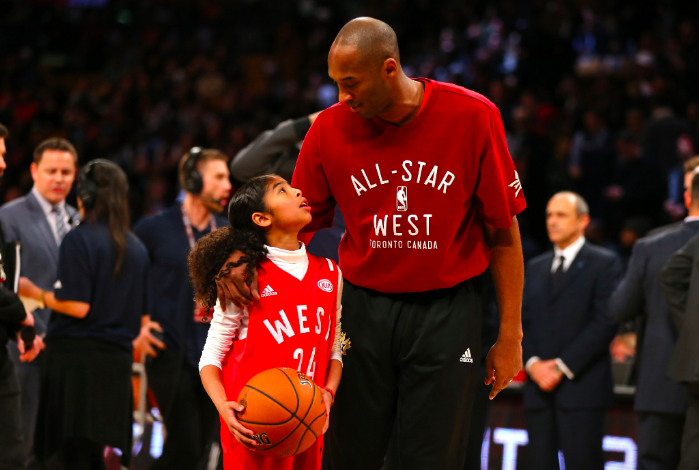 January 26, 2020; A date which will live in infamy for fans, athletes, and ordinary people alike. NBA legend, Kobe Bryant, died Sunday morning in a helicopter crash in Calabasas, California alongside eight other victims, amongst them including his 13-year-old daughter, Gianna "Gigi" Bryant. Since the accident, people from every corner of the globe have come out of the woodwork to both mourn the loss of an Earthly superstar but to also praise Kobe Bryant's eternal legacy and mass contributions to the world of sports.
Authorities said the recovery effort at the hillside site where Kobe Bryant, his daughter and seven other people were killed Sunday in a helicopter crash will take several days and that they are still trying to identify the victims. https://t.co/00fsNod0j5

— Los Angeles Times (@latimes) January 27, 2020
All passengers on board were headed towards the Mamba Sports Academy in Thousand Oaks, Calif. for a youth basketball event. Three of the victims, Gianna Bryant, 13, Alyssa Altobelli, 13, and Peyton Chester, 13, were all teammates on the Mamba Academy's girls basketball team. According to Kobe Bryant in numerous interviews, his daughter Gigi had continued to carry on his legacy in the sport of basketball and was on track to play both collegiately and professionally. During his professional career, Bryant played all 20 seasons for the LA Lakers and finished with five championships, a league MVP, two NBA Finals MVPs, 15 All-NBA selections, 12 All-Defensive selections, two scoring titles and 18 All-Star nods. After officially retiring in 2016, Bryant found his way back to the game by becoming a coach and mentor to his second oldest daughter, Gianna, on her athletic journey. The pair shared their love and passion for basketball as they were reportedly "inseparable" and spent the majority of their time together either training, watching games, or simply just enjoying each other's company. Gianna's was frequently referred to as "Mambacita", taking after her father's well known nickname "Mamba". #MambaForever and #MambacitaForever were among the top Twitter hashtag trends for more than a week after the accident. 
Olivia Tremonti ('20) said, "As a female athlete, it truly hurts my heart to see so the absence of such potential, skill, and character that was found in Gigi. Even at such as young age, she was the glimpse of the future of women's sports and served as a role model for female athletes everywhere. Gigi showed the world that no one is too young to be the best. Another accomplishment of Kobe's that I feel was very overlooked was his contributions to women's sports which he was able to accomplish through his daughter." 
#KobeBryant talking about his daughter Gianna's love for the game of basketball with @jimmykimmel is the most heartbreaking thing I have seen in a long long time#RIPKobe pic.twitter.com/Z3DECqNvqI

— Stolen Football Tweets (@FootballStolen) January 27, 2020
After news of the crash broke, friends and teammates of the Bryant family expressed their grief, condolences, and prayers via social media platforms such as Twitter and Instagram. Celebrities like Justin Timberlake and Tiffany Haddish as well as other sports stars such as Brooks Koepka and fellow basketball legend LeBron James paid notable tribute to the Bryants's death. James, whose friendship with Bryant lasted for more than ten years, posted a very emotional and heartfelt post of his Instagram page in his honor, where he promised to continue his legacy and keep his spirit alive in the game of basketball.
Peyton Finn ('20) said, "I think this event, although extremely tragic, teaches us that death knows no fame, fortune, or anything in between and that at the end of the day, no one is immune to it; not even people like Kobe. Since this tragedy, I've looked at each day on this Earth as a blessing and have been mindful to tell those in my life how important they are to me because I've come to realize that tomorrow isn't promised."
TMZ was first to release the news to the public, before both the Los Angeles police and Bryant's family became aware. This event has caused massive backlash from people everywhere and has even called for a petition to have the organization cancelled indefinitely.
"Basketball legend Kobe Bryant and his daughter Gianna died in a horrific helicopter crash, and TMZ leaked the news before the authorities were even able to notify the family," read the petition. "That means that Vanessa Bryant found out about the death of her husband and child through TMZ, tweets, or comments." The petition claims TMZ's actions as "beyond not ok" and hopes to "get TMZ taken down once and for all."
At a Sunday news conference after the crash, Los Angeles Sheriff Alex Villanueva condemned the organization for their actions and deemed it "inappropriate to identify the crash victims" before the coroner made the identification to the family. "It'd be extremely disrespectful to understand that your loved one was perished and you learned about it from TMZ," said Villanueva. "That is just wholly inappropriate, so we're not gonna be going there. We're gonna wait until the coroner does their job."
"It would be extremely disrespectful to understand that your loved one has perished and you learn about it from TMZ. That is just … wholly inappropriate so we're not going to be going there."

Sheriff Alex Villanueva on Kobe Bryant helicopter crash. pic.twitter.com/Xkz1PjzYZs

— Jordan Dajani (@JordanDajani) January 26, 2020
"I remember when a friend of mine found out about her father's death through the news, it left her completely devastated, even more so through the fact that it wasn't upon personal discovery. For TMZ to release the deaths of not only Kobe and Gigi but also those of the other seven victims before their families were notified was an extremely impersonal and insensitive deed, making it seem as though those life really doesn't matter.  It really goes to show that morality does not exist in big businesses anymore and that the product is far more valuable than the process," said theology teacher, Felix Kalinowski. 
To honor Kobe's legacy, a petition was started to change the NBA logo featuring the silhouette of former Lakers player and Basketball Hall of Fame member, Jerry West, to that of Kobe Bryant. The petition currently has more than two million signatures. Furthermore, multiple NBA players and other professional athletes have given up No. 8 and 24 to commemorate and memorialize Bryant. Although the LA Lakers had already retired No. 8 and 24 in 2017, "the Dallas Mavericks will also retire No. 24  in tribute to Bryant", said team owner Mark Cuban in his statement shortly after Bryant's death. Kobe and Gianna are survived by wife/mother, Vanessa Laine Bryant, and three daughters/sisters, Natalia, 17, Bianka, 3, and Capri, 7 months. 
To sign the petition and/or to donate to the MambaOnThree Foundation, see the listed links below: 
https://www.change.org/p/nba-petition-to-make-kobe-bryant-the-new-nba-logo
https://mambaonthree.org/