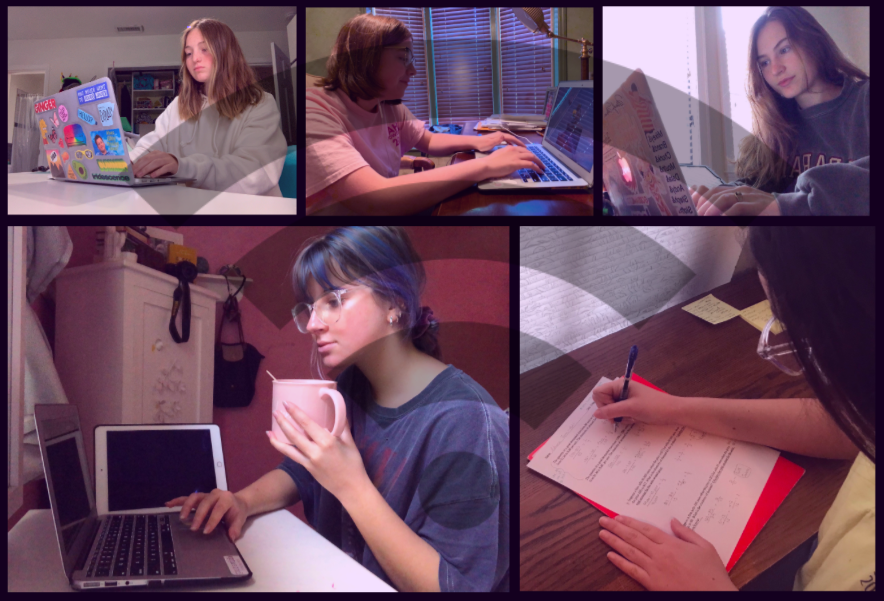 Photo Credit: Mei Lamison/Achona Online
Across the nation, tens of millions of public and private school students have left the classroom to contain the COVID-19 outbreak, now resorting to online learning to finish the school year. While access to internet, laptops, ipads and other technology are readily available in the classroom, many do not have access to these now necessary devices at home. And the gaps created by this digital divide are affecting millions in urban and rural areas alike.
As of April 8, 46 states have closed down schools, meaning 54.8 million K-12 students are either learning remotely or not getting any instruction at all. Several districts have closed these institutions either temporarily, or for the remainder of the school year. 
Students need internet access at home to continue learning while school buildings are closed. #ActNowFCC to close the #HomeworkGap @AjitPaiFCC pic.twitter.com/uTtkD7JOus

— SETDA (@SETDA) April 8, 2020
Yet, 15% of American households with school-age children lack high-speed Internet access, with more than 22 million households having no access at all. According to the Federal Communications Commission (FCC), 19 million Americans lack fixed broadband access simply because their neighborhoods do not have the physical infrastructure to connect to them. 
The consequences for these digital divisions extend far beyond times of quarantine. Students with home internet consistently score higher in reading, math and science, leaving many poor, minority students with lower averages. According to NBC News, students without internet at home are more likely to be students of color, low-income and come from families with lower education levels.
"I think internet inequality affects students constantly—whether or not we are under lockdown. The fact that we have access to computers and ipads puts us at an unfathomable advantage. Technology or access to the internet grants students the ability to have an abundance of resources that many do not have," said Sam Cuttle ('20). 
Internet access alone will not solve this problem, as nearly one in five K-12 students do not have a computer at home. Even if a device is available, students are now having to share them with siblings and parents during the nationwide quarantine. 
As schools close due to the coronavirus, some U.S. teens – especially those who are black or live in lower-income households – may face a digital "homework gap" @FactTank https://t.co/eKlNiFcDeW pic.twitter.com/ApWVuv99hg

— Monica Anderson (@MonicaRAnders) April 8, 2020
Many districts across the country have ended online instruction because of those specific disparities. When announcing the end of virtual assignments, Superintendent of Philadelphia schools William R. Hite said, "If that's not available to all children, we cannot make that available for some." 
However, Angela Siefer, the executive director of the National Digital Inclusion Alliance, argues that cancelations of online education will push already-disadvantaged students further behind. Even with no assigned virtual instruction, "the kids whose families do have internet connection are going to have at least some learning continuing during this period, and the kids who don't won't," said Siefer.
Many on calling on government action to find a solution, "I think this an issue that stems directly from lack of proper government funding. We are and will continue to live in an increasingly technological demanding era. To deprive students from proper funding to access the internet is completely absurd in my opinion," said Cuttle. 
This month, dozens of broadband companies signed the FCC's "Keep Americans Connected pledge,'' agreeing to waive late fees, refrain from terminating services, and open public wi-fi hotspots for the next 60 days. Some of these companies are also offering free internet access to low income households with K-12 students. FCC spokeswoman Tina Pelkey said the agency is still "exploring additional ways to help keep students and all Americans connected during the coronavirus pandemic."
Even before the coronavirus, chronic student absenteeism was a problem. But now teachers at some schools across the country report that less than half of their students are participating in online learning. https://t.co/UrFgzyX8CC

— The New York Times (@nytimes) April 6, 2020
"This issue goes much deeper than students needing computers," said Maggie Jaap ('20). "The pandemic has shown how much of an impact socio-economic status has on a student's education." 
Some districts are taking matters into their own hands. In Kansas City, for instance, public schools are partnering with Sprint, handing out devices to students across the area. Families who need internet can also pick up routers from the company, with free service provided for the next few months. In South Bend, Indiana, school officials are turning school buses into traveling hotspots with accessible internet connections within 300 feet of the vehicles. Every day, buses are sent to parks and other open public spaces, giving students resources to complete their online assignments during quarantine. New York City schools have partnered with Apple to give out over 25,000 iPads to the city's students. The company is also training over 80,000 teachers in virtual instruction, free of cost. 
Still, millions of students are lacking these educational resources. As of right now, their academic future remains unclear. 
"Even when this pandemic is over, internet inequality will continue to limit a countless number of students. Think about it. Writing an essay is fairly simple when you have a laptop and unlimited access to google. However, when those two things are taken away, it becomes inconvenient and difficult to complete the assignment. This situation can rise again and again, eventually affecting a student's grade and therefore future," said Tress Jacobs ('20).