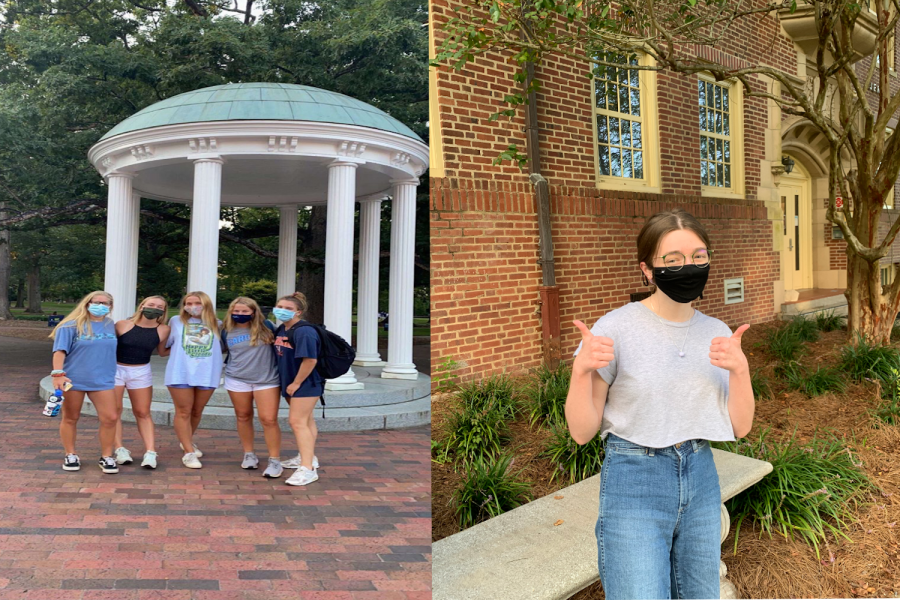 (Photo Credit: Adriana James-Rodil/Piktochart/Achona Online)
As colleges began to reopen in August, with that, came an increase in coronavirus cases. The New York Times conducted a survey of over 1,500 colleges and universities which revealed there have been over 26,000 cases and 64 deaths reported since the beginning of the pandemic. However, these numbers are believed to be higher as colleges are creating their own systems as to how to "tally cases" and many also ignored to participate in the survey. 
There have been more than 30 coronavirus clusters at N.C. State. At UNC-Chapel Hill, the positivity rate increased to 41% since classes began. https://t.co/j45Y6Fr7DN

— The Charlotte Observer (@theobserver) September 2, 2020
Of those who did participate, the University of North Carolina at Chapel Hill, Alabama, Georgia, and Auburn University are among the institutions with the most coronavirus cases with a combined total of 2,937 cases reported, according to The Times.
Kara Petitt ('19), who currently attends UNC said, "Me and my entire suite contracted COVID-19, as well as the majority of students in my dorm."
Several Academy graduates from the class of 2020 enrolled at the above universities, but the increase in cases has caused many to halt in-person classes and switch to online learning, such as UNC who made the decision after one week of classes.
"I had in person classes for the first two weeks, but all of them are online until next semester now, and I think my university handled reopening as best as it could. I think it was unrealistic to expect students to completely keep to themselves, and they shouldn't have been shocked by the outbreak. I think what UNC could have done better was setting aside another dorm building for quarantining and pushed through the outbreak, rather than sending potentially infected students home to vulnerable families," said Petitt.
 Like Petitt said, colleges and universities are being advised to keep students on campus to avoid spreading the virus, according to Bloomberg. 
"It's easier to isolate sick or exposed students and trace their contacts if they stay put," said Ravina Kullar — a spokesperson for the Infectious Diseases of America. 
The rapid spiraling of cases on college campuses also brings young people's continual partying habits and lack of concern towards the pandemic into the limelight. Although The Chronicle of Higher Education prohibited parties, students such as Jason Chang — who is pursuing his Ph.D. at Cornell University and oversees undergraduates living in dorms — has witnessed students's disregard for COVID-19 guidelines. He describes it as "Constant insanity and madness."
For instance, a video from the University of North Georgia shows dozens of maskless students at an off-campus party not social distancing two days before the start of the school year. 
Students at the University of North Georgia decided the best way to start the first semester of the coronavirus pandemic was to throw a wild party.

Videos posted on social media show the carefree revelers not wearing masks and disregarding social distancing guidelines. pic.twitter.com/mcufXPRJ0z

— Debbie (@Dangchick1) August 17, 2020
Colleges and universities can enforce regulations when students are on-campus, but once a student attends events off-campus, not much can be done. High School Principal Stephanie Nitchals attests to this as a similar issue is being faced at the Academy where students wear masks and social distance on-campus, but engage in unsafe activities, including parties, outside of school.
Nitchals said, "Getting together is not a crime, and we can't punish students if their parents allow them to go out. Parents, after all, are the first educators of their children. With that said, we are asking everyone to please consider being more careful in this time because the risks you take can have an impact on others in our community. We are called by God to do what we can to take care of everyone in our community and in the world, so please make smart choices." 
Julianne Bland ('21) also comments on teens' behavior during the pandemic.
She said, "If girls go out with two to three friends or at least stay in small groups, I think that's fine. However, when they are going to large gatherings and parties, it not only endangers other students and faculty, but also our loved ones at home. Many people have loved ones at home that are very vulnerable, and when girls go partying and risk themselves and bring that to school, it has a great impact that not many really think about."
Nitchals announced on Wednesday, Sep. 1 that a member of the senior class has tested positive for coronavirus.
Choosing to disobey guidelines hurts both college and high school students in the end. With online-learning comes unreliability and misunderstanding as many students are unable to comprehend course work, and "15% of American households with school-age children lack high-speed Internet access, with more than 22 million households having no access at all," Achona Online reported in April. 
Also, as colleges and universities close, senior high school students are then unable to visit them which, in turn, causes increased stress as they begin to apply to schools. 
"I think that everyone is really jarred by the fact that we've missed so much of our senior year summer and fall and everyone's trying to get back to normal. That's completely understandable, but I also hope everyone realizes that everyone has to do the same thing in order for this to work. If we all work to keep each other safe, and are selfless in this time, the outcome will be a lot brighter," said Asha Sneed ('21).