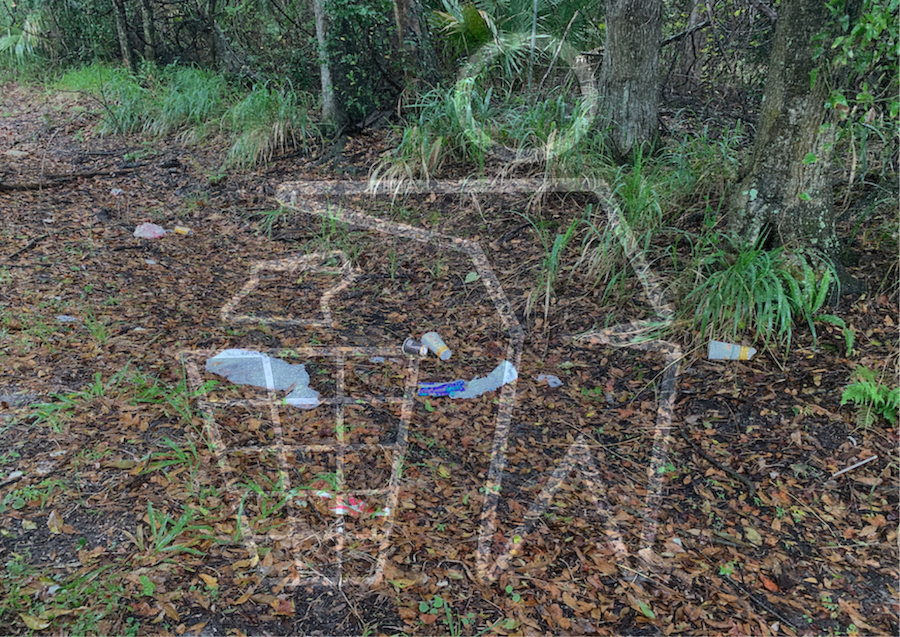 (Photo Credit: Anika Schmid/Achona Online/Piktochart)
COVID-19 has left its mark on Florida residents' lives as the state is third in the nation for total positive cases with a total of 885,193. The Florida Department of Health reported 10,105 new coronavirus cases on Sunday, Nov. 15. This daily amount is the most since July 25. While the main focus of COVID-19 has been on its effect on people, the pandemic also has an indelible effect on the social and natural environment.
According to NASA, Florida's air quality has improved as there has been a 30 percent reduction in nitrogen dioxide levels. This is a gas caused by burning fuels and is harmful to human health and the environment. Orlando and Miami have seen the most significant reductions. According to researchers, theme-park closures, stay-at-home orders, and the cancellation of MLB spring training are all factors that played a part in this. 
There have been fewer cars on the road since people are remaining indoors and restricting their traveling habits. There has been an increase in biking, as noted by Walk Bike Tampa. Nationally, there has been a 66 percent increase in bicycle sales in March 2020 compared to last year. COVID-19 has led to an increase in used car sales as people are avoiding mass transportation. AutoNation, CarMax, and IPO Carvana have seen stocks rebound since March. According to the Vision Zero Progress Report 2018-2020, open lanes and reduced traffic have resulted in reckless driving and speeding. The rate of red-light runners increased by two-thirds compared to 2019, and speeds increased by at least 7 percent in Tampa in early April. March 2020 saw a 25 percent decrease in crashes compared to March 2019. However, the severity of crashes has increased by 14% nationally in March compared to last year.
"It's definitely harder to travel long distances or through airplane. With these stricter protocols and the higher risk of being exposed to COVID, it has made my family postpone trips until an easier time. I walked more at the start of quarantine to see my friends. It was really the only fun activity where I was able to interact with my friends," said Olivia Lucas ('23). 
Since beaches were being closed for the first time in decades, shorebirds could access greater areas to nest. Monitoring the nests has changed as the Audubon Society usually would have employees and volunteers who watch nesting shorebirds, but this did not happen. With beaches open again, shorebirds' nests could accidentally be trampled on or crushed. 
There are a few advantages of COVID restrictions that help sea turtles. Fewer vehicles and a decrease in artificial lights allow sea turtles to build their nest. Juno Beach found and marked 76 nests in April, a significant increase from the same stage last year. The chances of turtles being indirectly struck and killed are decreased due to the limit of human presence. Loggerheads sea turtles successfully nested 61 percent of the time while beaches were closed. However, this number dropped to 46 percent after beaches reopened. With fewer people and tourists on the beaches, there is less litter and garbage that could harm animals. Indigestion of plastic is one of the leading causes of injury to sea turtles. 
Once beaches reopened, there was an influx of litter. Due to quarantine restrictions, volunteer groups have not been able to assist as much in this cleanup. 
"During the summer, I went to the beach a couple of times, and I noticed plastic more than I usually do, which was concerning," said Isabella Yepez ('22). 
Masks and rubber gloves have been discarded on the ground instead of being disposed of properly. Animals are more likely to ingest these smaller pieces of plastic that do not fully degrade in water. In Tampa Bay, researchers have found microplastics in sediment and in manatees. 
Yepez said, "Although masks are necessary, I have noticed disposable ones are being littered. I think everyone should use cloth masks as it is better for the environment and more protective than the blue disposable masks."
A lot of garbage in Pinellas County is incinerated, and the energy is used for utility power. April and May in Pinellas saw a rise of 17 percent in residential waste. In June, Waste Connections temporarily ended residential recycling collections in Hillsborough County because of a shortage of truck drivers. Twice-a-week garbage collection continued, but it was warned that residential yard waste collection might be delayed by a day. More glass bottles and cardboard have been included in household garbage pickup, which has risen as much as 25 percent. There has been a surge in people disposing of lawn trimmings and old furniture.
Today is #AmericaRecyclesDay! ♻️

Help us build a more sustainable future by reviewing our curbside recycling rules and sharing this post to ensure your friends/family members are up to date too.

Together we can make a positive impact!

See the rules ➡️ https://t.co/kAGOzitnDH pic.twitter.com/w1q3ejirlT

— City of Tampa (@CityofTampa) November 15, 2020
Miami shark researchers are concerned about COVID since a key ingredient in vaccines, squalene, can be found in shark livers. Wild sharks would then be even more vulnerable to overfishing. An estimated 360,000 sharks would be needed to produce enough squalene to power the billions of vaccine doses. Compared to olive oil, it is easier and cheaper to purify the squalene out of shark livers. Squalene is also used in cosmetics such as moisturizers, lipsticks, sunscreens, bath oils, foundations, eye makeup, and body creams. Marine conservationists believe that pharmaceutical companies should switch to plant-derived squalane, which is still low-cost and just as effective.
At least five of the 202 #COVID19 vaccine candidates rely on squalene sourced from wild-caught sharks https://t.co/N8TRwuXIQ2

— National Geographic (@NatGeo) November 15, 2020
Orlando was one of the most rat-infested cities, according to the pest-control company Orkin. On their annual list, Orlando moved down three spots to forty-sixth out of fifty. In 2020, rat infestations have increased since the closing of restaurants has forced rats to migrate elsewhere. 
The majority of Florida State Parks and campgrounds have reopened at reduced capacity to promote social distancing.
As a reminder, please wear a mask for the safety of others and remember to recycle.