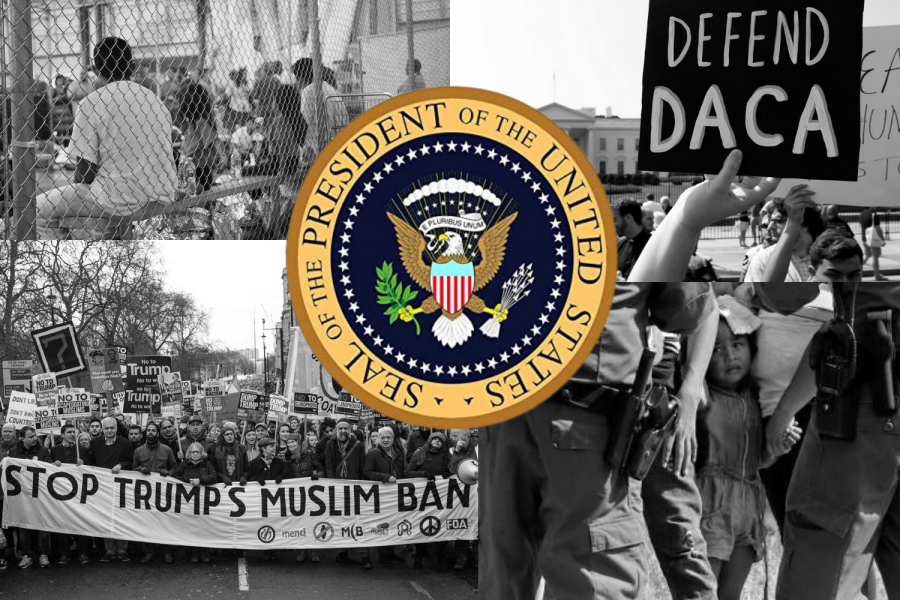 (Photo Credit: Emara Saez/Piktochart/Achona Online)
With a new administration often comes a slew of legislation and executive actions, as seen with the presidencies of both Former President Donald Trump and President Joe Biden. Under the Trump administration, many protections for immigrants —such as Deferred Action for Childhood Arrivals, policies accepting asylum seekers, and an equal chance at citizenship for immigrants regardless of their wealth— were repeatedly threatened and even repealed. 
Under the Biden administration, the previous hostility towards immigrants is slowly being reversed. Starting on Wednesday Jan. 20 with Biden's inauguration and first day in office, several significant changes and executive actions were signed to deliver on Biden's promise to safeguard the security of immigrants in the United States.
Starting with a more symbolic change, the Biden administration brought back the Spanish-language version of White House website minutes after the inauguration. The designated webpage went dark after former President Donald Trump took office, and it never returned during his four years as president despite promises to reinstate it.
View this post on Instagram
Another symbolic change is the current administration's efforts to eliminate the term "alien" from US immigration law, which has been described as a dehumanizing slur by immigrant rights advocates. Currently, US code defines "alien" as "any person not a citizen or national of the United States." If Biden's proposed bill is passed, the word would be replaced with the word "non-citizen."
Biden also halted construction of the southern US-Mexico border wall, infamously started as a campaign promise by Trump in 2015 as an effort to keep out people intending to illegally cross the border. Two days before leaving office, Trump expanded the emergency use authorization —which he used to initially start building the wall in 2019— to continue construction until Feb. 15, 2022. However, Biden's executive action dissolved the proclamation and will allow the re-appropriation of $6.3 billion in counternarcotics funding and $3.6 billion in military funds.
An executive order ending the ban on travelers from several Muslim-majority countries was also signed by Biden. Instead of continuing the ban, the White House says it will improve the screening of travelers by increasing information sharing with foreign governments, reviewing current vetting procedures, revisiting old procedures, and taking other measures. The Homeland Security Department also announced a 100-day moratorium on deportations, which will apply to certain non-citizens beginning on Jan. 22. The State Department is also set to resume processing visa applications within 45 days of Jan. 20. 
Biden also issued a memorandum ensuring that DACA remains intact going forward. His administration is urging Congress to pass permanent protections for the 700,000 young immigrants currently in the US who benefit from it. His immigration reform bill proposal recommends a three-year path to citizenship for DACA recipients, also known as the "Dreamers." 
Trump and other Republicans have tried to get rid of DACA throughout the past few years, which has left many DACA recipients in limbo regarding their immigration status. The Trump administration also refused to accept new applications for the program, despite an additional 1.3 million immigrants becoming eligible for it in the past few years. Biden has promised to protect the Dreamers, so his immigration reforms could result in long-standing legislation and protection for Dreamers and other immigrants.
"I know that the Biden administration plans on changing the immigration system to allow a more efficient process. I believe that this plan is a step in the right direction since it will not only improve the economy but it also aligns to the core values of America promising liberty, equality, and freedom for all. Biden's plans will help immigrants gain protection and find new opportunities. It will still take time and changes won't be immediate," said Danielle Fonsing ('21).
Its an amazing feeling knowing that immigration reform is coming to the immigrants of this country✊🏽♥️ Help is coming to the DACA recipients! I will be able to return to the country i was born in after 23 years as will many other! It makes my heart so happy ✊🏽

— Carlos 🅙 (@carlosxmendoza) January 21, 2021
Biden's proposal also includes an eight-year pathway to citizenship for undocumented workers who are in the United States, which is an estimated 11 million people. The bill will also protect undocumented people from immediate deportation. Biden's attempt to modernize and reform the immigration system will be an uphill battle given the slim majority held by Democrats in Congress. 
"I think the proposal for citizenship to millions of undocumented immigrants would definitely be a solution to immigrants who have awaited to become a legal resident of the US. What is worrying is the fact that these immigrants may be unemployed or struggling economically," said Ashley Canal ('22).
Academy is a school founded by the Sisters of the Holy Names of Jesus and echoes their sentiments regarding immigration, which is that we are all called to "collaborate with migrant and refugee people to promote respect for their rights." Given this stance, Biden's favorable approach to immigration reform is in alignment with the SNJM corporate stance of welcoming the stranger and seeing the humanity in all people. The SNJM sisters have also released a statement calling on Congress to work quickly to approve legislation and funding for Biden's immigration reform plans.
How often in the Bible the Lord asks us to welcome migrants and foreigners, reminding us that we too are foreigners!

— Pope Francis (@Pontifex) February 18, 2017
"Immigration and refugees are an important part of the SNJM mission. The SNJM [sisters] are all over the world, in Africa, Canada, etcetera. In places all over the world, people from those countries have come and entered into our communities. As Catholics, 'welcoming the stranger' is one of the most important commandments that God gave us," said SNJM Sister Mary Glavin.
Going forward, it is likely that Biden will continue to prioritize immigration reform. During his campaign for president, Biden made it clear that he supports allowing undocumented immigrants to buy into and get insurance through Medicaid or other public insurance programs. He also made it clear he does not support the previous administration's "zero tolerance" policy regarding family separation, and will likely move to address it. Previously, he also promised to repeal the ban on asylum seekers and allow 125,000 refugees to enter the country every year.
For migrants, undocumented people, and their families, the Biden administration's approach to immigration is a change from the hostility of the previous administration. Things will not magically change overnight, but the slow, steady steps towards immigration reform will certainly ease the concerns of immigrants living in America.