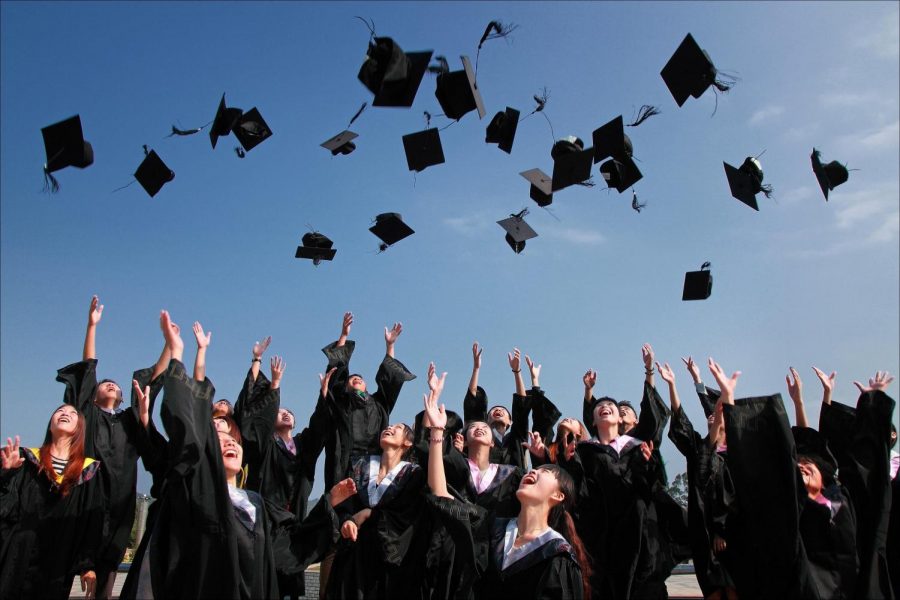 (Photo Credit: Pixabay/Pexels)
Today, seniors are faced with an immense amount of stress and pressure when college decisions are released. Now more than ever, colleges are turning away perfect candidates, for no apparent reason. 
Back when our parents where applying, many universities rarely deferred or denied students. You applied and you were accepted, and that was that. Our parents also didn't apply to an extreme number of schools. 
My mother, Barbara Commesso said, "When I was in high school, I took the SAT once, and the score I got was what I used. I applied to one school, University of South Florida, and got in. There was no applying to multiple schools and people rarely got rejected."
Why have colleges become so selective? 
According to The Atlantic, "Getting into college actually isn't any harder than it was a decade ago. It's just that the odds of admission to your particular college may have decreased."
idk why applying to college is so hard and why it's hard to get in. I WANT TO GIVE YOU MY MONEY. that should be enough.

— carter haidusek (@cartershack) August 23, 2018
15-20 years ago, seniors only applied to two or three schools. At the time, application pools were small and less selective. However, in the past few years, the numbers have increased.
More and more students have been applying to more and more schools. At Academy it isn't hard to find girls who applied to 10 or 15. These students cause the application pools to increase and thus make admission processes more selective. 
Sarah Munera ('20) said, "I applied to seventeen schools because I wanted to have a lot of options. I also wanted to see which schools would take me and which ones wouldn't."
According to The Atlantic, "Application inflation is linked to the Common App, an application and essay that works for multiple schools, so there's no extra paperwork associated with applying to many more places. In 1998, the Common App went online, and today, the vast majority of "selective colleges" allow students to use it—driving up their own selectivity." 
College has gotten so competitive and there is so much info available now that schools that used to be safety schools are now able to be selective.

— tom (@Notre_Mets_) January 22, 2020
Jennifer Isaacs, high school math teacher, said, "Statistically speaking, it is harder to get into college than it was back then. There are more students applying, and acceptance rates have gone down. It's a numbers game."
While some may argue that college is just as hard to get into now then it was back then, there is evidence stating it is not. Colleges have become much more selective when looking at applicants, thus making being accepted harder. 
Darcy Dwyer, high school college counselor, said, "In the 20 years I have been a college counselor at Academy, the college admissions process has changed drastically. 20 years ago, it was easier for students to get into big state schools like FSU, UF and UCF and even private schools like Vanderbilt. Now these schools have increased their selectivity which has made it difficult for parents and students to understand. It's a real awakening now for students on how selective schools are. The issue with this is that students are terrified they won't get into a school, so they apply to so many different ones, increasing the number of applications the school gets, and making getting accepted harder. The whole process is extremely intimidating, part of my job is trying to take the stress off of students and help them to the best of my ability, that's why we offer the free test prep class. Mrs. Keegan and I have even began to see a sort of competitiveness amongst students that is extremely unhealthy. Students and parents need to understand that applying to college is an individual process and just because your friend is doing something doesn't mean you should do it."
Personally, I applied to to six schools. I have been accepted to Mercer University, University of Mississippi, University of Tampa, and Western Carolina University. I was deferred from The College of Charleston and am waiting to hear back from Florida State University. Mercer was my top choice and I will more then likely end up there. While the application process and waiting period was extremely stressful, it made me realize that everything happens for a reason. My advice is to do what feels right for you, and not worry about acceptance rates because wherever you end up is where you are meant to be.