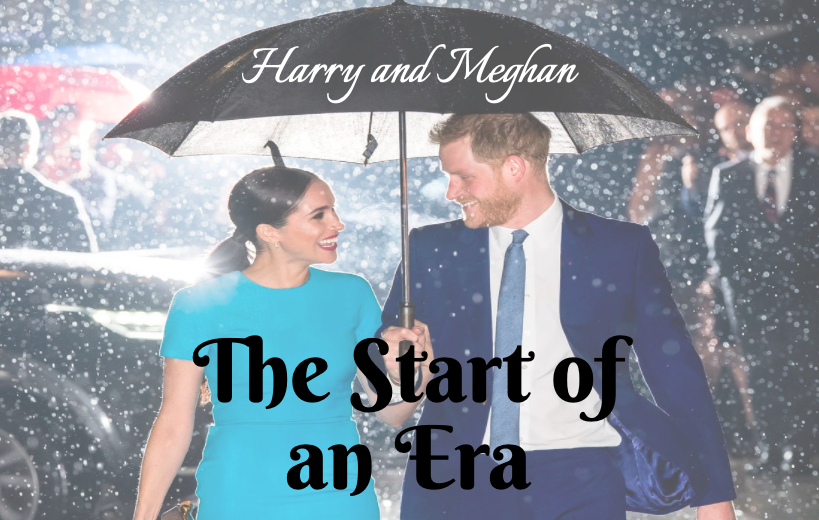 (Photo Credit: Adriana James-Rodil/Piktochart/Achona Online)
Since I last wrote about Meghan Markle in December 2018 much has happened. The fairytale wedding between the Duke and Duchess of Sussex at first seemed to show the growing acceptance of diversity and modernity within the royal family, but the public soon learned that "behind the curtains" and in the British tabloids that was certainly not the case. 
Since the beginning, Markle has been bullied and mistreated by the media — even being accused of "flaunting her baby bump" in October 2018. In March 2018, the Duke and Duchess of Sussex left Kensington Palace, and rumors of tension between Prince William and Harry surfaced. In June 2019, the pair decided to create their own charitable organization — Sussex Royal — and, therefore, detach themselves from the combined charity with the Duke and Duchess of Cambridge.
In September 2019, a documentary titled "Harry & Meghan: An African Journey" aired on the British channel ITV where "Harry confirmed a rift with William," and Meghan spoke about the toll scrutiny from the media has had on her mental health. Harry also stated, "I will not be bullied into playing a game that killed my mum." In October 2019, the couple sued the publisher of the "Mail" for issuing several private letters written by the Duchess to her father. In December 2019, instead of spending Christmas with the royal family, as tradition, the pair decided to spend six weeks in Canada. 
And last, but certainly not least, the Duke and Duchess announced they would be stepping down as senior royals on Jan. 8, 2020, which will take effect in the spring. This means they will retire from their royal duties and "no longer use the titles His Royal Highness and Her Royal Highness" but still keep the titles of Duke and Duchess of Sussex.
Tess Jacobs says, "Personally, I support Harry and Meghan for leaving the royal family. I don't know what they are going through or what they have gone through while in the royal family, but if they truly believe that is what's best for them, I mean they are both grown adults so, I'm sure that is what they needed to do. I'm proud of them for having the courage to do that."
This is not the first time something like this has occurred. In 1936, King Edward VIII abdicated the throne as a result of the monarchy's refusal to accept a marriage between him and the American divorcee Wallis Simpson. Sound familiar?
As the Duke and Duchess begin this new chapter in their lives, they hope to seek financial independence as, prior, they received funds from "the Sovereign Grant and provisions from the Duchy of Cornwall." CNBC reports the couple "could make over $110 million from sponsored posts on Instagram alone" and also earn money from television, movies, books, and partnerships.
"I really like what they [the Duke and Duchess] did. I think it's a really powerful move, and it shows that they are also in control; they don't have to just stand there and look pretty. I've seen Harry and Meghan do a lot of work before, but I can't wait to see them do more now that they have more freedom," says Ximena Sanchez ('23).
As seen time and time again, most notably in the lives of the Duke of Windsor and Simpson, Princess Diana, and the Duke and Duchess of Sussex, being a part of the British royal family — or any royal family for that matter — has negative effects on mental health and daily life. These people did not choose these lives, but were born into them and, as a result, face constant scrutiny, mistreatment, and harassment by the media unless they stand up to their bullies — expectations, traditions, and the press.
If you geuinely hate Meghan and Harry for stepping down as senior royals you need to re-evaluate your life. The poor girl gets slagged off constantly by the media day in day out, let her take a breath #meghanharry

— Sam (@saml0ve11) January 12, 2020
Harry and Meghan have done just that by taking the road less traveled by choosing happiness for themselves over adopting the typical British stiff upper-lip. People and, especially, the media forget those in these public, traditional roles are human too.
"I think it was really admirable for Harry and Meghan to step down especially with everything that happened with Princess Diana. I really think this could be vital in inspiring change within the royal family," says Samantha Cuttle ('20). 
Royal families and the media surrounding them must change in order to preserve monarchies because Harry and Meghan have done what so many have wanted to do. If no change occurs, monarchies might rapidly begin to die out, which, quite honestly, wouldn't be such a bad thing.
Sanchez says, "I think that monarchies will definitely begin to die out, and I hope they do. They are one of the first people we've [younger generations] seen do it, and I think it's something that will inspire more people to do. I feel like monarchies are outdated, and I definitely think there is a movement starting."