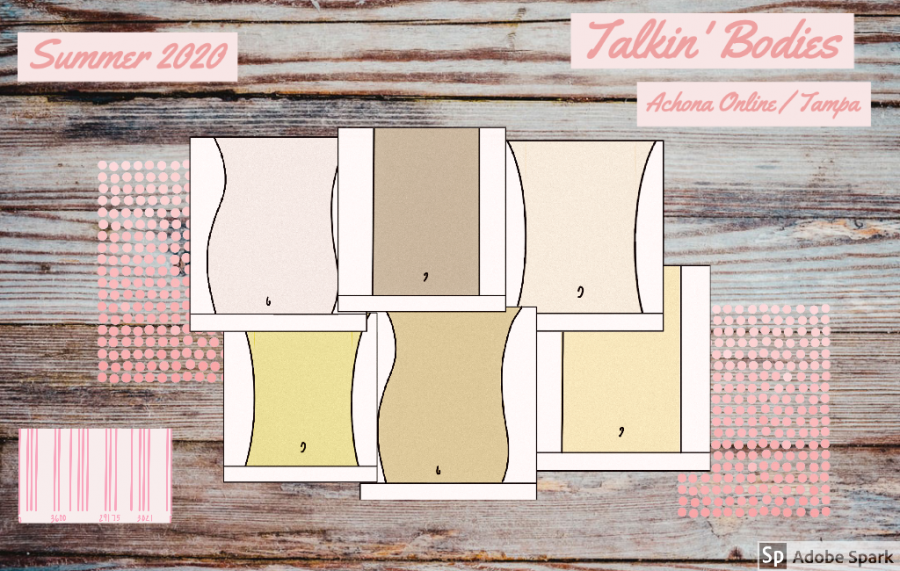 (Photo Credit: Chloe Mintz/ Achona Online/ Adobe Spark)
I had intended to compose yet another open-letter. But then it had occurred to me that the recipient of my letter would be the audience of an ordinary publication: society in its entirety. 
Sweltering heat. Stifling humidity. Frequent thunderstorms. 
Summer break is soon on its way.
Textbooks are to be swapped for pool rafts, as are the emblazoned headlines of Covid-19 for those detailing the steps in achieving the perfect beach body. 
Perfectly thin. Perfectly tan. Perfect. 
One word. Seven letters. Decades worth of expectations… 
Honestly, I spent the greater part of my editing staring before an empty page. How can I possibly write about self-respect when I hardly exhibit the same courtesies toward myself?
I have used my writing as an outlet in which I empower others, yet I cannot bear to do the same for myself. 
I am a hypocrite.  
An unrealistic idea of perfection has been ingrained into my head, and I can no longer settle for anything less.
If I were to look into a mirror, I would note ten flaws in the time it would take me to identify a single attribute… 
Of course, my lacking self-esteem is not uncommon amongst those of my age and younger. 
Roughly 50% of preadolescent girls (aged 9-14) dislike their bodies. 
By the age of 17, the percentage will increase by 28%. 
An Ode to the (Pre-)Teenager
Adhering to the advice publishing industries prescribe (let alone holding ourselves to the standards of the media) is nonsensical. 
If there is one (more) thing I have learned in my sixteen years, it's that life is much too short to allow our physical appearance to dictate our worth.
Unlike character, one's looks are not ageless. Our skin will soon lose its elasticity, sag at the touch, and wrinkle in places we did not know could wrinkle. 
I don't mean to suggest you neglect personal hygiene (please heed general standards of good health), but rather lessen the significance you place upon your physical appearance. 
You are more than the span of your waist, the width of your thighs, a blemish on your cheek. 
You are more than a number on the scale. 
And don't you ever change yourself for the sake of appeasing others. I promise you, it is not worth it. 
They are not worth it. 
But you are.
You deserve to be accepted as you are; appreciated as you are; loved as you are. 
Because you. Are. Worth. It.
Now. Go to the beach, the pool, wherever, and be proud. Be proud of your character, your endeavors, your body.
Be proud of you.