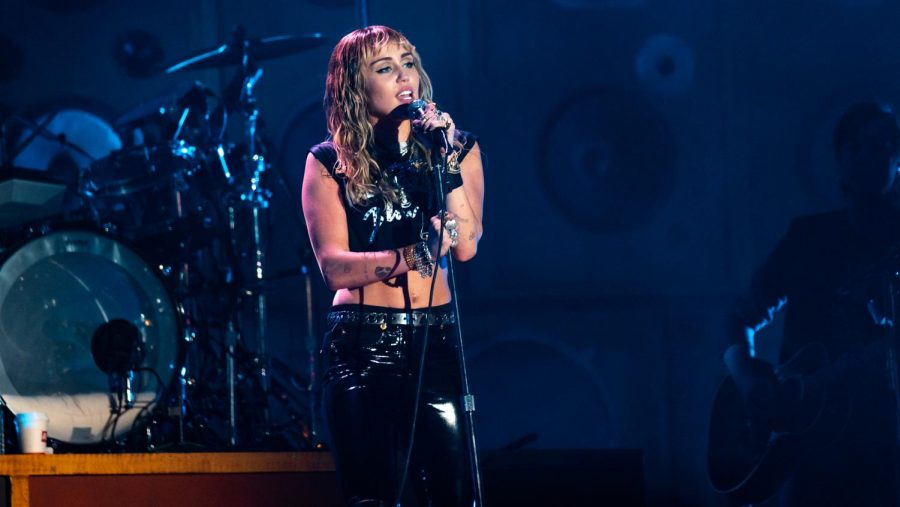 (Photo Credit: Wikimedia Commons)
In the music industry, it is common for many artists, especially those who started at a young age, to face criticism for discussing more mature topics in their music and in general. The idea of this can be really hard for many people to accept. It's important to remember that famous musicians are also human, they grow up and begin to mature just like a normal person would. An individual who begins making music when they are in their early teens is obviously going to go through many changes while they mature into adulthood. It is not fair to hold back musicians by criticizing them for changing their sound or beginning to write more mature lyrics as they grow up. 
Artists like Taylor Swift and Miley Cyrus have received tons of hate from people who miss their old music, or want them to revert back to acting the same way they did when they were 16 years old. It's just not realistic. Miley Cyrus has been constantly shamed for her music and the way that it's changed over the years. One of the main reasons Cyrus is held to these standards is because of her past as one of the biggest Disney Channel stars. Disney wanted to keep her image as a young, innocent girl even as she was well into her teenage years. After the release of her song "Can't Be Tamed", Disney decided to quit promoting her music altogether.
Jose Mendoza, who formerly worked for Radio Disney in 2010, tweeted, "I was working for Radio Disney at this time as a promotional assistant. I'm not kidding when I say that the next day after this dropped Disney made us cancel everything that was connected to Miley Cyrus. No radio play. No mentioning her. Nothing."
Disney was not willing to accept that Miley was not a 15 year old anymore. In 2010, Miley was 18, and a legal adult, but Disney shamed her for growing up and maturing. 
In this era 5SOS are working with such talented people who has worked with such amazing voices – artists. They've changed their sound completely but it happened in the best way and their songwriting skills are on a different level now. #OldMe

— Yasmin #superbloom (@THE1975lRWlN) February 21, 2020
Taylor Swift is an example of somebody who completely changed her sound as she matured. She went from releasing country music to pop music, and this switch angered many people. Musicians changing their sound as they get older should not be as much of a surprise as it is to fans. It's not only that their maturity levels change, it's also that they become inspired by different types of music than they were at the beginning of their career. This ultimately leads many artists to create different kinds of music than they used to make, even sometimes switching genres, like Taylor Swift. 
The band 5 Seconds of Summer is criticized often for not making the same kind of music they did when they released their first two albums.
They have a completely different sound now, and although everyone has their own specific preferences, it's important to note how much their music has grown from that time.
Grace Carreja ('23) said, "If you compare the lyrics of a song like "Teeth" from their most recent album to "She Looks So Perfect" from their first album, you can clearly see just how much their songwriting and musical abilities have developed."
Not only have they grown up, but many of their fans have as well.
In an interview with Entertainment Tonight, lead singer Luke Hemmings said, "You're gonna write different songs when you're 16 or 17 and when you're 22 to 23. I think our fans were about the same age as us when we came out and I think they've grown up with us."
The now solo artists who once made up One Direction are held to the same standard by many fans. They are pressured to sound the same way they did five years ago. Obviously each member is a different person and they are not all going to make music that sounds exactly the way their band once did when they were together.
Sophia Swezey (23′) said, "Harry Styles has gotten much more mature and his albums show it. With more ballad-like sounds and vocals his fans can see just how much he has grown."
With a band like One Direction, it's still proven to be very difficult for fans to accept that the members of the band have matured past the days of working together, and as they have grown in the last few years apart they have all found their own different styles of music.
In an interview with Rolling Stone, Harry Styles said, "I feel like I'm really enjoying making music and experimenting. I enjoy making music this way too much to see myself doing a full switch, to go back and do that again. Because I also think if we went back to doing things the same way, it wouldn't be the same, anyway."
if you're mad at one direction for not getting back together after 18 months and you focus on that rather than their success as solo artists… idk what to tell you
— maur (@93WDBHG) December 13, 2020
Growth is an important part of making music commercially. If an artist repeatedly makes the same exact album over and over again, people are going to get bored. This is why it's important for us, as fans, to not hold back the artists we love and let them explore new genres and new ideas as they grow.