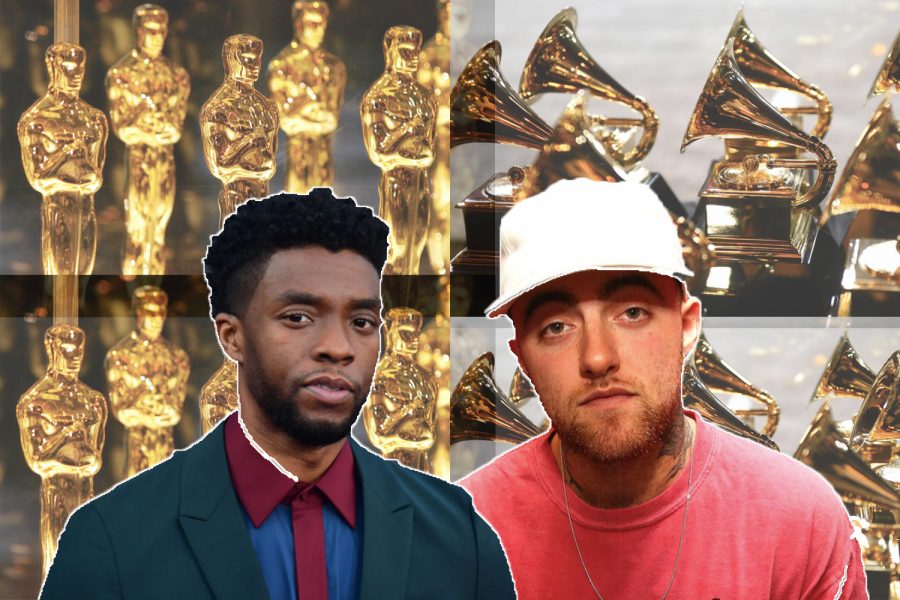 Photo Credit: Isabel Bequer/Photoshop/AchonaOnline
The 2021 Oscars had many notable changes from years past, including a shorter guest list, smaller red carpet, and pre-recorded musical performances to accommodate for Covid-19. However, the ceremony also had a notable difference that was separate from the virus. The order of the presentation of awards was changed so that the category for "Best Actor" was given last, rather than the typical "Best Picture." 
This category was notable not only because of its placement within the show, but also because it had actor Chadwick Boseman who passed away on Aug 28, 2020 from cancer. Boseman was nominated for his role as Levee Green in "Ma Rainey's Black Bottom." Because of the placement of the award and the frequent use of Boseman in promotional materials for the event, many believed that Boseman would be the one to take home the award. However, it instead went to Anthony Hopkins for "The Father," who could not attend the ceremony because of his susceptibility to Covid-19.
"I've never heard of Anthony Hopkins, but I know that Chadwick Boseman is a great actor and would have been worthy of winning. I think that it's strange that he's nominated even after he passed away, so I don't think there's a good way to deal with that situation," said Sara O'Connor ('23).
After the awards were shown, the Oscars faced public criticism for their treatment of Boseman's death. Not only was he used for promotion for the show, an NFT of the actor's face was included in the gift bags for guests. The Oscars and the artist who designed the token were both able to profit from the death of the actor, leading to public backlash. This was intensified by the fact that they seemed to intentionally place Boseman's category to gain viewers, and then did not give him the award.
Idk what's worse the fact that it's an Nft, the fact that Chadwick Boseman's death is being commodified, or that this is in every Oscar nominees' gift bags https://t.co/LVc5Nk04mE
— Jenn wants to be a tv writer ✨ (@jenn0wow) April 25, 2021
This is not the first time that major awards ceremonies have faced backlash for seemingly exploiting a celebrity death. The 2019 Grammys received criticism for their handling of rapper Mac Miller's death and his award nomination. Miller's parents were flown out for the ceremony to see their son's nomination for Best Rap Album for his 2018 album "Swimming," which many believed deserved to win the category. However, the award went to Cardi B for her album "Invasion of Privacy." After this, singer and Miller's ex-girlfriend Ariana Grande took to Twitter to publicly criticize the Grammys and say that Miller was snubbed for the award, in tweets that have since been deleted.
The backlash had multiple layers to it. Part of it was that some believed that those nominated deserved the award on their own merit and that not giving them the award was snubbing both their performance and their legacy. Others argued that while shows do not have an obligation to give out an award to someone solely because they passed away recently, the nomination should not have been given to them in the first place if it was not to be awarded to them. Rather, they should have found another way to honor their memory and legacy without having their last appearance at these ceremonies be them losing a category.
don't nominate a dead artist if ur not gonna give them the award. this is like when the grammys nominated mac miller and gave the award to cardi b while his mother was in the room. it's just plain disrespectful. and no one's saying that bc they passed they should be given the +
— aria (@softmicks) April 26, 2021
The different arguments all lead to the same conclusion, which is that award shows should not be profiting off of celebrities' deaths. By using their deaths and nominations as gimmicks to pull viewers, the people organizing and marketing these shows are dehumanizing celebrities and hurting their grieving loved ones. They are also gaining from their deaths without giving anything to their families in return, as Boseman's family did not see any profit from the NFTs distributed at the Oscars. Award shows are treating the celebrities they are meant to honor as commodities whose only purpose is to earn them profit, even posthumously.
"I feel like a lot of celebrities are dehumanized by the media because so much of their life is constantly on display so people feel like they have a right to comment on it. What happened with [Boseman's] death should have been an example, but I don't think they learned anything," said Madison Kwo ('23).
Many celebrities spend their careers being dehumanized, even leading up to their deaths. For example, Boseman faced rumors from the media that he had taken up drugs due to his weight loss before his death. Even publications and fans who did not assume drugs called attention to his weight loss and body shamed the actor for looking "too skinny." These comments are just one example of the downfalls of celebrity culture, where celebrities are treated as objects or brands that can be used and abused. Award shows using these celebrities and their deaths for more viewership further contributes to this harmful culture and exploits celebrities. 
Chadwick Boseman died after battling colon cancer for years and just months ago tabloids were making puns over his rapid weight loss and describing him as "deathly skinny" as though "shedding a few extra pounds" were a choice…. and not a literal side effect of his illness pic.twitter.com/1c8jXzy2ss
— Michelle Rennex (@michellerennex) August 29, 2020
While many have criticised award shows for their exploitation of celebrities, the motive behind it is clear. Awards shows are dying, with views consistently going down every year. Beyond people losing interest in these shows, the popularization of social media has made it so the public is able to keep up with these events online, rather than tuning in to watch the entire show. With low viewership comes a loss of money, furthered by the cancellation of many of last year's shows due to Covid-19.
However, this does not give these shows an excuse to use these celebrities for their own gain. Additionally, these tactics may not even work, as the 2021 Oscars still had the lowest viewership in the event's entire history. Instead of its intended effect, the gimmick only opened up the show to more public criticism and harmed their reputation.
"I don't have cable, I don't have time, and I don't really care about the Oscars, so I don't watch it. I think that using Chadwick Boseman's death hurt their reputation, but it's really just pouring water into a bucket that's already full. They're just making the situation worse," said Delaney Ross ('23).