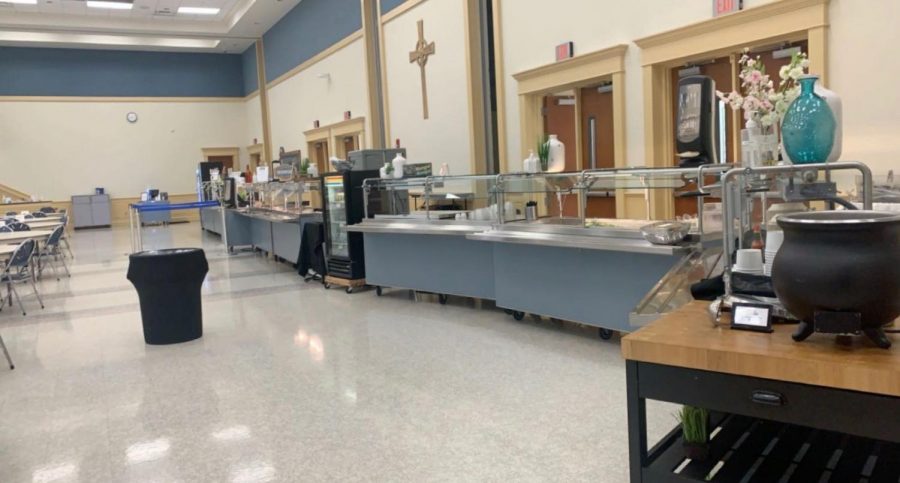 Photo Credit: Abby Neal/Achona Online
Academy is known for its fast pace daily schedule. This often leads students to have to sacrifice healthy choices. As a result, students feel that certain policies such as the "no food rule" as well as lunch options can unwittingly cause eating disorders. 
The majority of school lunches that Sage Dining provides contain fried foods, saturated fats, or excessive carbohydrates and sugars. Examples of these unhealthy meals consist of providing chicken tenders, pizza, and mozzarella sticks amongst many others. Students are more likely to purchase unhealthy options because the healthy choices are much less appetizing.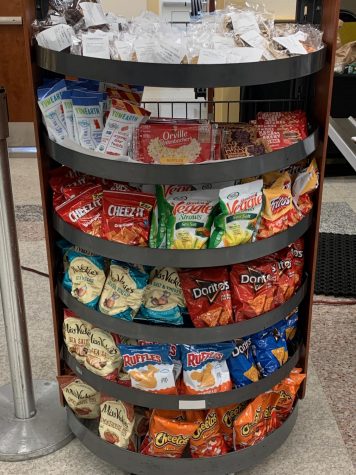 Jane Ruppel ('22) said, "The salad bar is pitiful. It does not look appetizing therefore I am not inclined to try it even though I like to eat healthy."
Although it is true that Sage primarily provides unhealthy options, there is a reason for it. Logically, since Sage is selling more of the unhealthy foods, they will produce more so they can sell more. It is simple supply and demand and it is the best for Sage's income.
In addition, Sage has tried to promote healthier options in the past (hence, the new salad bar) but students were not inclined to buy them, therefore they stuck with the items that were selling best.
Director of Sage Dining Deneane Bell says, "To Sage, healthy eating means sustainable and low fat, however our best sellers are always chicken tenders, mozzarella sticks, and pizza." 
However, students like senior Amanda Castillo do find ways to be healthy at Sage.
Castillo says, "Every day I get fruit and a salad from Sage and I really do feel good about my eating habits. Usually the fruits and vegetables from Sage are really good and I think that more students should try them."
Other ways to be healthy at lunch include eating the healthy options that Sage provides, or simply bringing your own lunch.
Areas other than the cafeteria can also lead to harmful dietary habits. For example, in the Health for Life class, there is a lesson on counting calories in order to maintain a healthy weight. 
Campbell Halme ('23) says, "In Health for Life I felt like the lesson plans encouraged counting calories because we talked about calorie counts in our diets each day. It made me think about my calorie intake a lot and it worried me sometimes." 
However, it is important to note that it is just a life skill being taught and students should not take it as an obsessive requirement which could lead to them thinking the wrong ways about their food intakes.  
Health and Fit for Life teacher Betsy Suskauer says, "I want students to ​ understand the responsibility of oneself and ability to make healthful choices for the whole person mentally, emotionally, socially, physically, and spiritually. I want students to understand what a healthful lifestyle looks like." 
Eating disorders can stem from calorie counting and unhealthy eating if a student is not careful. Calorie counting often leads to starving, which can lead to other disordered eating habits such as binging, purging, and severe diseases including anorexia.
One policy that Academy could change to help students avoid disordered eating are the set food times. As it stands, students are able to eat before school, during breaks (but only in the second floor commons), and at lunch. These set times mean that students cannot eat whenever they are hungry which can lead to starving habits and later binging. 
Lauren Meyer ('22) says, "I do not like the anti-snacking policies because I am usually so hungry by lunchtime that I want to eat a lot. What helps, though, is when I have class on the second floor and I am able to go have a snack."
These issues are all very real in our school as students stress about body image due to expectations and social stresses. When many students have disordered eating habits, they can egg each other on and make their own and others' conditions worse. Students feel pressured to look a certain way and because of that they begin to develop these unhealthy habits.
Conducted studies prove that 5.2% of girls have some sort of diagnosed eating disorder. The key word there is diagnosed. In addition, if students do not have an actual eating disorder they may still participate in disordered eating habits which are still very harmful. There are many more girls suffering than is known, so it is very important that the Academy catch on to these statistics and support healthy eating habits in our campus community. 
If you know a teen experiencing an eating disorder, we are offering a support group for adolescents.
Learn more or register here: https://t.co/sKdnlydflQ. pic.twitter.com/S2VdT36Cwu
— SilverLiningsAB (@SilverLiningsAB) September 16, 2021