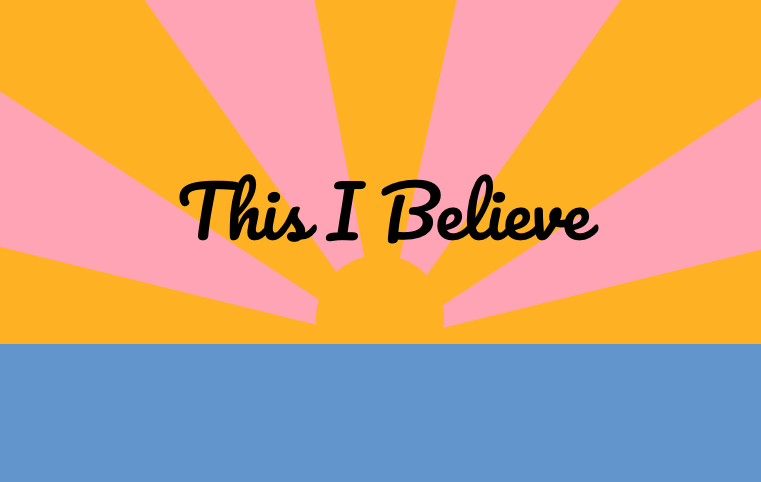 Photo Credit: Mei Lamison/Achona Online/Piktochart
For their final assignment, Virginia Pendleton's senior English class wrote and recorded personal essays modeled after the "This I Believe" NPR series, a podcast about the beliefs that guide our daily lives. Following the podcast is the title, time stamp, and description of each senior's work.
Click here to listen on Apple Podcasts.
"I Believe Failure Leads To Success", 0:46
Senior Sarah Mounce wrote "I Believe Failure Leads To Success" to show others that failure is not something that should control your life and define who you are. This essay tells a story about how to learn from your failures to better yourself in school and also how failure can be used to propel yourself to be successful in life.
"Certain People Are Like the Elements of the Earth", 4:07
This senior, who wishes to remain anonymous, is a believer in how certain individuals in her life are like the elements of the Earth. She also feels many people in this world exhibit these similar elemental characteristics such as being well-rounded, easy-going, calm, or radiant just like the Earth, wind, water, and fire.
"The Way God Works", 8:07
Senior Isabella Schellman hasn't always had a strong relationship with God, but as she got older, she realized the importance of developing a relationship with Him. She emphasizes the value and power God holds to those that trust in Him.
"The Importance of Loyalty", 11:46
Macie Ferrer ('20)  has always stuck to what she believes in most: loyalty. She has had many important people in her life show her what loyalty truly means and why she needs to emulate that quality in her own life.
"The Power of Words", 15:42
Senior Madeleine Testaverde talks about the power of words and how effective they can be at both nurturing and harming others. She talks about creating positive messages through language and thinking before we speak.
"The Humanity of Kindness and Love", 18:21
Katie Hughes ('20) wasn't always sure of how her kind acts helped other people until she started paying attention to the impact she had on others. She believes nothing is more beautiful than the kindness and love we show to one another and she feels blessed for all of the love and support she has received at Academy.