Photo Credit: Morgan Tata (used with permission)
The Jaguarettes, Academy's dance team, competed in the High School Dance Team Regional Championships, which took place at ESPN Wide World of Sports on January 16, 2017. Members of the Jaguarettes began working on their dance routines in October. Each member put a lot of time and effort into preparing for their performances. In addition to practicing for this competition, the dance team also performs at various Academy sporting events, which can be up to several times a week.
Senior Captain Allison Wehle says, "Being captain of the team is a lot of fun mixed with hard work. It helps a lot to have another captain to make the team decisions with and we both work very closely with our two coaches Mrs. Zummo and Mrs. Martinez."
Welcome to #ESPNWWOS! pic.twitter.com/8yxpJOMMWc

— Disney Sports (@DisneySports) January 16, 2017
After arriving at ESPN around noon, the girls prepared for their first performance. Before competing, the members ate and spent time with one another. The Jaguarettes competed in two different categories- pom and jazz. Both of the dances for the competition were professionally choreographed by Limbert J. Capellan, who choreographed the pom routine, and Stephanie Tsitsikronis, who choreographed the jazz routine. At 2:30 p.m., the Jaguarettes competed in their first category, pom. Pom is a style of dance in which the dancers use pom-poms.
Sophomore member Ella Jurusz said, "Pom is sort of like cheerleading style dance, only with more dance attributes."
The girls danced to a remix of the song "Summertime Sadness" by Lana Del Rey. The routine included a fast-paced dance with sharp moves. In the Varsity Pom category, the Jaguarettes came in fifth place.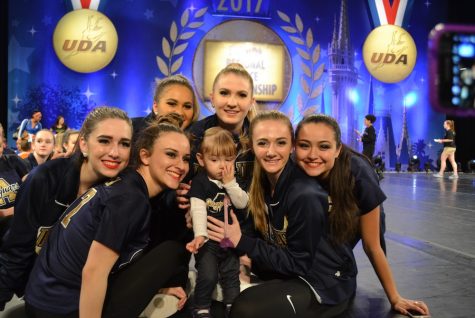 In between dances, the girls spent their time getting ready by stretching, bonding, and practicing their dance routines. In addition, they watched other teams perform their dances.
Sophomore Hannah Rodriguez said, "My favorite part of the competition was probably watching the other dancers we were competing against with my friends."
Their second dance, which was within the Varsity Jazz category, was to the song "Emergency" by Icona Pop.
Wehle says, "This year the organization we dance with [the UDA] made stricter rules on what kind of music we could have. We were not allowed to cut songs together unless we paid for the rights to it, which can be hundreds of dollars, or got the rights in written permission from the recording company. We had the challenge of finding music that was fast-pace enough all in one song because we could not speed up or slow down the music either."
The members of the dance team wore black leotards with long mesh sleeves for their jazz performance. The jazz routine is fast-paced, and requires more technique than pom. Therefore, the dance included moves such as turn sequences and leaps. They received seventh place within the category.
Senior member Danielle Gutierrez says, "We brought a jazz routine that was very upbeat and high-energy. It kind of had a roaring 20's feel to it."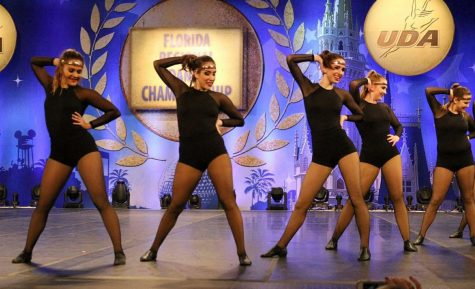 All in all, the competition was a chance for the members to bond over what they love and to see their hard work pay off.
Junior Samantha Cano says, "I could not ask for a better team. Everyone brings their own talent to the team and I love everyone dearly. The seniors and coaches really have made this year so much fun and have brought their A-game to this season. I am excited to see what the rest of the season, and what my senior year will bring."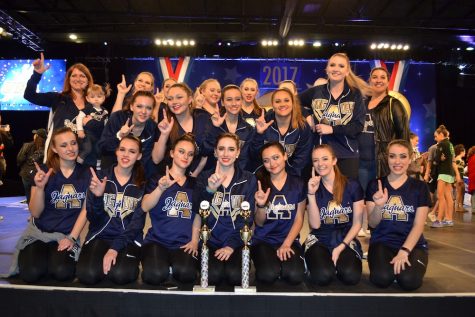 The team will continue to showcase their talent, and will make many more memories before the end of the year.