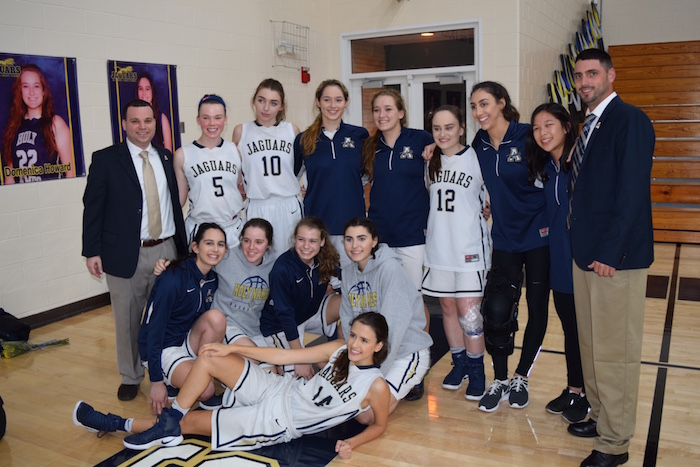 Credit: Jackie Muir (used with permission)
On Friday, January 27, Academy basketball had their annual celebration in honor of their four seniors: Domenica Howard, Jessica Galvis, Alyssa Muir, and Devin Folkman. Each Junior shared special thoughts and words about the seniors before playing their game against River Ridge. As soon as the ceremony was over, the team gathered to focus on the game plan to get another win for one of their last home games. The final score was 58-24, which led into the perfect night which included a party at the Folkman house with gifts from underclassmen and a slideshow of the seniors basketball career.
Junior Kayla Eckermann says, "The seniors this year are some of the hardest working people I know. I know me and the whole team are going to miss them so much next year."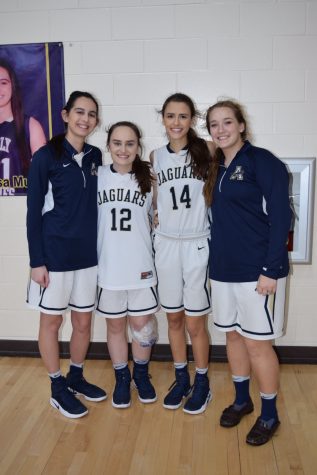 The following Tuesday, Academy basketball played in a quarter-final district game against Cardinal Mooney, who is the seventh seed in their district. The Jaguars won 48-16, so Academy will continue on to Thursday's district semi-final game against Brooks DeBartolo. Their season record as of right now is 24-3, which is the best record head coach Chris Severini has had in his overall seven years of coaching at Academy. In 2013, Severini became head coach of varsity basketball and, in that same year, his team reached the regional finals.
Head coach Chris Severini says, "Brooks is always a tough opponent but I know our team will be ready to compete. We are excited about the opportunity we have to beat a quality team and earn a chance to play for a district championship on Saturday."
In the regular season Academy basketball proved that they can take on competitive teams, by beating Brooks DeBartolo twice and coming close to beating Tampa Catholic. On Thursday, January 2, the team heads to Tampa Catholic who is hosting districts, and takes on Brooks for a third time at 6:00 p.m.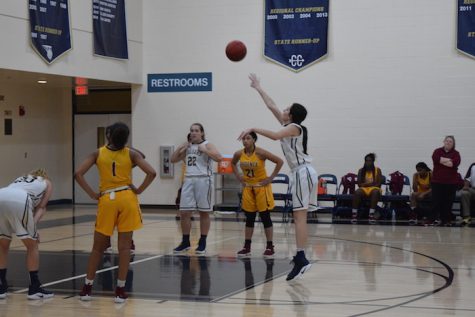 Senior Alyssa Muir says, "It was an awesome feeling beating Brooks twice in the regular season, but both games were very close and evenly matched so we need to be very focused on the game plan tomorrow because this is the most important game of our season."
The team's disadvantages piled high with multiple injuries during the middle of the season. The one that affected the team the most was Junior Katherine Hahn's brutal knee injury during the holiday tournament at Academy. Her MRI revealed that she had torn her ACL and MCL, ending her season.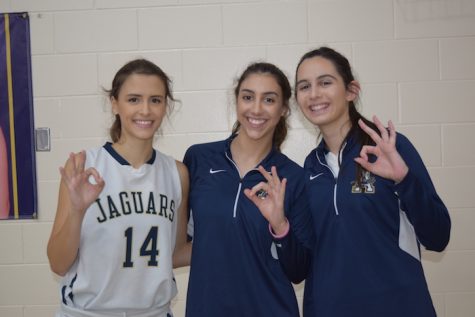 Junior Katherine Hahn says, "When I first got hurt, I honestly thought that I would be back to normal in a couple weeks; I even told my coach that I would be back for the Tampa Catholic game. When I found out that I would be out for the rest of the season, I was in shock. I did not really know how to respond, but I kept a positive attitude because wanted to stay calm. I figured everything happens for a reason and so far the team has been doing great."
If they lose to Brooks, then the season is over for the Academy basketball team. On the other hand, if Academy pulls off a third win against Brooks, then they take on their biggest rival the Tampa Catholic crusaders, this Saturday at Tampa Catholic.
Freshmen Sam Miller says, "We have had an awesome season so far, and I am so excited to be given the opportunity to continue on into districts for my first season of high school basketball."
The last game against Tampa Catholic finished as an eight point game. Academy left the gym frustrated and disappointed in their second loss to Tampa Catholic, but the game also showed them that they had the ability to defeat the Crusaders. Winning Thursday's game means more to the team, because they want to seek redemption against the Crusaders in the district finals.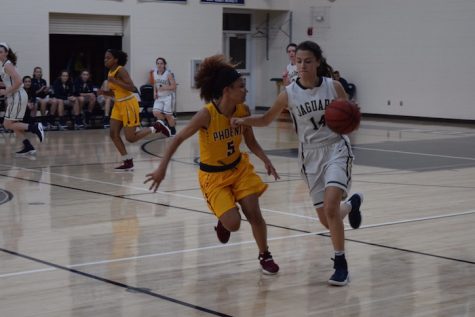 Assistant coach Mike Martino says, "This team has proven several times, that they can play and even beat some of the best teams in Hillsborough county."
Conditioning, practices, and the past twenty-three games have led up to this moment in districts. Academy basketball is not nervous for the games ahead because they are prepared for whatever comes their way.