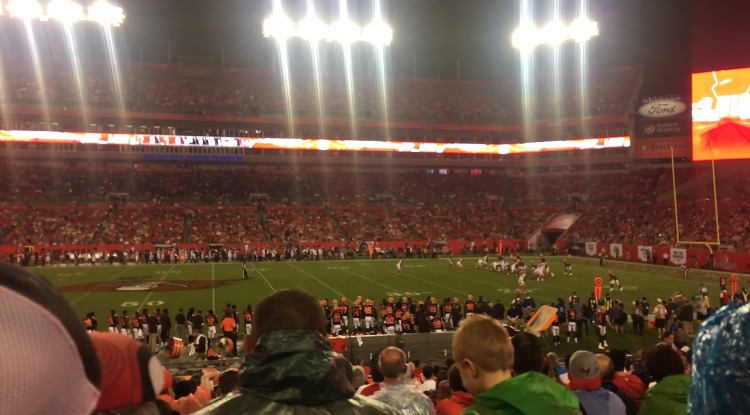 Photo Credit: Alex Smith/Achona Online
After winning Super Bowl XXXVII in 2003, the Tampa Bay Buccaneers have slowly lost the fire that led them to their sole championship ring. The reason for this can be attributed to the retirement of many franchise players, constant changes being made on the coaching staff, and a lack of support from hometown fans.
Alyssa Losauro ('18) frequently works the ticket scanner at the stadium on game day saying, "It's fun because I get free tickets to all the games and I always see people I know."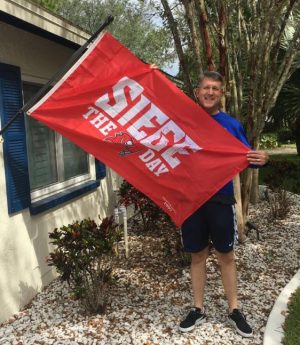 Previous head coach Jon Gruden led the team to the Super Bowl in his first season, and continued as head coach through the 2008 season. Although they succeeded in making the playoffs in 2005 and 2007, the team lost in the first round each time. In 2008, the Bucs finished 9-7 again, frustrating the team's owners, leading to the firing of Gruden. This was the beginning of the team's losing streak.
Math teacher David Bland says, "Every team has ups and down, they go through cycles. Lots of player turnover results in a period of adjustment. This year's team is relatively strong because they've been together for a while."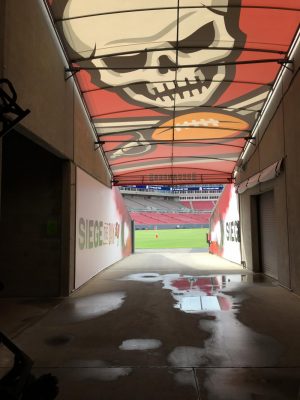 A series of unsuccessful coaches followed Gruden, including Raheem Morris (2009 –2011), Greg Schiano (2012–2013), and Lovie Smith (2014–2015). Between 2009 through 2015, the Buccaneers home record was a dismal 17–39.
Hey, Hey, Tampa Bay! The #Bucs know how to SHINE!#SiegetheDay pic.twitter.com/GE9ZbQayPC

— Tampa Bay Buccaneers (@TBBuccaneers) July 28, 2017
In their first year under Dirk Koetter, the team's current head coach, they lost the first four home games of the season. However, the Bucs seem to have turned things around, winning their last four home games in 2016 and their first two in 2017. While a home winning streak that has now reached six games is a positive change for Buccaneer fans, that home streak was tested Thursday Oct. 5, 2017, as the Super Bowl champion New England Patriots beat the Bucs 19-14.