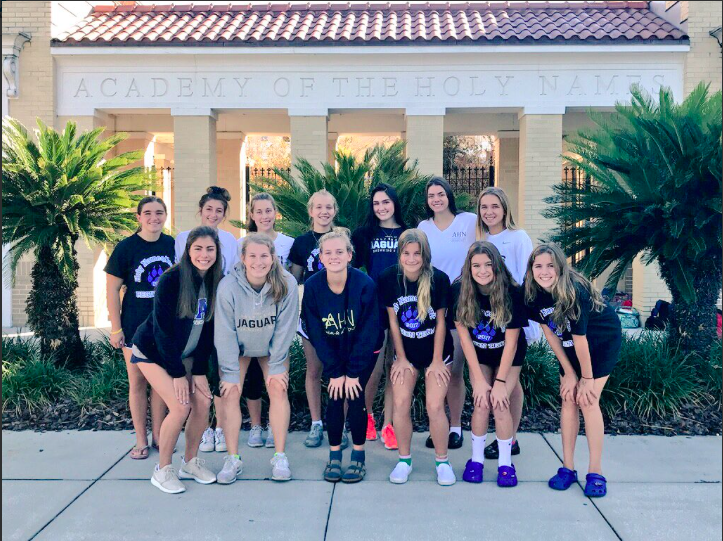 Rachel Sellers, used with permission
On Wednesday Nov. 15, 2017, the Academy of the Holy Names hosted its fall sports banquet. The banquet began at 6:30 p.m., and included all of the fall sports: Crew, Cross Country, Golf, Swimming and Diving, and Volleyball. The night began with a dinner for all of the athletes and their attending parents. At 7:15 p.m. all of the sports separated with their team members into different rooms to receive their awards and letters for the season.
Cross Country runner, Gabriel Hogan ('18) said, "We all went to the conference room and our coach gave out letters and awards, and then we watched a slideshow of the season and the seniors and captains gave a speech."
Presenting the Cross Country 2A-Region Runners-Up. Advancing to the State Finals! Go Jags! @jagnation_1881 pic.twitter.com/0LEHaZGXJQ

— AHN Jaguars (@holynamestpa) November 3, 2017
Golfer Macy McConnie ('18) said, "We went into the new middle school building to do awards.  Our coach said some kind things about the team as a whole, each player, and how we did this season and the plans for the future. He also did a speech about me, because I was the only senior and have been on the team for five years. We then took pictures and planned for our golf party in January. Since there are not a lot of us, the whole thing was pretty short and sweet."
Golf claimed the title of District 1A runner's up & advance to Monday's regional tournament! Good Luck, Jags!!! ⛳️🤗💙🥇 pic.twitter.com/0dKtXPNqsV

— JAG NATION (@jagnation_1881) October 19, 2017
Volleyball player Kat Pickard ('18) said, "We broke off into our groups and then the coaches talked about the season and how it went. Next, everyone who was on varsity for their first year received their pins and everyone else got their bars. The coaches then talked about the goals throughout the season and how we achieved them."
 Three golf team members received awards: Georgia Ruffalo ('20) received the MVP award, Macy McConnie ('18) received the coaches award, and Haley Angel ('20) received the Most Improved Award. 
Volleyball player Kat Pickard ('18) received the MVP award, and teammate Hannah Smallwood ('19) received the Best Baller award.
Swimmer Katie Taulbee ('19) received the MVP award, Bella Kirkpatrick received the Most Outstanding Swimmer award, and Cassidy Neely ('21) received the Most Improved award for the swim season.