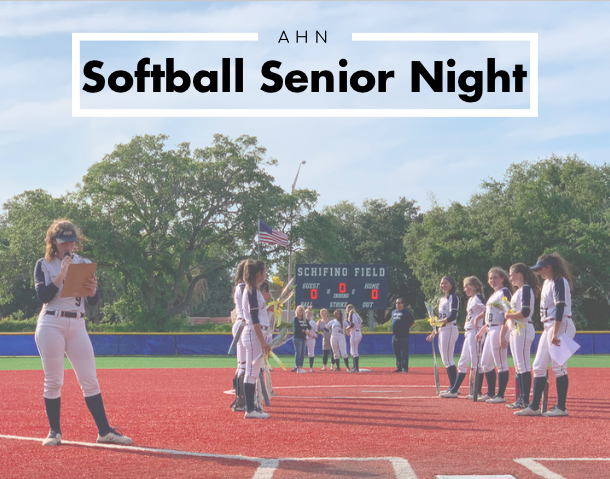 (Photo Credit: Hannah Smallwood/ Achona Online/ Piktochart)
As the softball team's regular season comes to a close, the team's two seniors: Chloe Boos and Gelmi Pasquier were recognized for their hard work and dedication to the team.
On Apr. 25, Boos and Pasquier played in their final regular season home game vs. Canterbury. The two were honored by their underclassmen and received flowers and listened to speeches written by their fellow teammates.  
Chasie Cordoves ('21) gave her speech about Pasquier and honored her leadership.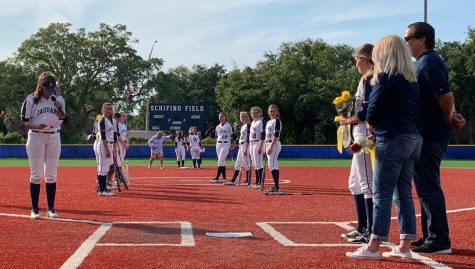 Cordoves says, "Gelmi has impacted our team so much with her pitching and is always bringing the team up when we are struggling. On senior night, it really showed how much the seniors have benefitted our team and how we are gonna miss them so much."
Chloe Boos recently returned from a hand injury and has been trying to get back into the game as much as she can. Boos was able to bat in her last home game and hit well.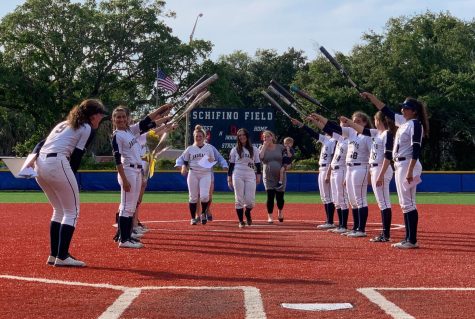 Chloe Boos says, "It has been tough watching from the dugout and not being able to play on the field with them. Tonight is such a memorable game for me because it is my fifth season playing on this team. I remember all the senior nights that came before mine and it is really crazy to think that it was now my turn."
The team fought hard, but unfortunately the Jaguars came up short and were defeated by a score of 2-6.
"Although the game didn't end how I wanted it to, I still had a great time playing with all my teammates. I am super sad that it was my last regular season game but I am super pumped for districts and can not wait to see how far our team is able to go," says Pasquier.