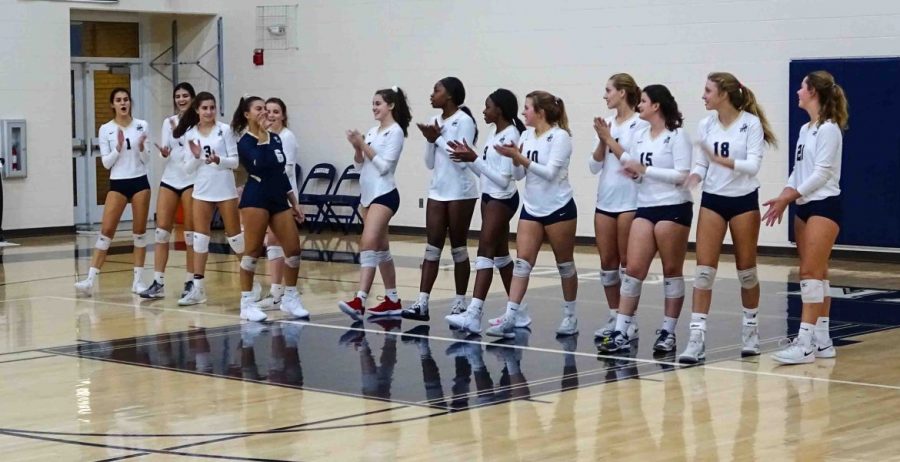 (Photo Credit: Photo Credit: Jennifer Vivero/ used with permission.)
The Academy of the Holy Names 2019-2020 volleyball team has a busy season this school year.  There are thirteen girls on Varsity and fifteen on Junior Varsity. The season lasts for three months starting in August and is full of fun, hard work, and sisterly bonding.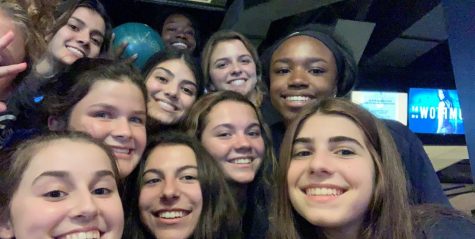 "I have been on the volleyball team since freshman year and it is really fun.  Don't get me wrong, it is a lot of work and takes up a lot of time but it is all worth it in the end," says Haley Rothman ('21).
Academy students who want to be a part of the team have to try out around the end of summer and once they find out that they made it, the hard work begins.  The girls on the team have practice everyday for two hours and train extremely hard. There are twelve games per season and if varsity makes it to districts they have another eight games depending on if they win.  The team also participates in tournaments which add on to the twelve games per season. 
"I have been on the varsity team since sophomore year and districts are very stressful.  As a team we have the passion to win but are competitors are really talented. We all joke around and hangout when we aren't playing though. Districts are so much fun and my teammates and I become really close," says Gabby Butler ('20).
https://www.instagram.com/p/B2Skde0F8px/
The varsity team gained four new freshmen on their team this year: Lauren Donofrio, Campbell Halme, Camille McClendon, and Kinsley Warbritton.  This is a big deal since usually it is difficult for freshman to make the Varsity volleyball team. They have brought a lot of talent to the team and work well with the upperclassmen.
"I love getting to bond with everyone and become really close with the upperclassmen.  We all have so much fun on and off the court," says Lauren Wheling ('24).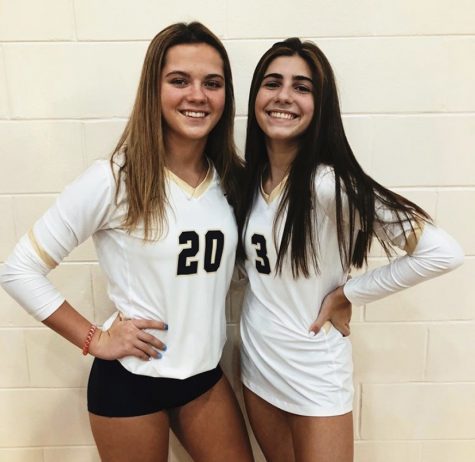 The varsity team record so far is 8-8.  Their plan for their season is to win as many games as they can by working hard and working together.  The girls goal for the season is to realize their skills and use them to be the best they can be.  
"I know my teammates are all really talented but I don't think we have realized how strong we are yet.  I don't think it has clicked for us how strong we are as a team and once it does we will be unstoppable," says Alison Perez ('21).
The games the girls look forward to the most is when they play Berkeley, Tampa Catholic and Tampa Prep.  They are familiar with the girls on the other teams so it is fun to play against friends that are also rivals.  One of the most popular events is Spike and Splash because the team has a guaranteed huge audience. The girls also feel like they are not playing to win they are playing to fight for a cause.
"I absolutely love Spike and Splash.  I have been playing for the volleyball team since freshman year and the energy of the game is so different on Spike and Splash.  The game is always super fun and it feels great to have a huge audience supporting us. I love that the night is meant to raise money for people with cancer because it makes me want to play my hardest," says Sara Vivero ('20).