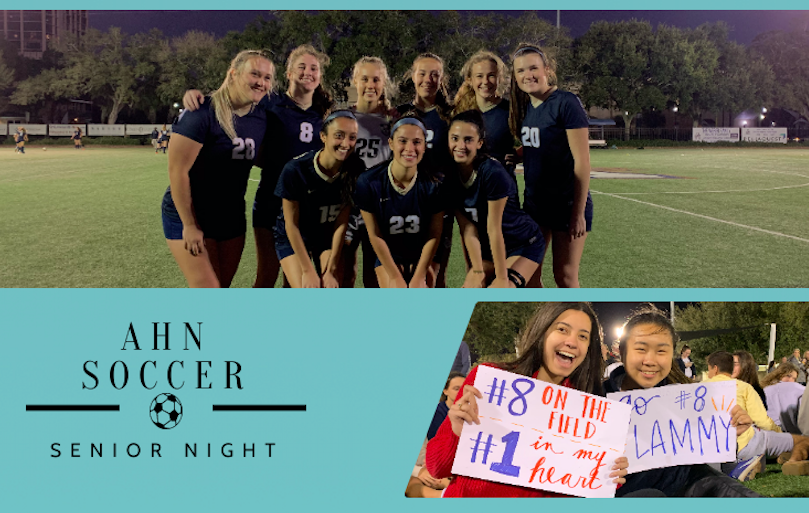 Photo Credit: Casey Martin/Achona Online/Piktochart
On Friday, Jan. 17, the AHN Varsity Soccer team celebrated their senior members in a ceremony before their match against St. Petersburg High School.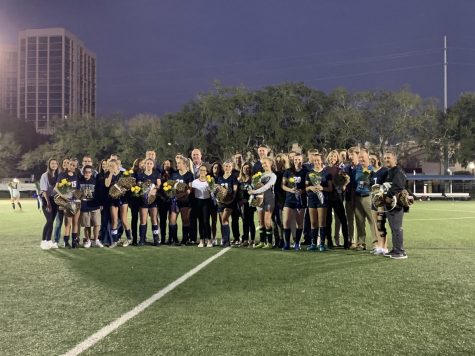 The evening began with the team honoring their seniors: Caroline Lamoureux, Ella Hileman, Maddie Kurtz, Olivia Tremonti, Gabby Tuccio, Grace Orama, Riley Schindler, Tiffany Llano, and Frannie Ferreri, who were accompanied by their families on the field on Friday night before their game.
"Senior night wouldn't be possible without the help of our little sisters on the team. Their speeches touched everyone on the team and it made senior night really special, "said Kurtz.
The underclassmen on the team gave speeches about the seniors and presented them with flowers.
After the ceremony, the Jaguars kicked off their game against the St. Pete Green Devils. On the field, tensions were high as the teams were tied at 0-0 at the end of the first half of the match. After a tough match, the Jaguars defeated the Green Devils with a score of 1-0 at the end of the match.
A solid 1-0 Senior Night victory for our Jags over an excellent St. Pete High squad! So proud of our girls and our coaching staff!! Also want to thank everyone who helped make tonight a memorable one for our seniors and their parents! pic.twitter.com/PxOQR9iqKy

— Kevin Vargas (@HolyNamesAD) January 18, 2020
After defeating St. Pete High, senior Ella Hileman reflected over her time on the team.
"I felt like that was one of our highest energy games because the team we played against was really good and the crowd really hyped us up. The challenge tonight was great and our team couldn't have done it without the skills that each and everyone one of us brings to the team," said Hileman.
The Jags will continue their season with a total of 12 wins 1 loss. Their next game is on Wednesday Jan. 22 versus Carrollwood Day School at 6pm.