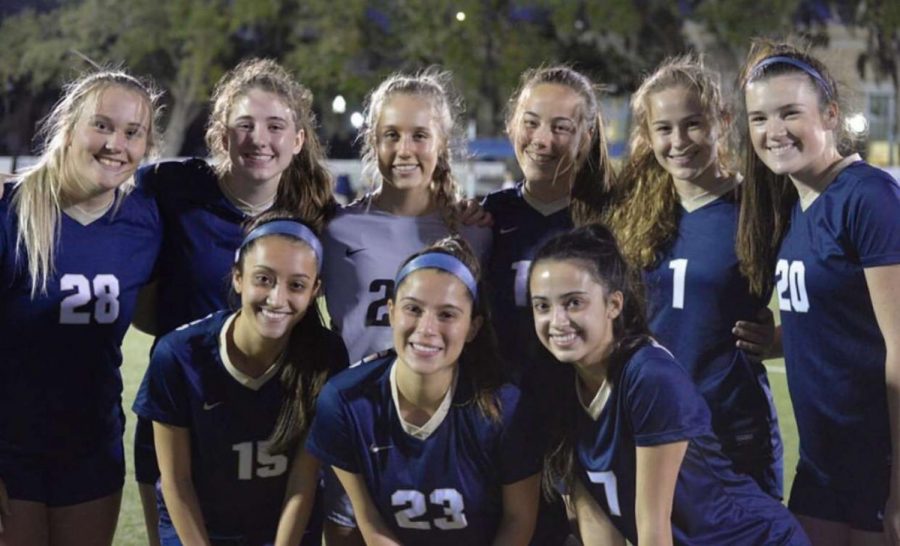 Photo Credits: Kara Manelli/Achona Online/Used with permission
With the arrival of the second semester comes the kickoff of spring sports' seasons, such as soccer, track, and lacrosse. 
Soccer season began in October and the team has run undefeated for the last four months, maintaining a ranking of number four in the state. Senior Riley Schindler, who plays center midfield, said, "My favorite part of this year's season so far has been how together our team feels and we get along and work really well together." 
Titles such as these have deemed Academy soccer "the team to beat" this season, and The Tampa Bay Times ran an article on the team, raising a question that seems to be on everyone's mind: will the team go all the way? Districts is coming up two weeks from now, and senior team captain Olivia Tremonti is excited to see how the state series pans out. She said, "I'm really excited for districts coming up because I feel like we have a good chance at going all the way to states this year."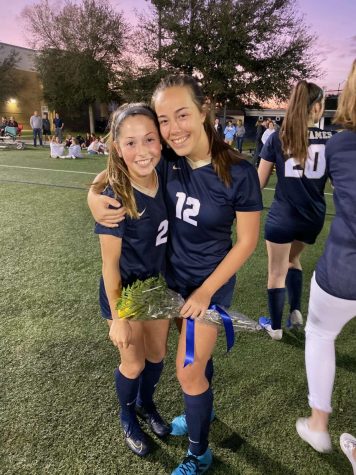 The team's next game is at Academy on January 28 and will give the girls a chance to showcase the skills they've been working on so far. Senior Gabriella Tuccio said, "This season is a lot different from last year so far because the incoming freshmen have contributed a lot to the team. I think everyone has also grown from last year individually- we get along so well and have become so close, which makes it a lot more fun to play and be all together."
Additionally, track preseason began a few months ago, with their first real week of practices occurring last week. Senior Rachel Brown, who is doing track for her second year, said, "This season, I'm looking most forward to meeting new people and building relationships with the rest of the team. I'm also really excited meets because it's fun to just be able to sprint." Brown usually does the 400 meter dash and is hoping to participate in jumping field events this year. 
The last few weeks, "standardized tests" such as medicine ball and long jump activities have been going on to determine who is the best fit for each event. Senior Kara Petitt is on the team for the first time and said, "I'm really excited to be a part of the team this year and hope to earn a spot doing hurdles, long jump, and pole vaulting. So far I've really enjoyed preseason, it's been really fun and I'm excited to try a new sport."
The team has been practicing every day of the week to prepare for their first meet on February 11 at 6:00pm. The meet will be at Jesuit and against Plant and Wharton High Schools.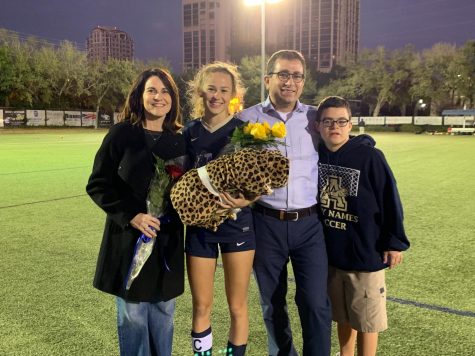 Senior Madeleine Gallagher said, "I'm really excited for track season this year because I've done swimming for all of high school, so this is my first year doing track. It's a really different experience and has challenged me in the best way."
Finally, lacrosse begins January 27 with tryouts running up to January 29. Senior defender Kylee Weathers said, "I think this year's season will be different from the others because there's a lot of new people coming in, and it's finally our senior year. I'm really excited for tryouts because I'm excited to meet the new potential teammates."
The team's first game will be about mid february, and senior players such as Natalia Fonseca are looking forward to the games, saying, "at first, the first game can be nerve wrecking, because you haven't been in a game situation in a while. But, once you're there and in the zone, you start to get back into the groove of things and get more comfortable, and it's really fun."