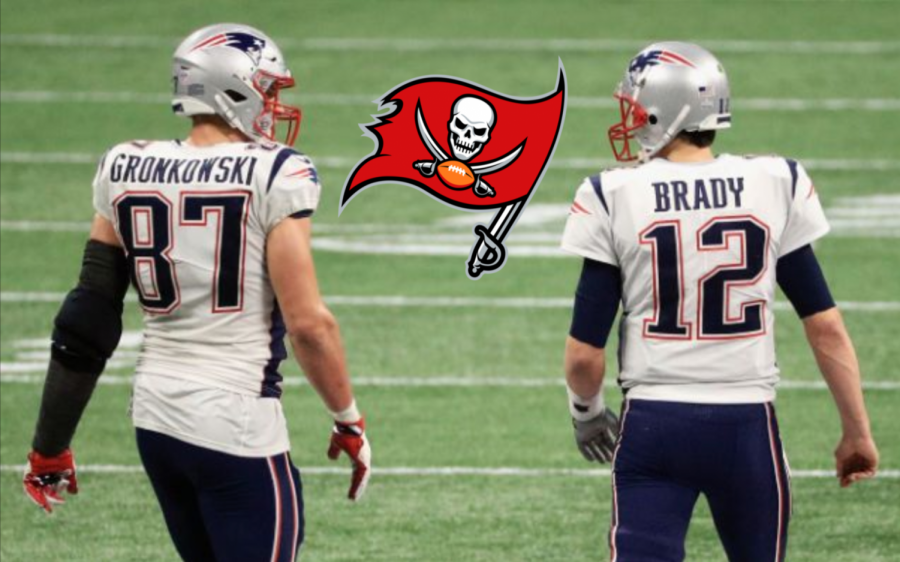 (Photo Credit: Georgia Ruffolo/Achona Online)
The Tampa Bay Buccaneers have just announced that former Patriots stars Tom Brady and Rob Gronkowski will be joining their team next season in hopes of making the playoffs for the first time in over a decade.
It's a reunion for @TomBrady and @RobGronkowski in Tampa Bay ⚔️ pic.twitter.com/uVqgb3FLF3

— ESPN (@espn) April 21, 2020
On March 20, Brady secured his spot by signing a two-year deal with the Bucs worth $50 million as their starting quarterback. "Excited, humble and hungry," Brady wrote on Instagram, "…if there is one thing I have learned about football, it's that nobody cares what you did last year or the year before that…you earn the trust and respect of those around through your commitment every single day. I'm starting a new football journey and thankful for the (Buccaneers) for giving me an opportunity to do what I love to do. I look forward to meeting all my new teammates and coaches and proving to them that they can believe and trust in me…I have always believed that well done is better than well said, so I'm gonna not gonna say much more — I'm just gonna get to work! #Year1".
The six-time Super Bowl champion, who had spent 20 seasons with the New England Patriots, took to social media Friday morning to announce that he had signed his contract.
Soon after, on April 20, The New England Patriots agreed to trade tight end Rob Gronkowski and a seventh-round draft pick to the Tampa Bay Buccaneers in exchange for a fourth-round draft pick, the Buccaneers announced.
"Rob Gronkowski is one of the best tight ends in NFL history and he plays the game with the type of passion and desire that sets him apart," Buccaneers general manager Jason Licht said in a statement. "Rob has played his entire career alongside Tom Brady and their accomplishments speak for themselves. Together they have developed the type of chemistry on and off the field that is crucial to success. Rob combines elite-level skills as both a receiver and blocker but what really makes him special is the fact that he's a proven winner who brings that championship mindset and work ethic." 
After playing in the NFL for nine seasons, Gronkowski retired in March of 2018 but never ruled out a possible return to the league. However, after suffering from multiple injuries, the executive decision was made to take some time away from the game. Gronkowski, one of football's most dominant tight ends during his nine years in New England, helped the Patriots win three Super Bowl titles. After stepping down from the league in 2019, Gronkowski was one of the most highly regarded tight ends in the NFL, with 521 receptions, 7,861 receiving yards and 79 touchdowns.
"Pending the physical, Rob has agreed to play for Tampa this season," agent Drew Rosenhaus told CNN. Speaking on ESPN's SportsCenter Tuesday night, Rosenhaus said the discussions began shortly after Brady went to Tampa. Gronkowski and his agent both agreed that it would be an appealing situation. "He loves new England. He loves the Patriots organization, Coach (Bill) Belichick, the Krafts, his teammates that are still there. He had an amazing run in New England. It was just time for him to continue his career with Tom Brady in Florida with Tampa," said Rosenhaus. "It was something cool and exciting and challenging for him. He's well rested and looking forward to playing with Tom again."
Samantha Weaver ('20) said, "When I first heard about Brady joining the Bucs I thought it was a joke, but when I found out it was real I was in complete shock. To have one of the biggest sports superstars in the world play for your hometown is an unbelievable feeling. Now with Gronkowski coming out of retirement to join him is even crazier . They're known across the board as the football power duo, so for them to be playing for us is the coolest thing that's happened to Tampa in awhile in my opinion."
Welcome home, @TomBrady & @RobGronkowski. #GoBucs pic.twitter.com/YRqwcEVzZ3

— Tampa Bay Buccaneers (@Buccaneers) April 22, 2020
With the 2021 Super Bowl being held here in Tampa Bay, the Buccaneer's likelihood of capturing a victory has skyrocketed, as the team has gone from zero to hero in a matter of two months. According to the oddsmakers at BetMGM sportsbook, the Buccaneers Super Bowl odds are at +1600 to win the championship this season. In fractional odds, that's 16/1, which implies that the team has a 0.0588 chance of winning. That is, however, If Gronkowski stays healthy for both the full season and the playoffs. 
Sara Vivero ('20) said, "I think we have a huge shot at winning the 55th Super Bowl now that we have two of football's greatest players on our side. Just by looking at their individual success as well as all that they've accomplished side by side solidifies their status as extremely valuable players. The Bucs are back!"