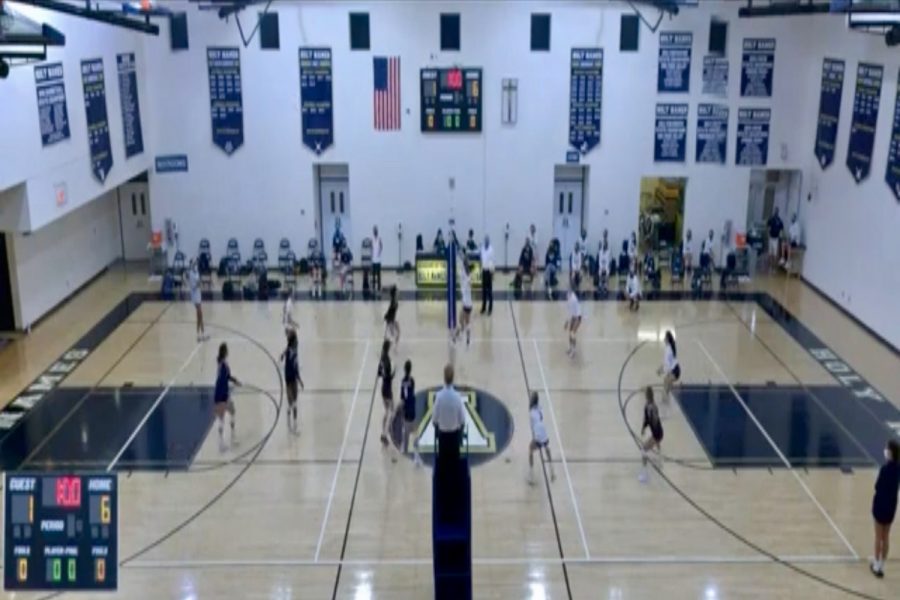 (Photo Credit: Emily Wise (Used with Permission)
On Sept. 17, the AHN Junior Varsity and Varsity Volleyball teams faced off against Berkeley Preparatory School. The JV game was at AHN, while the Varsity game was at Berkeley. This is their second game of the season, their first being against Cambridge Christian High School and Northside Christian High School respectively.
While the JV game took place at AHN, it was not a typical home game. Due to new procedures regarding Covid-19, only parents of athletes were permitted in the gym. All others watched the game through a livestream found on the AHN website and on the AHN Youtube page.
"Although it is fun to have the bleachers filled, we have to do everything we can to reduce the risk of Covid. It also encourages us to have more energy on the court to keep an enthusiastic environment," said Amanda Moroney ('23).
After defeating Academy of Holy Names (2-1), Steinbrenner (2-0), Santa Fe (2-0), and CCC (2-0), we fell short against Bishop McLaughlin in the finals. So many great competitive teams in this tournament! 2nd place overall! pic.twitter.com/V8aLg8FAM1

— Berkeley Prep Volleyball (@berkeleyprepvb) September 19, 2020
The JV team started off the series of games with a dominating win, as the team only played two sets and won both. The Jaguars took the first set 25-17 and the second set 25-12.
"We did pretty well at the beginning of the first set, but then we lost focus a little bit. Second set we picked it up, though, and won pretty quickly," said Virginia Cassidy ('23).
On Sep 18 and 19, the Varsity team played a tournament at Berkeley. Due to the location, the game was not able to be livestreamed on the AHN website. While they lost their game against Berkeley the first day, the team came back and won both games the second day.
Bridget McLaughlin ('23) said, "It was a tough game against Berkeley, and we fell out towards the end. We played well, but we could have been better."
The teams will continue their seasons on Sept. 22 against Carrollwood Day School and face off against Berkeley again at the Berkeley Invitational on Sept. 25 and 26.