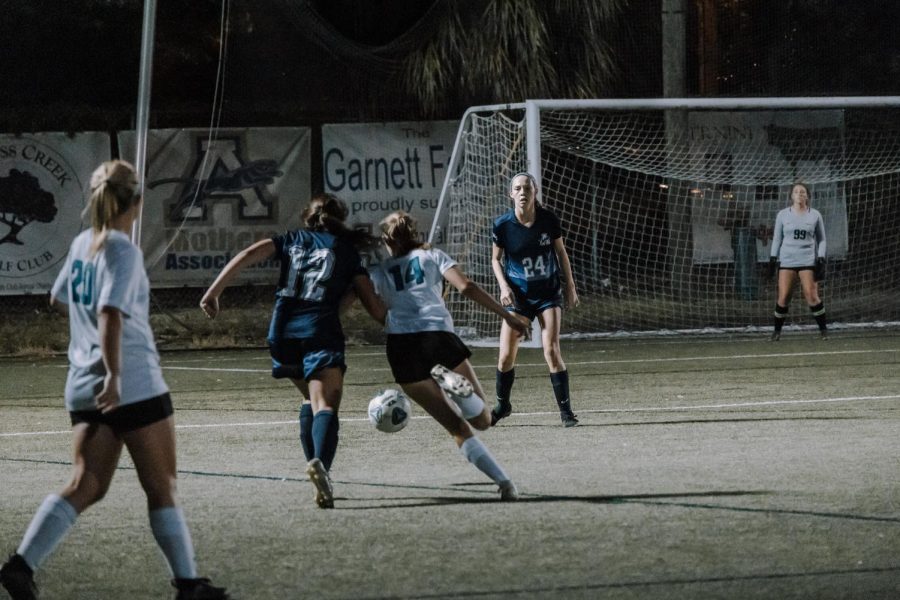 (Photo Credit: Natalie Apolo/Used With Permission)
With the challenges of adjusting to the pandemic, both Varsity Basketball and Varsity Soccer have continued to triumph in their games this season. Though there have been many challenges and setbacks, they have shown that their team spirit is unwavering. 
This year's basketball captains are Angie Peña ('21) and Gabrielle Morrison ('22). The season started in mid-November and continues with success. According to MaxPreps, the team's record is 11-6. Furthermore, they are currently on a seven-win streak after defeating Christian Calvary on Jan. 12. 
Over winter break, Academy competed in three games in the Jaguars Holiday Tournament and won the tournament after their game against Mitchell. Morrison ('22) and Jayda Pinder ('23) were selected as the tournaments "All Star Team" while Peña ('21) was named "MVP." 
Your Jaguar Holiday Tournament Champions!! 🗣👏🏻💯Jags battled to the end and came out victorious 35-32 over Mitchell to take the championship game. 🏀🏆🔥🙌🏻 @Chris_Sev_ @Biggamebobby @holynamestpa pic.twitter.com/tSWg5xcWBt
— AHN Varsity Basketball (@AHNBasketball) December 31, 2020
"It was definitely a turning point for our team because we were able to see what we were capable of, and it started our continuing 7-0 winning streak," said Morrison ('22).
During this season, Peña ('21) joined an exclusive group of girls who have scored one thousand points during their AHN career. Members of the senior class alongside Pam Doherty decorated the Senior Lounge's sliding door for Peña's ('21) accomplishment. 
This year's soccer team's captains are Kate Cohen ('21), Casey Buckley ('21), and Nicole Sakre ('22). The soccer team began tryouts in October but had to quarantine after a COVID-19 outbreak. They began practice in November, had their first season game on Nov. 13, and their season is still ongoing. 
Recapping a great week for AHN Basketball (3-0) and for Senior Angie Peña!!! @Chris_Sev_ @angie_pena2021 @holynamestpa pic.twitter.com/2H8vjCRgAG
— AHN Varsity Basketball (@AHNBasketball) January 10, 2021
"I am very hopeful for the success that this team could have. It has been such a fun season so far, and I feel that our team has bonded very well, especially with the influx of new players," said captain Kate Cohen ('21). 
So far, their record is 7-2, but they still have five games to play in the season. Though they have not entered the playoffs yet, they hope to be district champions like last year. 
"Beyond the district champion title, we definitely want the regional title too. I know a lot of us are still sore from our loss last year in the regional semi-final. But overall, this is probably the most hardworking team I have ever been a part of," said Mary McGuane ('22).