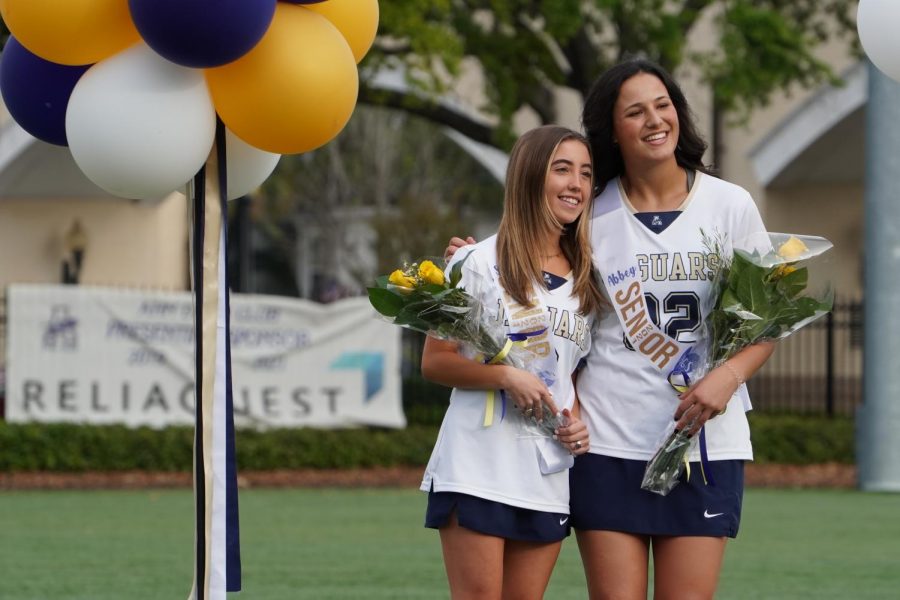 (Photo Credit: Chloe Mintz/Used with Permission)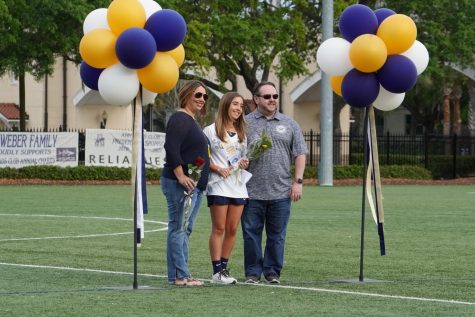 Wednesday, Mar. 24 was senior night for Academy's Lacrosse team. Seniors Sarah Manck and Abbey Crowther were honored during the game. The team played hard and came out with a 15-4 win over Robinson High School.
After the game, Crowther said, "In my four years of playing lacrosse at the Academy, I have never been surrounded by so much talent and a group of teammates genuinely committed to putting AHN lacrosse on the map — not only in Tampa, but in the entire state of Florida. Due to the constant hard work and dedication our team has put in this year, I am beyond excited to see what we will accomplish in the future."
The seniors took photos with their families and were given flowers by their younger teammates.
Colleen Buckhorn ('23) said, "The atmosphere of the game was so uplifting and encouraging because we were filled with the excitement of senior night, and with each score the team got more excited. The seniors are the glue of our team and we are going to miss them so much." 
In addition, the tennis team celebrated their senior night on Thursday, Mar. 25. The tennis team had a 8-1 win over Brooks-DeBartolo Collegiate High School.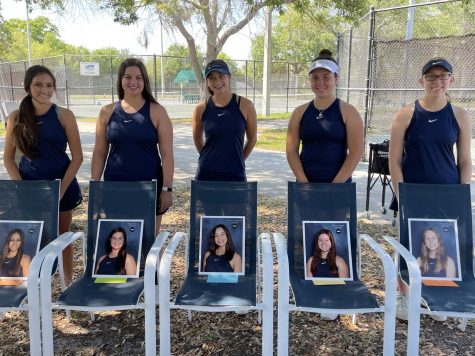 Before the game, Coach and Math Teacher Robert Quinn said, "Right now, we have a 6 – 2 record in the season. I am really proud of our five seniors. They all have great attitudes and are great players. It was rough to have last season cut short [due to COVID-19], but they have done an amazing job of coming back focused this season and setting an example for the rest of the team. They are just awesome and I'm very lucky to be their coach."
The seniors being honored on the tennis team were Adriana James-Rodil, Hannah Bruty, Rhyan Tappan, Isabella Duarte, and Jehanne Caudell.
Tappan said, "This tennis season has been going great so far. Knock on wood, but I've won all my matches this season. I'm sad that this is my last season because we have a great team, and I think they will go far in the future. I have been playing tennis since I was in seventh grade and have been on the varsity team for three years."