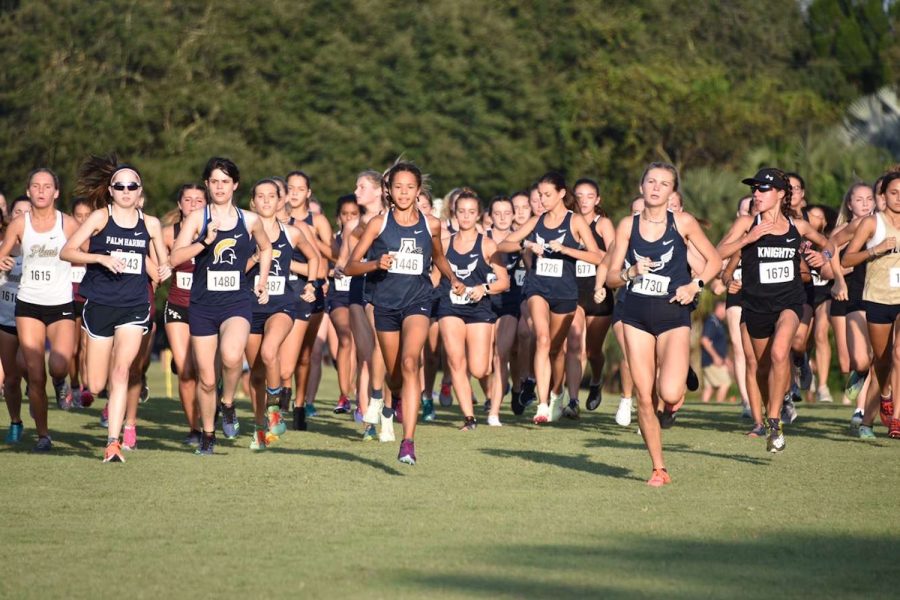 Photo Credit: Grace Odmark (Used with permission)
On Friday, Oct 8, the AHN Cross Country team attended the second annual Private School Championship. 18 teams from the Tampa and Saint Petersburg area competed on both the junior varsity (JV) and varsity levels. The Jaguars edged out Berkley Prep to claim runner-up in the varsity race. Freshmen Liz Williamson and Lily Hund placed in the top ten; Williamson took 3rd and Hund 8th. The team is training towards another successful meet as they prepare for the Florida State Invite in Tallahassee this upcoming Saturday.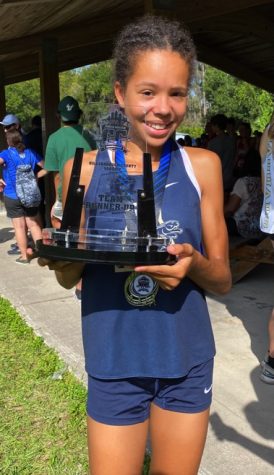 Last year, Covid-19 interrupted cross-country seasons all over the United States. Florida teams, however, were fortunate enough to have a full season, which was delayed only a few weeks. In order to comply with the Center for Disease Control's (CDC) guidelines, masks were required before and after races, parents were not allowed at the tents, and athletes were encouraged to leave after they raced to avoid large swarms of people gathering at the race site. 
Now that the vaccine is readily available, Covid-19 protocols are more lenient than in 2020. This season is a stark contrast to that of last year. Overnight meets have returned and parents are allowed to interact more with the runners and races. The team has also been able to bond through carpools, post morning practice breakfasts, and the annual sleepover, which all, unfortunately, didn't happen last year. With Covid-19 rates diminishing in Florida, cross country, as well as other sports, are beginning to return back to "normal."
"This XC season is very different to last year. My sister was on the team last year and I always hid behind her and never talked, but this year I opened up more. I've made so many great friends; I just think that I am so much closer with the team than I was before," said Camille Petrarca ('24).
The team struggled last season after losing a strong senior presence. They made an appearance at the 2020 district and regional meets, but it was short-lived when the team didn't place well enough to qualify for states. In an effort to make this season better than last year, Coach Ray Rodriguez decided to emphasize placement in races instead of individual times. One of his many goals this season was to improve as a team to achieve each runners' fullest potential so that AHN performs well at the State meet. 
Coach Rodriguez said that his primary goal for the remainder of the season is "to guide the team to a top ten finish at States or better." 
Rodriguez's methods appear to be working, as the Jags have been racing strong against competitors such as Berkley Prep and Cambridge Christian. Individually, sophomore Camille Petrarca has gotten a personal record (PR) in almost every race, and Katelyn Aschenbrenner ('25) dropped over 5 minutes off her first 5k. Williamson, a cross country standout, went from running a 20 minute 5k to a sub 19-minute personal record at the Rodgers Park Invitational where she took first place in the varsity race.