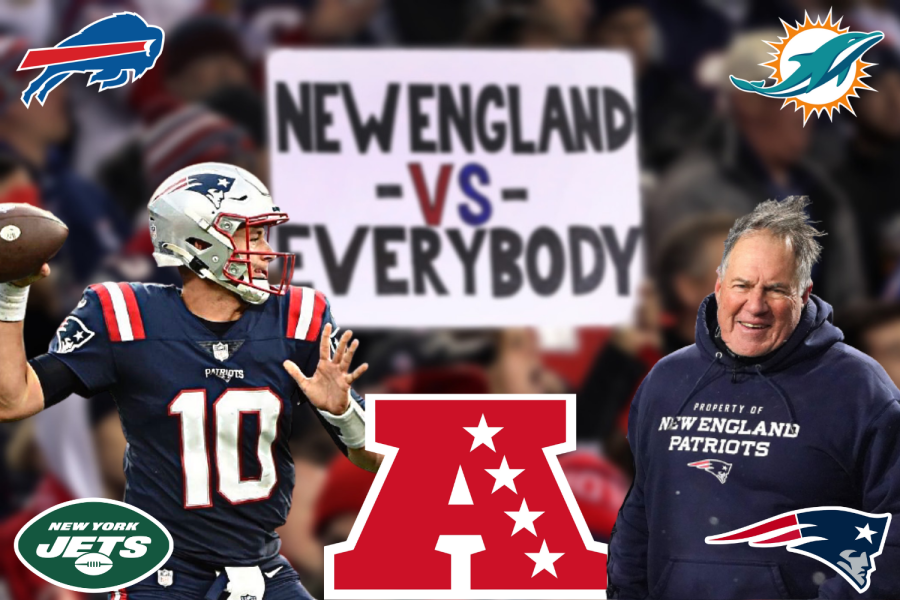 Photo Credit: Millie Garstka/Canva/Achona Online
Greatness should be appreciated, not questioned. It is easy to question a team like the Patriots, who had a rocky 2–4 start this year after 20 dominant seasons under the Brady-Belichick dynasty. Coach Bill Belichick had to virtually rework his entire team, starting with a new quarterback. The world expected the Patriots to crash and burn following the departure of quarterback Tom Brady and tight end Rob Gronkowski, but they were sorely mistaken. 
A rookie QB.
The No. 1 scoring defense.
The only AFC team with 9 wins.
After 13 weeks, the @Patriots are the AFC's #1 seed. #ForeverNE pic.twitter.com/LUAWPTC4RQ
— NFL (@NFL) December 7, 2021
Rookie quarterback Mac Jones and the rest of the Patriots are coming hot off a seven-game winning streak following their victory against the Buffalo Bills on Monday, December 6. This crucial win puts the Pats first in the American Football Conference (AFC).
The Patriots were in a completely different position not too long ago. At the end of last season, they were mocked interminably for their mediocre season where they finished with a record of seven wins and nine losses after Brady left for Tampa, Florida. However, their rough patch was only momentary.
Sophia Moore ('24) said, "I don't know much about football, but I have heard about how dominant the Patriots have been in the past from friends of mine. Their game against Buffalo was on TV last week, and I watched a few plays."
After losing four of their first six games, a postseason appearance seemed unlikely for the Patriots.  They had not found their rhythm yet, which was due to the novelty and lack of connection between the players. The team was adjusting to a new quarterback and a number of new players on both offense and defense. 
Something must have clicked with the team because after their fourth loss, suddenly came a series of wins for the Patriots. They consecutively beat the Jets, Chargers, Panthers, Browns, Falcons, Titans, and the Buffalo Bills. Their next game is December 18, which will follow their sole bye week of the regular season. 
The @Patriots have found their next franchise QB. #ForeverNE pic.twitter.com/zK0MouVRRU
— Sunday Night Football on NBC (@SNFonNBC) December 7, 2021
Mac Jones is proving to be much more of a threat than anyone ever expected. Compared with Brady's stats during his first 12 career starts during his rookie year, Jones has very similar results, some of which are better than Brady's were. He is ranked number one in pass accuracy amongst all other rookie quarterbacks, and he is the most accurate rookie when it comes to passing. Jones is not the "new Brady" by any stretch; however, if he continues to win as he has been, then playoff domination seems promising.